Previous Lore
"Never question my loyalty. You will never know what I endure for it." -
Katarina
Born to Noxian privilege, Katarina trained in the ways of the knife from the time she was a child. Now that fiery, willful child has grown into a beautiful and deadly woman. Katarina's intense passion for life is tempered by a sense of duty and loyalty to her family. That same passion proves a double-edged sword when her heart and her responsibilities are at odds.
As the free-spirited daughter of a prominent Noxian general, the young Katarina was given the best of everything. Naturally gifted in combat, she found herself drawn to blades. Much to her family's pride, she trained under the deadliest assassins in the Noxian military. It wasn't long before Katarina's instructors deemed her worthy of a trial by fire - to kill a prominent Demacian soldier.
Creeping through the darkened military camp, Katarina was overwhelmed by her passion to prove herself. When the army's General strayed across her path, unguarded, she quietly slit his throat. Katarina disappeared into the night, pleased with her impressive kill.
Her elation was soon crushed, as the next day her original target - the prominent soldier who was the true military genius - led his forces to ambush unprepared Noxian soldiers. Katarina
 flung herself into the fray to correct her mistake, earning a scar over her left eye as a permanent reminder.
Even though she finally completed her task, her family's reputation was damaged. Since that day, Katarina vowed to never let passion prevent her from bringing glory to both Noxus and her family. Reconciling her desires with her duty proves to be a constant challenge.
To the world, Katarina is a symbol of Noxian patriotism, though there is more to the red-haired assassin than meets the eye.
"The Sinister Blade of Noxus is like a black widow - beautiful, but deadly." -
 Garen, the Might of Demacia, following a skirmish in the field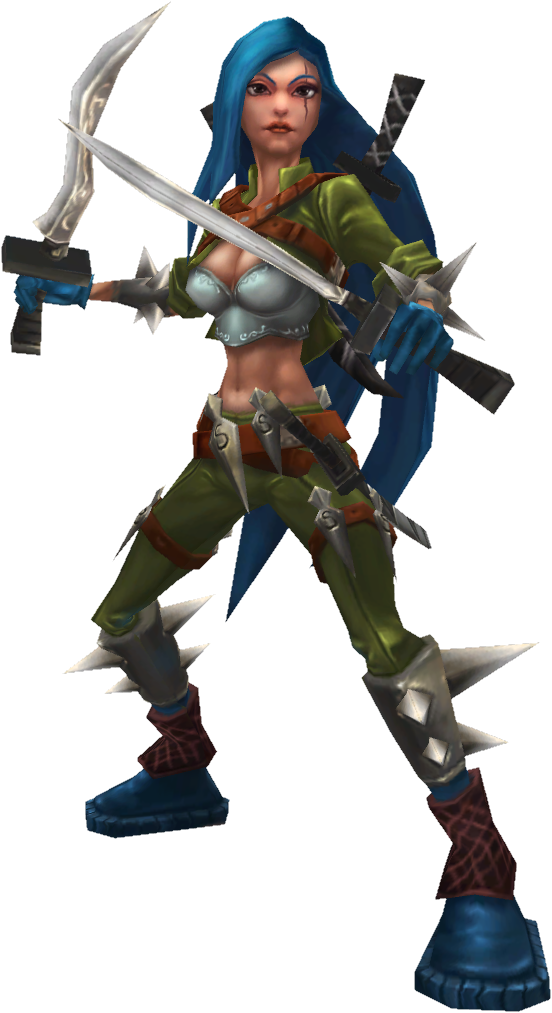 As a militaristic state, it would perhaps come as no surprise that the primary responsibilities of Noxian women are raising strong children and providing succor for husbands who walk the path of soldiery. There are some, however, for whom nurture is not nature, and
 Katarina is just such a creature.
Born the daughter of the feared Noxian General Du Couteau, the girl was always more interested in her father's knives than in the dresses, jewelry, and other trifles that
 her sister spent so much time fussing over. A childhood dispute soon unveiled
 her uncanny knack for bloodshed, and her father, ever the opportunist, happily fostered her
 Killer Instincts.
After training under the tutelage of the finest assassins the mighty city-state had to offer, Katarina first cut her teeth performing assassinations in the Ionian War. There, her ruthless mastery of the knife and dagger combined with her sadistic temperament to earn her the title Sinister Blade, a moniker that would follow her for the remainder of her career.
She is most famous, however, for her exploits in the campaigns against Demacia, especially those surrounding her engagements with the nation's champion,
 Garen; a rivalry which began when she recovered the remains of
 Sion from a vanguard under his protection.
With the demand for warfare somewhat arrested by the tenuous peace settling over Valoran, Katarina sought the allure of violence in its last remaining haven: The League of Legends. Some might say it was an inevitability that Katarina's chosen path would draw her to become a champion of the League, continuing to enforce the will of Noxus and bring prestige of war to her noble family.
There, she continues to perform her bloody work - esteemed and reviled, feared and adored.
Previous Abilities
Ability Details
Killer Instincts passive is an on-hit effect.
Killer Instincts active is a self-buff.
Previous Splash Art
Patch History
General

Bug Fix:

Sandstorm Katarina's taunt animation is no longer twice as fast as her other skins.
General

Bug Fix:

Smoothed out a crack in PROJECT: Katarina's textures.
 

Bouncing Blades

Mark AP ratio increased to

20% AP

from

15% AP

.

Removed:

Per-bounce damage reduction.
 

Death Lotus

Grievous Wounds changed to 40% self-healing reduction from 50% incoming (duration unchanged).
 

Shunpo

Damage reduced to 40 / 70 / 100 / 130 / 160

(+ 25% AP)

from 60 / 85 / 110 / 135 / 160

(+ 40% AP)

.
General

Health reduced to 510 from 560.
Health growth increased to 83 from 80.
Health regen reduced to 4.5 from 7.7.
General
 

Voracity

Cooldown reduction changed to on champion death within 3 seconds of being damaged by Katarina from on kill/assist.
 

Death Lotus

Damage reduced to 350 / 550 / 750 from 400 / 575 / 750.
Cooldown increased to 90 / 60 / 45 seconds from 60 / 52.5 / 45.
 

Shunpo

Removed:

Applying Spell Vamp on wards.
Stats

Armor increased to 21 from 17.
 

Death Lotus

Removed:

0.25 seconds cast time before channeling.
Channel increased to 2.5 seconds from 2.
Damage increased to 400 / 575 / 750

(+ 250% AP)

(+ 375% Bonus AD)

from 400 / 500 / 600

(+ 200% AP)

(+ 300% Bonus AD)

.
Cooldown reduced to 60 / 52.5 / 45 seconds from 60 / 55 / 50.
 

Bouncing Blades

Damage changed to 60 / 85 / 110 / 135 / 160 from 60 / 90 / 120 / 150 / 180

 

Shunpo

Damage reduction duration reduced to 1.5 seconds from 3

 

Death Lotus

AP ratio increased to

(+ 200% AP)

from

(+ 175% AP)
Stats

Movement speed reduced to 345 from 350

 

Sinister Steel

Bonus movement speed changed to 15 / 20 / 25 / 30 / 35% from 12 / 20 / 28 / 36 / 44
Stats

Movement speed increased to 350 from 325
 

Bouncing Blades

Damage changed to 60 / 90 / 120 / 150 / 180 from 60 / 95 / 130 / 165 / 200

 

Sinister Steel

Damage changed to 40 / 75 / 110 / 145 / 180 from 40 / 80 / 120 / 160 / 200
Gameplay Update

General

New lore
New artwork for Bilgewater, Mercenary, Red Card, and Kitty Cat

 

Voracity

Removed:

25 bonus gold on kill/assist
Cooldown reduction changed to full for basic abilities and 10 seconds for  

Death Lotus

from 20 seconds for all

 

Bouncing Blades

Renamed from  

Bouncing Blade

Removed:

Bonus damage to primary target, Bonus AD ratio, Grievous Wounds
Damage reduced to 50 / 85 / 120 / 155 / 190 from 60 / 95 / 130 / 165 / 200
AP ratio increased to

(+ 50% AP)

from

(+ 35% AP)

Per-bounce damage reduction reduced to 10% from 15
Targets changed to 4 closest enemies from random
Cooldown increased to 10 / 9.5 / 9 / 8.5 / 8 from 9 / 8.5 / 8 / 7.5 / 7

New Effect:

Enemies hit are marked for 4 seconds. Katarina's basic attacks or spells will consume the mark dealing 15 / 30 / 45 / 60 / 75

(+ 20% AP)

magic damage

 

Sinister Steel

-

New W

Katarina whirls her daggers in a circle, dealing 40 / 80 / 120 / 160 / 200

(+ 50% Bonus AD)

(+ 35% AP)

magic damage. If she hits an enemy champion, Katarina gains 12 / 20 / 28 / 36 / 44% bonus movement speed for 1 second.
Cooldown: 4

 

Shunpo

Damage reduced to 40 / 70 / 100 / 130 / 160 from 80 / 120 / 160 / 200 / 240
AP ratio increased to

(+ 75% AP)

from

(+ 50% AP)

Damage reduction changed to 20% at all ranks from 15 / 20 / 25 / 30 / 35 (duration unchanged)
Cooldown increased to 14 / 12 / 10 / 8 / 6 from 10 / 9 / 8 / 7 / 6

 

Death Lotus

Damaged reduced to 400 / 500 / 600 from 500 / 650 / 800
AD ratio reduced to

(+ 300% Bonus AD)

from

(+ 500% Bonus AD)

AP ratio reduced to

(+ 175% AP)

from

(+ 250% AP)

Channel reduced to 2 seconds from 2.6

New Effect:

Each dagger applies Grievous Wounds (50% incoming-healing reduction for 3 seconds)
Cooldown unchanged
 

Shunpo

Removed:

Katarina landing in front of her target

Removed:

Katarina landing behind her target when  

Killer Instincts

is active

New Effect:

Katarina always lands behind her target
 

Shunpo

Removed:

Landing to other side of target (relative to Katarina) after blinking

New Effect:

Katarina lands in front of her target

New Effect:

Katarina will land behind her target when  

Killer Instincts

is active
 

Shunpo

New Effect:

Katarina will attempt to attack her target after blinking
 

Shunpo

New Effect:

Can target wards but they will be revealed for 2 seconds if so
 

Shunpo

New Effect:

Prioritizes enemies over allies when cursor overlaps them
 

Death Lotus

Per-dagger damage increased to 50 / 65 / 80 from 40 / 50 / 60
Per-dagger AD ratio reduced to

(+ 50% Bonus AD)

from

(+ 55% Bonus AD)

Per-dagger AP ratio reduced to

(+ 25% AP)

from

(+ 30% AP)
 

Shunpo

Damage changed to 80 / 120 / 160 / 200 / 240 from 90 / 120 / 150 / 180 / 210
 

Shunpo

Blink landing changed to other side of target (relative to Katarina) from behind them
 

Bouncing Blade

Damage increased to 60 / 95 / 130 / 165 / 200 from 20 / 40 / 60 / 80 / 100
AD ratio reduced to

(+ 80% Bonus AD)

from

(+ 100% Bonus AD)

New Effect:

Has a

(+ 35% AP)

ratio

 

Death Lotus

Damage reduced to 40 / 50 / 60 from 50 / 65 / 80
Scaling changed to Bonus AD and AP ratios combined from the highest one
Tagets hit changed to closest from random
Cooldown reduced to 60 / 55 / 50 seconds from 60 at all ranks
 

Bouncing Blade

Cooldown reduced to 9 / 8.5 / 8 / 7.5 / 7 seconds from 10 / 9.5 / 9 / 8.5 / 8

 

Killer Instincts

Cooldown reduced to 20 / 18 / 16 / 14 / 12 seconds from 22 / 20 / 18 / 16 / 14
 

Death Lotus

Targets hit increased to 3 at all ranks to 1 / 2 / 3 (rank)
 

Shunpo

Removed:

Casting while rooted
 

Voracity

Kill/assist bonus gold reduced to 25 from 50

 

Bouncing Blade

Cooldown increased to 10 / 9.5 / 9 / 8.5 / 8 seconds from 8 at all ranks
Stats

Health increased to 478 from 460
Health growth increased to 83 from 75
Damage growth increased to 3.2 from 2

 

Voracity

Cooldown reduction changed to on kill/assist from by damaging in a short time frame

 

Bouncing Blade

Bonus damage to primary target increased to 20 / 40 / 60 / 80 / 100 from 15 / 30 / 45 / 60 / 75

 

Killer Instincts

Removed:

Passively granting stacking on-hit bonus AD

New Effect:

Passively grants 8 / 12 / 16 / 20 / 24 bonus damage every time Katarina hits an enemy with a basic attack or an ability

Removed:

 

Shunpo

granting increased dodge chance for 3 seconds

New Effect:

 

Shunpo

grants 15 / 20 / 25 / 30 / 35% damage reduction for 3 seconds

 

Shunpo

Bug Fix:

Tooltip displaying lower damage value than intended

 

Death Lotus

AD ratio increased to

(+ 55% Bonus AD)

from

(+ 50% Bonus AD)
General

New alternate basic attack animation
Voice-over updated
 

Killer Instincts

Removed:

Losing bonus damage when switching targets

Removed:

Bonus damage being triggered by missed and/or dodged attacks

New Effect:

Bonus damage applies when hitting enemies with abilities

 

Death Lotus
 

Death Lotus

Channel reduced to 2.6 seconds from 3
Daggers increased to 10 from 9
Particle updated

Bug Fix:

Delayed damage application
 

Death Lotus

Damage changed to 50 / 65 / 80 from 30 / 45 / 60
AD ratio changed to

(+ 50% Bonus AD)

from

(+ 55% AD)

AP ratio reduced to

(+ 30% AP)

from

(+ 40% AP)
 

Death Lotus

AD ratio reduced to

(+ 55% AD)

from

(+ 65% AD)
 

Shunpo

AP ratio reduced to

(+ 75% AP)

from

(+ 80% AP)

Cooldown increased to 10 / 9 / 8 / 7 / 6 seconds from 9 / 8 / 7 / 6 / 5

 

Death Lotus

AP ratio reduced to

(+ 35% AP)

from

(+ 40% AP)
 

Death Lotus

Cooldown increased to 60 seconds from 45
AP ratio reduced to

(+ 40% AP)

from

(+ 50% AP)
General

Texture update to Classic

 

Death Lotus

Damage reduced to

30

from 60 / 90 / 120
AD ratio increased to

(+ 65% AD)

from

(+ 15% AD)

AP ratio increased to

(+ 50% AP)

from

(+ 20% AP)
General

Recommended items updated

Stats

Magic resistance growth increased to 1.25 from 0

 

Bouncing Blade

Grievous Wounds duration increased to 7 seconds from 3

 

Killer Instincts

Removed:

Stacking on-hit bonus attack speed

New Effect:

Katarina's basic attacks grant her stacking 4 / 5 / 6 / 7 / 8 bonus AD on-hit
Cooldown changed to 23 / 21 / 19 / 17 / 15 seconds from 20 at all ranks

 

Shunpo

AP ratio reduced to

(+ 80% AP)

from

(+ 100% AP)

New Effect:

Target is damaged only after Katarina blinks

Removed:

Self-casting

Bug Fix:

Katarina having a mana bar

New Effect:

Applies 's Icy as multi-hit

 

Death Lotus

New Effect:

Deals bonus damage equal to the highest ratio between

(+ 15% AD)

and

(+ 20% AP)

New Effect:

Applies 's Icy as damage-over-time
References