Ad blocker interference detected!
Wikia is a free-to-use site that makes money from advertising. We have a modified experience for viewers using ad blockers

Wikia is not accessible if you've made further modifications. Remove the custom ad blocker rule(s) and the page will load as expected.
Champion Spotlight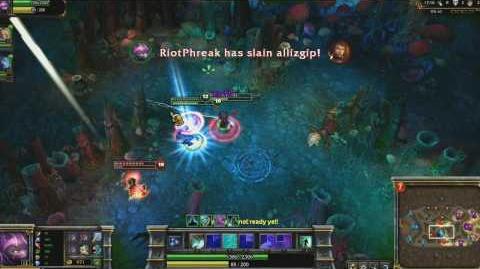 Recommended Items
Tips
Playing As  Kennen
Playing Against  Kennen
Consider playing a bit more cautiously around Kennen when you have a  

Mark of the Storm

debuff. If he hits you with 3  

Marks of the Storm

, you will get stunned.
Kennen is flimsy by nature - turn and attack him if he gets careless with  

Lightning Rush

.
Tricks
Ability Usage
Mastery Usage
Kennen thrives as an ability mage, however he still uses basic attack as his backbone. Therefore, a conjunction of Ferocity and Cunning masteries are recommended.
As an ability user,
helps with his skills.
Using
improves survival while farming.
To increase more health income,
is suited.
is a good option for battles that last more than 5 seconds.
can be used for fighting resilient enemies.
works for harassment purposes.
Kennen could get some extra speed with
Being a ninja, means killing them alone, hence
works when fighting solo.
is good as well for clean kills.
can add up more health.
is good for cooldowns, yet works for aggressive purposes.
Add more zapping with
towards champions using skills and basic attack, consequently.
Item Usage
Kennen's main core is his aggressive skills that provides hard crowd control and agility at the same time plus gain quick kills. The drawback is that he can be squishy and less durable when fighting against a large crowd. He does not require mana as well, so the idea is ability enhancers with utility effects and a hint of durability.
As a starter, it is not recommended to buy
or as Kennen does not require mana. Instead focus on damage like or .
is the ability's bread and butter to increase magic damage.
Additionally
can be a cheaper alternative.
It is essential to have  

Slicing Maelstrom

so that you don't die in teamfights for example, because you do want to get into the middle of the enemy team to hit as many enemy champions as you can with your  

Slicing Maelstrom

.
, especially when using
Another essential is  

Mark of the Storm

.
which synergies with Kennen's passive
For extra health, buy
, which gives quite alot of ap and a good slow when using abilities on top of the health.
Cooldowns can be helped with
plus dashing through combat or
is unpopular choice but enhances both damage and ability, since Kennen relies on both.
Countering
Kennen can be easily defeated if hard crowd control is applied or working with teammates.
Always stay on hot foot and behind minions to avoid his basic attack and  

Thundering Shuriken

.
Do not push far to the enemy tower as Kennen can  

Lightning Rush

through waves and towards you, therefore creating a trap.

Furthermore, don't stand near the closest allied turret from a strong Kennen, as he can use many swift means to kill and leave unscathed.

Always wait from safety if you are marked by  

Mark of the Storm

.
Consider hard magic resist build and tenacity to diminish his effects.
Kennen functions swell in tight areas or with unchecked cover so get some backup.
He has mediocre (550) basic attack range, so use it to close the gaps easier.
When in teamfights, remain swift and scattered to avoid his  

Slicing Maelstrom

.
References