Champion Spotlight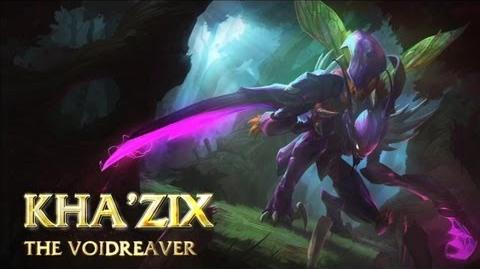 Recommended Items
Tips
Playing As
Enemies are considered
if they have no allies within a short distance. The damage of is massively increased against these targets.
activates when Kha'Zix cannot be seen by the enemy team. Reactivate by using brush or . Don't forget to apply by autoattacking enemy champions.
Kha'Zix has a great deal of freedom to choose where and when to fight. Pick your battles carefully to succeed.
Playing Against
deals bonus damage to targets that are . Gain an advantage by fighting near allied minions, champions, or turrets.
and have long cooldowns. Kha'Zix is very vulnerable when these are not available.
Tricks
Ability Usage
Mastery Usage
Item Usage
Countering
References
Ad blocker interference detected!
Wikia is a free-to-use site that makes money from advertising. We have a modified experience for viewers using ad blockers

Wikia is not accessible if you've made further modifications. Remove the custom ad blocker rule(s) and the page will load as expected.