Ability Details
Additional Information:
Skaarl's health is rounded down to the nearest integer.

This health is not lost but applied to Kled instead.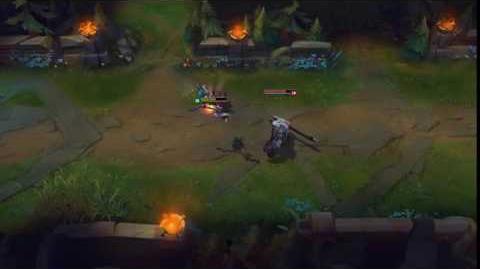 Ability Details
Additional Information:
Beartrap on a Rope grants  true sight of the target for the leash duration.
The knockback from Pocket Pistol can be used to pass through terrain.
Casting Q during Kled's dismounting animation will buffer Pocket Pistol to cast when Kled lands. Casting Q during Kled's remounting animation will fire Pocket Pistol normally.
Hitting Kog'maw while his passive is up also restores Courage.
Ability Details
Ability Details
Jousting
is a linear
dash
.
Additional Information:
Jousting's dash will end prematurely if Kled is dismounted.
Kled and Skaarl will dash

250

units through the marked target.
Minions and small monsters hit by Jousting are  pulled towards the duo, similair to 's .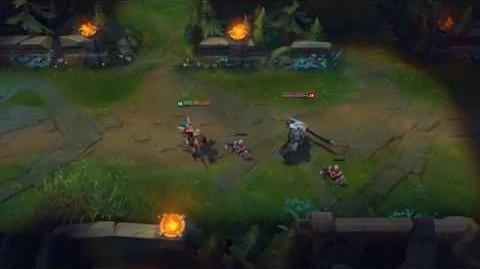 Ability Details
Additional Information:
All sections of trail provides the same movement speed. The speed will match Kled's CHAAAAAAARGE!!! speed, if CHAAAAAAARGE!!! ends early it will provide the speed when the CHAAAAAAARGE!!! locks on to a target.
Bonus movement speed is 30% but it's capped at 950.
Kled is immune to crowd control until the dash ends or hits an enemy champion.
Giving enough damage to make Kled dismount will cancel CHAAAAAAARGE!!!.
Enemies gain vision of Kled when he charges nearby.
References