Lancer is a series of alternate future/universe skins in League of Legends. Set in a fantasy setting of ancient sentinels, each champion is a mechanised knight created to protect cities from any threat.
Lore
Mechanised Sentinels
History
Lancer Paragon and Rogue Blitzcrank
Lightning from the heavens brought forth a peaceful paladin. One that serves all honorable subjects, defending with true and calculated precision.
From the raging skies, a furious bolt blackened the earth, manifesting as machine. Its protocol: Storming castles and eliminating kings on their thrones.[1]
Lancer Stratus Wukong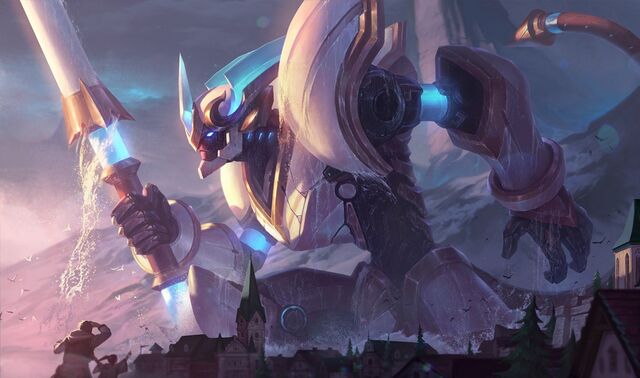 The figures loomed on the horizon, growing larger as night fell. Many abandoned the town, fleeing in the darkness. Others stayed, clinging to hope. Hope that someone, or something, would rise and fight for them.
They lifted their eyes as dawn arrived. The mist parted over the sea, and their ancient protector rose, glowing with forgotten energy, lance at the ready.
Their call had been answered.[2]
Trivia
Media
References