General
Leona's dance resembles 'Shield Break' by the Force Shielder from Cabal Online.
and have nearly identical functionality, with the only differences being who (Leona's allies and herself, respectively) and what (any allied damage source and basic attacks, respectively) triggers them.
hidden passive which makes enemy champions affected take 1 less damage from it if they are wearing sunglasses (whether by default like or through a skin like or [ |) [ |
has a
Leona is the modern feminine derivative of Ancient Greek name Leon Λέων "lion", from an Afro-Asiatic source (cf. Ancient Egyptian rw "lion", ʕħʔrw Aaron "warrior lion"[1], & Hebrew לָבִיא labi), while her title 'the Radiant Dawn' might be referencing Fire Emblem: Radiant Dawn.
Leona's appearance and personality are heavily inspired by Michael 'IronStylus' Maurino's wife while her face was drawn with Natalie Portman as reference.[2]
Quotes
[ |
Leona shares quotes with:
[ |
She speaks two dedicated lines ( 

"Pen or sword, the shield is mightiest"

and  

"The day is upon us"

) that appear to have been scrapped from Classic.
Skins
[ |
[ |
She references the the eponymous figures from Norse mythology.
When she hides in brush her outfit becomes transparent thus making her undergarments unintentionally visible.
She shares this theme with . [ |
[ |
Her outfit is based on the
.
sprouts phoenix wings during its trajectory.
makes the phoenix on her shield open its wings to cover her head.
leaves an imprint resembling upon impact.
The Scarlet Macaws in the background reference Michael 'IronStylus' Maurino (she is his brainchild and that bird is his favorite)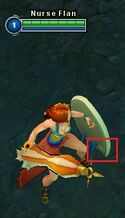 [ |
She was conceived by the playerbase as 'Sunbathing Leona'.
, , and can be seen in the background.
becomes a surfboard with a insignia hidden on its bottom-right inner side.
She shares this theme with , [ |, [ |, [ |, [ |, [ |, [ |, [ |, [ |, [ |, [ |, and [ |. [ |
[ |
She is from an alternate future in which she was cybernetically augmented as part of the PROJECT Initiative.
describes her as: [ |

"Brilliance in pieces, shrouded in ethereal flame. Protector, light bringer. Lone voice. Stand and fight. In death-heavy fields, now still she stands, light washes over... will sacrifice anything to protect."

If one tells they fight for [ |'protection' she'll say the following:

" She remembers sunlight."

Her gear includes:
She shares this theme with , [ |, [ |, [ |, [ |, [ |, [ |, and [ |. [ |
[ |
She shares this theme with , [ |, [ |, and [ |. [ |

can be seen in the background. [ |
Relations
Long before they became Aspects, Leona and
fought each other to a standstill when they were kids.
Leona is searching for
, first for zealous revenge against the Aspect of the Moon for murdering the Solari elders but ultimately to uncover the truths the Celestial Aspect of the Sun shared with her on Targon's summit.
References