Lore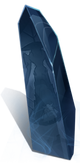 Lissandra's magic twists the pure power of ice into something dark and terrible. With the force of her black ice, she does more than freeze – she impales and crushes those who oppose her. To the terrified denizens of the north, she is known only as "The Ice Witch". The truth is much more sinister: Lissandra is a corrupter of nature who plots to unleash an ice age on the world.
Centuries ago, Lissandra betrayed her tribe to evil creatures, known as the Frozen Watchers, in return for power. That was the last day that warm blood ran through her veins. With her corrupted tribesmen and the strength of the Watchers, she swept across the land like a terrible blizzard. As her empire spread, the world grew colder and ice choked the land. When the Watchers were defeated by ancient heroes, Lissandra did not lose faith and swore to prepare the world for their return.
Lissandra worked to purge all knowledge of the Watchers from the world. Using magic to take human form, she masqueraded as numerous seers and elders. Over the course of generations, she rewrote the stories of the Freljord, and so the history of its people changed. Today the fragmented retellings of the Watchers are seen as children's tales. But this deception wasn't enough – Lissandra also needed an army.
She set her sights on the noble Frostguard tribe. Lissandra knew corrupting the Frostguard would take centuries, and so she launched her greatest deception. She murdered and stole the identity of the Frostguard leader. Then she slowly began to warp the tribe's proud traditions. When her human form grew old, she faked her own death and then murdered her successor to steal her identity. With each generation, the Frostguard grew more insular, cruel and twisted. Today, the world still sees them as a noble and peaceful tribe that guards against evil creatures like the Ice Witch. In truth, they now serve the witch and long for the glorious return of the Watchers.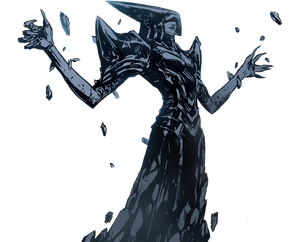 Lissandra knows that on that day nations will fall and the world will be reborn in ice.
"Close your eyes and let the cold take you."
"We are the chosen, destined to receive the gifts of the Watchers. Our faith is tested by bitter cold and endless winter. A crucible that separates the worthy from the unworthy, purging doubt, and leaving purity behind. The others fight like neglected children, petty squabbles that will amount to nothing in the end. We have purpose, to prepare this land for new masters. The Watchers return. Our ascendance is at hand."
"The Freljord, a frozen, desolate place. War is coming to the Freljord. The Avarosan, the largest and strongest of the tribes. Led by

 Ashe

, they seek peaceful unification. The Winter's Claw, the most warlike and brutal of the tribes. Led by

 Sejuani

, they think peace is another word for weakness. Sejuani has sworn to purge this weakness. Through war, the Freljord will be purified. Far in the north, the peaceful Frostguard protect Freljord's ancient secrets - or so the world believes. In truth, the Frostguard protect me, Lissandra. While others bicker, we prepare. When the time is right, we will strike. They cannot withstand us, they are only human. And when the war is over, the world, our world, will be reborn - in ice."
"The Freljord, a home to some, a grave to countless more. Lesser clans have scrambled for the right to rule this frozen land for millennia - all have failed. Now, finally three great leaders have emerged to rally the smaller tribes beneath their banners. The storms of war will cloud the sky when their paths cross, but once this battle is over, the people will find just one tribe left, to rule the land."
"We have waited so long for this day, we have been so patient. Now, my children, my Frostguard, it is

our

time.

"I have seen the future, and it is cold. The Watchers return and they are so pleased with you. They will take away your hunger. They will take away your pain. You will be reborn; like me, you will become Iceborn."

"We will take back what is ours. The other tribes won't be able to stop us. They are but snowflakes. And we are an avalanche."
Winning on the Howling Abyss
Waiting for 30 seconds after winning in the Howling Abyss (with any champion)
"The Howling Abyss. A bottomless crevasse surrounded by an ancient fortress carved into a glacier. No one remembers who built this place. No one knows its purpose. No one, but me.

Long before  Ashe and  Sejuani, before magic shattered the broken peaks, before the desert swallowed Shurima, it was the time of The Three Sisters. We were so young back then; Avarosa, Serylda, and me, Lissandra.

Back then the Frozen Watchers lived here. I do not know where they came from, but I know they were powerful. They gave us gifts, shared their magic, made us immortal. They named us, "Iceborn". In return, we gave them whatever they desired. This mighty fortress, a vast empire, our loyalty, these were a small price to pay. Avarosa did not see it that way. Like a spoiled child she cried out for freedom. She demanded choice. She sowed the seeds of rebellion and betrayal.

This place is where it happened. On one side, the Frozen Watchers, on the other, Avarosa and her Iceborn horde. Many Iceborn died that day, but in the end, the Watchers fell. Avarosa drove them howling into the abyss. I never forgave her. . . I had my revenge — but that is another story."
Quotes
Upon selection
"I will bury the world in ice."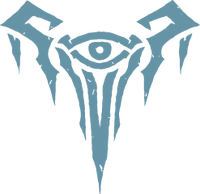 Attacking
"I am Iceborn."
"Flesh freezes so easily."
"Foolish child."
"Succumb! It's inevitable."
"The cold will numb your pain."
"Your time has passed."
"You can't stop an avalanche."
"Embrace the cold."
"Feel the power of true ice!"
"Your death serves greater purpose."
"Another frozen corpse."
Movement
"All will kneel... in time."
"I see things clearly."
"I will restore Freljord's greatness."
"Plans within plans."
"There will be no thaw."
"Battles come and go. I am eternal."
"The Watchers will return."
"This world has forgotten true power."
"So many secrets buried in ice."
"No one will remember them."
"They cannot fight the cold."
"This is but a battle. I've already won the war."
"I never rest."
Taunt
"I've been killing your kind for centuries!"
"Surrender. My triumph is inevitable."
"The world began in ice and it will end in ice."
"Close your eyes and let the cold take you."
Taunting  Ashe
"I've killed so many queens I've lost count!"
Taunting  Sejuani
"Kneel before me and I will unleash your power!"
Taunting  Brand
"You really picked the wrong side."
Joke
"I make cold look... hot."
"I consider frigid a compliment."
"Is it cold in here, or is it just me?"
Laugh
Lissandra laughs.
Lissandra laughs.
Lissandra laughs.
Upon using  

Frozen Tomb
"Freeze!"
"Entomb!"
"Kneel!"
Battle for Freljord event start
"At last, our ascension is at hand!"
Winning the Battle for Freljord
"The Iceborn rule Freljord!"
Development
Lissandra, the Ice Witch, Revealed
By RiotWenceslaus [1]:
Lissandra is a flexible, mana-efficient mage with abilities that emphasize crowd control, kiting and mobility over raw damage.
Patch History
 

Frozen Tomb

New Effect:

Self cast now also heals Lissandra for 100 / 150 / 200

(+30% AP)

, increased by 1% for every

1% of her missing health

.
V5.5:
 

Ice Shard

Damage lowered to 70 / 100 / 130 / 160 / 190 from 75 / 110 / 145 / 180 / 215
V5.4:
 

Glacial Path

Fixed a bug where Glacial Path's end marker could be hidden under terrain, even if it was supposed to be visible.
 

Ice Shard

Cooldown reduced to 6 / 5.25 / 4.5 / 3.75 / 3 seconds from 6 / 5.5 / 5 / 4.5 / 4 seconds.

 

Ring of Frost

Ability Power ratio reduced to

(+40% AP)

from

(+60% AP)

.

 

Frozen Tomb

Slow increased to 30 / 45 / 75% from 20 / 30 / 40%.
V4.7:
 

Frozen Tomb

Target enemy movement is now immediately interrupted, including dashes and jumps.
The cooldown now begins when the ability is successfully cast.
V4.5:
Stats

Base armor increased to 14 from 10.
 

Frozen Tomb

Fixed a bug where the slow would sometimes not reapply properly.
V3.8:
 

Ring of Frost

Cooldown reduced to 14 / 13 / 12 / 11 / 10 seconds from 18 / 16 / 14 / 12 / 10.
Mana cost reduced to 50 from 70.
Fixed a bug where the root failed to apply if Lissandra died.

 

Glacial Path

Cooldown now begins upon initial cast rather than upon reactivation or at the end of the missile.

 

Frozen Tomb

Self-cast duration increased to 2.5 seconds from 1.5.
Slow increased to 20 / 30 / 40% from 20 / 20 / 20%.
Damage reduced to 150 / 250 / 350 from 150 / 300 / 450.
V3.6: Added April 30th
References