"Submit to my designs."

Use the info here with consideration. It might be outdated or biased info.
Official Strategy
Bot lane
A highly-mobile ranged damage dealer,
 Lucian punishes enemies for straying too close. Piercing Light offers Lucian significant harass potential, even through minions, forcing enemy carries to decide between missing last hits as they dodge his shots or taking damage as they farm up. Dashing with Relentless Pursuit or landing Ardent Blaze and a follow-up auto attack on escaping targets gives Lucian the speed boost needed to close gaps, score kills or escape a deadly gank. Lightslinger enables Lucian to fire two auto attacks in quick succession after using his abilities. This offers ample opportunities for the Purifier to bully his lane enemies and take the upper hand in simple duels. On-hit effects such as life steal, slows and red buff proc twice, making Lucian all that more likely to survive tough exchanges and maintain presence in lane.
The Culling, Lucian's ultimate, is a channeled ability that fires a barrage of bullets in a straight line, damaging the first enemy champion hit. Unlike many channeled abilities, Lucian has the option to dash with Relentless Pursuit as he unleashes The Culling. While on the move, The Culling will continue firing in the same direction as when activated. Simultaneous use of Relentless Pursuit allows Lucian to quickly dash away from his approaching enemies or move in towards fleeing foes.
Teamfights
Once teamfights break out, Relentless Pursuit enables Lucian to quickly escape unfavorable situations and kite pursuing opponents, or skirt around the enemy team to single out priority targets. When facing off against a group of foes, tagging multiple enemies with Ardent Blaze gives Lucian plenty of targets to peg for a speed boost while Piercing Light rips through the group.
Skill usage
Build usage
The boosted
stats are good on any autoattack reliant champion.
The attack damage and health, providing damage and tankyness, also the Rage passive effect of and gives him huge kiting and chasing potential.
component gives him some
The mana, which gives more spammability to his spells.
component gives more burst potential with the 'Spellblade' passive while also giving him increased
Fitting extremely well with his "bursty" nature,  Lucian
can be "rushed" on

is an overall effective way to boost Lucian's kit.
mana and armor and some cooldown reduction to help with spamming spells.

Although the 'Spellblade' passive is not as strong on  

Piercing Light

 at higher ranks.
 as it is on  , in exchange it provides a significant AoE slow, giving Lucian some effective CC when combined with the short cooldown of 

 is a slightly cheaper alternative when still seeking the 'Spellblade' passive of   and also provides a large amount of both
 Lucian, because of the large attack speed bonus it gives, along with its unique passive.

When  

Lightslinger

 procs,  Lucian will fire a total of 6 shots, which is useful for wave-clearing, meaning that there won't be a large threat of your lane being pushed.

is an efficient item on
attack damage, while the life steal it offers grants  Lucian much needed sustain, especially with  

Lightslinger

.

As one of the core items on any Marksman build,  Lucian, however might be a better pick if Lucian is not taking heavy poke early on, but if he does, the life steal path of could be a better option
can also be 'rushed' on

is an excellent item for Lucian, because it grants him a hefty amount of
 Lucian, because it offers attack speed, critical strike and movement speed.

It should be also noted that the  

Lightslinger

, as each shot will provide another stack, building it twice as fast.
 passive will stack much faster by procing 

 is a good item for
 Lucian, granting him attack damage, attack speed, life steal.

It is worth mentioning that  

Lightslinger

procs both the life steal and passive that offers.

is  effective on
armor penetration while providing some cooldown reduction, and its two upgrades have benefits.

will grant a boost of health and attack damage, and its shred can quickly be stacked with either  

Lightslinger

procs or  

The Culling

.
, while it doesn't give as much attack damage as a  and may not grant the % armor shred, gives a useful active to boost, giving about 2 extra shots as well as movement speed, making it easier to follow the target, while the increased flat armor penetration makes it easier to kill squishier targets.

can be a good way to improve your damage, due to the
Because  

Lightslinger

's second shot can critically strike, an is a cost efficient item for him.
Lucian using lich bane can also be build AP as sheen s active, nashor tooth and wits end passive synergizes with Lucians passive building rabbadon gives a huge burst, also the AS of this items add more shots to his ultimate.
Lucians W's AP scaling grants him more range and a decent amount of poke damage, allowing to trade without taking damage.
is a really cost benefit item on Lucian. The two passives combined with your fully channeled ultimate can practically kill a squishy target.
Recommended builds
Countering
Champion Spotlight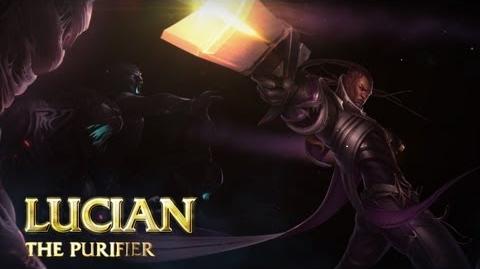 A highly-mobile ranged damage dealer, Lucian shines when blasting enemies with Piercing Light and quickly repositioning himself with Relentless Pursuit to unleash more pain or retreat from counterattacks and jungle ganks. By tagging enemies with Ardent Blaze and activating The Culling, Lucian gains the speed boost needed to chase down opponents, unload massive damage and secure kills. And since Lightslinger enables double on-hit procs of life steal, red buff and more, Lucian can overcome opponents in duels and in-lane trades with strategic use of his abilities.