Ad blocker interference detected!
Wikia is a free-to-use site that makes money from advertising. We have a modified experience for viewers using ad blockers

Wikia is not accessible if you've made further modifications. Remove the custom ad blocker rule(s) and the page will load as expected.
Champion Spotlight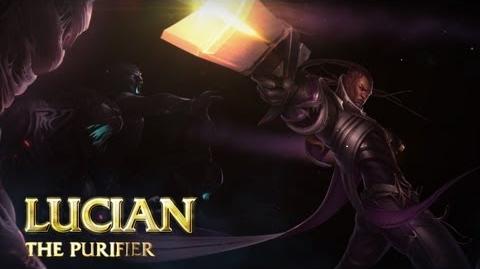 Learn to unleash
 a barrage of bullets and send opponents to the grave in the
 Lucian Champion Spotlight.
A highly-mobile ranged damage dealer, Lucian shines when blasting enemies with
 Piercing Light and quickly repositioning himself with
 Relentless Pursuit to unleash more pain or retreat from counterattacks and jungle ganks. By tagging enemies with
 Ardent Blaze and activating
 The Culling, Lucian gains the speed boost needed to chase down opponents, unload massive damage and secure kills. And since
 Lightslinger enables double on-hit procs of life steal,
red buff and more, Lucian can overcome opponents in duels and in-lane trades with strategic use of his abilities.
Put evil in its place - 6 feet under - as Lucian with sample masteries, tactics and more in this Champion Spotlight.
Recommended Items
Tips
Playing As  Lucian
Playing Against  Lucian
Lucian has strong  

burst

, but little sustained damage.
Lucian cannot change the aim of  

The Culling

. Take advantage of this by avoiding the angle of the bullets.
 

Piercing Light

does not give Lucian extra Attack Range. He still needs to find a target in range to line up his shot. Avoid  

Piercing Light

by anticipating the angle Lucian will choose.
Tricks
Ability Usage
Mastery Usage
 Lucian as  

Lightslinger

will both apply the bonus damage and generate stacks.
is the best choice for
is another option in difficult games where sustaining at low health is necessary.
Item Usage
Countering
References