Lanes and Roles
 Lulu is perhaps one of the most versatile champions in the game. Her kit and stats allow her to be played with a multitude of builds, with the most common ones being utility support and ability power carry.
The most common role for Lulu at the moment is of a utility carry mage. With a lot of AP items, Lulu becomes a force to be reckoned with, and while her damage is below the average damage for mages, her insane utility more than compensates for that. With  

Glitterlance

, she can push the lane; with  

Whimsy

, she can escape ganks. This allows her to push and harass her enemies, making them miss CS and allows her to become a lane bully, especially at the top lane, where she can harass most bruisers and tanks.
Due to her enormous utility, Lulu can also be played as an utility support. She generally counters engage-based tanky supports such as  Thresh and  Leona because these supports have no sustain to keep up with Lulu's harass, and her abilities counter their engage. However, she fares poorly against sustain supports that are more passive, such as  Soraka and  Sona, although she still has an excellent late-game when compared to those supports.

When going support, pay attention to your team's needs. If your team lacks an AP champion for example, it may be better to buy a

Spellthief's Edge

, a

Sightstone

, then go full AP. If your team is in need of tanky champions, it may be better to build Lulu as a tank support. If neither is needed, however, Lulu can afford to make a build that balances utility with AP, so that she doesn't need to sacrifice either utility or damage.

There are a lot of builds that Lulu can use effectively aside from APC and support. She can be played with a Machine Gun build (a bruiser build that makes use of a lot of attack speed items to take advantage of her passive), as an ADC, and even as a full-tank.
It is important to note that, no matter the build Lulu decides to use, she never falls off late-game. Even if she loses her lane and is behind when compared to her enemy, Lulu has so much utility, that she will always be useful to her team.
Skill Usage
Build Usage
Supportive options
As an AP support,  Lulu can pick up

Spellthief's Edge

as a good starting item since her kit encourages her to auto-attack and harass. The active of its final upgrade,

Frost Queen's Claim

, can allow you to catch out enemies from a longer distance.
 Lulu can easily support other champions from the back, making aura items a viable choice.

Aegis of the Legion

will increase the effectiveness of  

Help, Pix!

and  

Wild Growth

on both you and your allies, since shields & health bonuses are able to soak up more damage with higher defenses.

Zeke's Herald

gives you a bit of health, a good amount of Cooldown Reduction and also grants your AD allies bonus attack damage and life steal.
Recommended builds
Countering
Champion Spotlight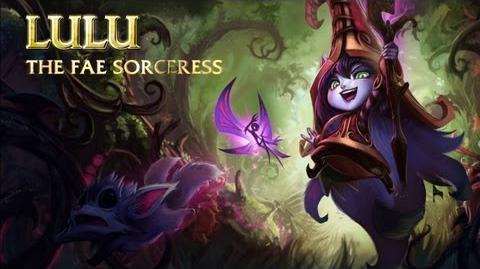 Upcoming Champions
Canceled Champions
Concept Art