Champion Spotlight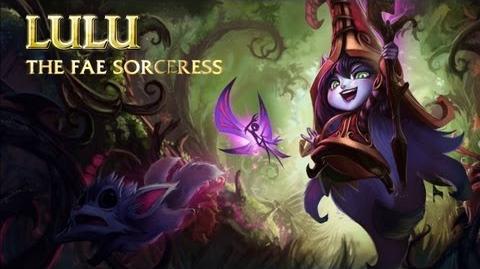 Recommended Items
Tips
Playing As
can be fired at odd angles depending on where your cursor is - Moving your cursor closer to and Lulu will change your area of effect size considerably.
Consider casting
on ranged attackers for the and on Tanks or Fighters for the added initiation power.
Playing Against
The shots from Lulu's
can be intercepted - hide behind your minions to avoid the additional .
Lulu excels when opponents heavily commit. Don't give her this chance! Use heavy harass tactics instead to force Lulu and her partner out of lane.
Tricks
Ability Usage
Lulu's kit makes her available to be a top, mid laner or support role.
Cast
on ranged minions before to perform a long distance poke.
Mastery Usage
Item Usage
Countering
References
Ad blocker interference detected!
Wikia is a free-to-use site that makes money from advertising. We have a modified experience for viewers using ad blockers

Wikia is not accessible if you've made further modifications. Remove the custom ad blocker rule(s) and the page will load as expected.