Champion Spotlight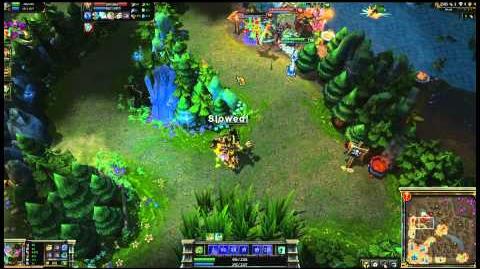 Recommended Items
Tips
Playing As
can be tossed into brush or over terrain to gain line of sight on your enemies.
Save
for after your opponents have fully committed to a fight.
Ranking up
and gives Maokai powerful crowd control moves, while ranking up will improve your damage output and ability to farm.
Playing Against
can be avoided by placing friendly minions between yourself and them. You can also just outrun them if you're fast.
does more damage if you attack Maokai or his allies within the area of effect. Stay out of the area to avoid the damage.
Maokai will avoid taking damage while he's using
, so don't waste your abilities.
Tricks
Ability Usage
Maokai greatly benefits from enemies that keep spamming skills,each 5 stacks you get you a free cure based on your MAX HEALTH. When necessary, spamm your abilities too, keeping an eye on your mana.
It has a nice early damage but does not scales good with AP. The base damage will help in trades and clear wave.
You can use 
 your and follow it with    for a safe engage and good early damage combo if combined with   and  .
 has a nice synergy with Protobelt, they can be used and the same time.
Combined with Flash, you can almostly set the death of your target. 
The damage scales with the target MAXIMUM HEALTH plus 3% of your AP.
The saplings no longer damage when falling.
For fast clearing the jungle camps, and initialy on the blue buff, throw the first sapling at 0:59 seconds.
Always throw them on bushs to grant vision.
Always use when the fight starts and always try to mitigate AoE damage dealt on your allies.
Sometimes it's better to use it to clear large minion waves.
The vortex will detonate when you run out of mana, die or reactivate it. Zhonya will not stop it.
Mastery Usage
The best talent for the actual Maokai's build and strategy is to use 6/6/18. Courage of the Colossus or Bond of Stoneborn Pact. Always use Expose Weakness and Sorcery. If you preffer, use the other 6 points on Vampirism/Battle Talent and Battle Trance.
Item Usage
Maokai's main status is the syngergy with high HP values to take advantage of the damage reduction from 
 and the extra cure from his passive.  is always core for him.
Consider buying an early 
 for tenacity to always stay close to allies or easy engage/disengage.
 scales really good with  's passive, that regenerates HP with mana spent on abilities and regains mana with damage recieved, since your ultimate consumes mana per second, it will work good on every situation. Always get one of the three itens using it.
Maokai need to keep close to his targets, so 
 will make it easier to move around, chase or escape.
Bacause of the synergy from his skills and constantly needs to use his passive, 
 can be a good option.
Maokai is one the tanks with average to good AP scalling, in some cases, one or two AP itens like 
 will upgrade most of it stats.
 is a good option for Maokai's kit. The extra mobility to combine with Q/W, cooldown reduction, HP and extra AP is almost core for one of the AP itens.(Protobelt "cancels" the animation from Arcane Smash but the damage will still be dealt, the two combined gives a huge early/mid damage for his main combo)
Countering
References
Ad blocker interference detected!
Wikia is a free-to-use site that makes money from advertising. We have a modified experience for viewers using ad blockers

Wikia is not accessible if you've made further modifications. Remove the custom ad blocker rule(s) and the page will load as expected.