Champion Spotlight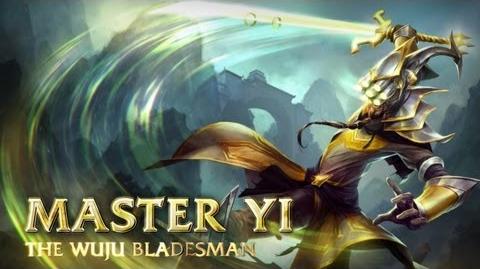 Whether you prefer to tear up the jungle or dominate a solo lane, this
 Master Yi Champion Spotlight is full of tips and tricks to help
 sharpen your game.
Master Yi's
 heavy-hitting nukes,
 sustained DPS and
 reflex-driven
 defensive abilities make him the ultimate high-risk, high-reward champion. He excels at fast, brutal ganks as well as diving into fights to assassinate targets before withdrawing with his impressive suite of escape tools. He's also got intimidating cleanup potential thanks to the extended duration on his
 ultimate when he scores a kill or assist.
Learn how to prove you're a true
 Highlander in this edition of the Champion Spotlight, featuring Master Yi tactics, masteries and more.
Recommended Items
Tips
Playing As  Master Yi
If you're in a lane against ranged players, leveling up  

Meditate

can allow you to stay in the lane longer and gain levels faster than they will.
 

Wuju Style

is very strong early for last hitting minions.
Try using  

Alpha Strike

on a minion in front of an enemy champion so you are placed at a safe distance at the end of the spell.
Playing Against  Master Yi
 

Meditate

is an effective method of healing damage over time, but Master Yi is susceptible to coordinated team ganks early in the game.
If Master Yi tries to farm with  

Alpha Strike

, hit him a few times so he has to use mana with  

Meditate

to heal.
Although Master Yi cannot be slowed while using  

Highlander

, other disables can stop him in his tracks.
Tricks
Ability Usage
Mastery Usage
Item Usage
Countering
References