"Submit to my designs."

Use the info here with consideration. It might be outdated or biased info.
Official Strategy
In Lane
In lane, Master Yi requires some quick skill and knowledge of lane match-ups to do well. Most of said match-ups are either even (thus, very dependent on the players' skill) or against him, so he can't often afford to rush in recklessly. However, should he receive the leads he needs, he is able to push lane quite well. But with that said, he can push lane too soon which can lead to him being easily ganked. Much of Yi's gameplay in lane would involve patient farming and lane-freezing, so as to not overextend. Though in comparison to the jungle, Yi can gain more frequent exp and gold over time should he diligently farm.
Jungle
Master Yi is a farming jungler with very little gank capability before he is Level 6 and receives his
 Highlander ability. His sustain from
 Meditate and whatever life steal he has lets him stay for however long he needs. The

Devourer enchantment is best suited to him as the attack speed synergizes with his kit and lets farming be even more beneficial. Though for those focusing on more early raw damage with other attack speed items,

Warrior is also well-suited for its armor penetration. When ganking, using
 Highlander lets him get up close and stick to his target to put out his damage. Being a powerful dueler due to the nature of his kit, he can usually kill opponents by himself so long as they aren't going to kill him first or live long enough to be under the (relative) safety of their turrets.
Late Game
Master Yi's team fighting prowess is not his strong suit. In general, he fails easier as the quantity of opponents ready to focus his squishy health reserves become more common. When going in, Yi must take advantage of enemy cooldowns,
 Alpha Strike's brief invulnerability, and
 Meditate's damage reduction to stay in the fight. His damage output is high enough to take down even tanks swiftly, so target whatever is nearest and get
 Alpha Strike up as often as possible. You may only be wasting time if you chase a kiting carry, so avoid leaving yourself open and your sword not swinging, because the sooner an opponent dies, the sooner you have your abilities off cooldown.
Skill usage
Build usage
 Master Yi is almost always built as a melee AD carry focusing mainly on DPS for easy consistent damage because of his kit's nature. It is possible to build him as a heavy-hitting bruiser or burst carry, but Bruiser Yi is less recommended as it requires more experience and knowledge to succeed with in terms of trial and error from build varieties. However, bruiser builds no doubt, are recommended for anyone who prefers to live longer while still being able to deal damage.

It is due to the trial and error portion, Yi actually has very versatile build paths, and has many different items considered to be "core" to his kit. It's difficult to know which item builds provide the best results, but it allows him to stand out and be flexible with specific build paths.
The standard AD carry build revolves around a combination of attack damage, attack speed, critical strike chance, and armor penetration for maximum DPS, with survivability through life steal and minimal defensive items.  Master Yi's damage directly scales in strength with all of these stats.
His AD grows multiplicatively due to  

Wuju Style

, making it an obvious build choice.
Due to  

Wuju Style's

active providing true damage, armor penetration is somewhat less of a priority for Yi, but it should not be neglected to be purchased regardless.
Playing him as a caster-type champion in the original days of Ability Power  Master Yi tends to be risky if not, completely difficult due to proper need for timely for initiation and his squishiness, but full-raw attack damage builds that revolve around maximizing  

Alpha Strike

's damage output for high one-shot burst are possibly just as effective, though armor penetration and cooldown reduction are to be considered, as well as high critical strike chance.

Because  Master Yi is very fragile, burst damage through critical strikes and items providing life steal helps him finish the work quickly and stay alive as long as he's doing damage.
Due to  

Double Strike

, attack speed items like   and   and items that provide bonuses on attacking or subsequent attacking like   are more useful on  Master Yi. Also, higher attack speed dramatically reduces the cooldown for  

Alpha Strike

. However, for maximum DPS, and to boost  

Alpha Strike's

damage and  

Wuju Style

, it is strongly recommended to not focus on stacking attack speed, otherwise there may be some occasions where Yi won't deal that much damage per hit. Due to this, a balance of actual damage and attack speed usually needs to be considered.

Because of the attack speed and movement speed steroid from  

Highlander

, it is recommended to neglect these stats in the beginning of the game (other than boots) while itemizing for attack damage and life steal instead. This gives the highest increase in DPS and sustain.
It is important to keep in mind that with  

Highlander's

 attack speed bonus it's not hard to cap out attack speed at 2.5 attacks per second, meaning you may have unused stats during  

Highlander

.

health, and health regeneration, and if the player is planning to build him as a bruiser.
, as with most champions, helps in laning because of the basic attack damage reduction, 
 

Highlander

, and the multiple opponent application from  

Alpha Strike

you can easily benefit from the stacking mechanism that penetrates their armor, as well as focusing on its higher raw damage. This item however, is more recommended for any raw damage/bruiser builds over more attack speed-focused builds.

The most recent reworked version of this item however, can now easily benefit  Master Yi due to the armor shred having a greater effect due to his overall DPS, and the cooldown reduction has increased making Yi's abilities easier to spam. The Rage passive also works well in chasing and kiting, and its HP makes it a great bruiser item for Yi more than ever. Not only can it also boost the damage of his  

Alpha Strike

and allow that very ability to also apply stacks, but Yi can also build it to help his team by shredding armor for them as well.

is a great major item since it provides a little bit of several stats. With the attack speed boost of
 Master Yi builds, even tanky ones, since  

Alpha Strike

 and  

Double Strike's

second hit can crit.

Used in combination with

It is generally accepted that  

Alpha Strike

counts as movement for stacking up its passive.
is superior to because of its better stats and due to no need to manage any special-and-timely-on-hit tactics. However, is mainly for those who want to focus on extra AoE and mixed damage burst, especially since
 

Highlander

 and the active effect of   can be used as a popular combo to gain huge amounts of attack speed and movement speed. This can likely catch unwary opponents off guard and allow for a very fast gap-close, as well as a huge boost of DPS for dueling and taking enemy structures. However, both can be used back and forth in case one steroid expires, then the other can be activated as a backup.

or , not only is DPS greatly improved, but so his movement capability.

/  is very recommended on all 
 

Double Strike

and  

Highlander

. This can allow you to improve your magic resistance without sacrificing a significant amount of damage potential.
 can act as a minor source of damage, and synergizes well with 
 Master Yi is extremely vulnerable to crowd control abilities, especially blind and snare, so players can consider  Cleanse as a summoner spell to counteract these effects.

The Quicksilver effect, and is very useful for countering crowd control. The magic resistance also helps against return damage from  , a primary counter to  Master Yi. Building it into the   is highly recommended due to the high Attack Damage bonus and because Yi greatly benefits from the movement speed buff.
 can provide the active
 similarly helps to fizzle initiation abilities (which are often crowd control).
Building passive can allow you to come back to a fight just as the opponents get low on health and clean up with repeated  

Alpha Strikes

.
 will help you survive due to the aversion to focus someone with it, and the

 Master Yi, with its multiple stats and passives.

The Rage passive enables a fine substitute or compliment for
, allowing him to easily stick to most every target with auto-attacks, as well as being able to kite.
The Spellblade passive can lead to impressive early-mid game burst in conjunction with  

Alpha Strike

and  

Double Strike

. However,  

Double Strike

will not make Spellblade hit twice.
The movement speed bonus has a higher effect since Master Yi has the highest base movespeed in the game.
The critical chance, attack damage, and attack speed synergize with his kit as a whole, while the small amount of AP slightly improves his  

Meditate

's healing.
The HP and mana amount is also solid for extra defense and more spell casts, and if possible can be worked into some bruiser builds.

 is a fantastic item when playing 
In the Jungle, Master Yi most benefits from
with the enchantment. CC is something Yi severely lacks, and along with the movement speed bonus, it makes chasing much easier.
 Master Yi, as after level 6 you can often choose your battles and rip through most squishies with ease, creating a powerful snowball effect in the early game when there are few hard CCs to stop you.
 can work well on
Similarly to Red Buff, items such as  Master Yi as he lacks any form of crowd control. Without said crowd control your movement speed from  

Highlander

 may allow you to keep up with a fleeing target, but you can't help your teammate(s) close the gap to your target. improves upon .
or work well on 
life steal items for  Master Yi's damage output combined with survivability.

The
is a suitable option on other maps.
Since Yi is DPS based,  

Highlander

activated.
can rocket his damage output as he's on the offense, especially with his

The active for both  Master Yi can  

Alpha Strike

to the target for a wall-dash escape, which can be useful since  

Alpha Strike

only hits targeted enemies.
and can be used to gain vision on certain monsters in the jungle past thin walls, so that way

is great for having extra burst on Yi's auto attacks, as well as having life steal with added sustain via health regen, with the AoE effects enabling Yi to deal more damage in teamfights and farm more effectively.
has a strong synergy with his kit and build options, especially as a jungler, and allows him use of the active at his discretion for quick gap-closing.
's shield passive and powerful life steal greatly improves his sustain.
 Master Yi, since not only does it offer mana recovery - something otherwise unavailable and maybe even in short supply - it also offers cooldown reduction, a notable benefit for many of Yi's abilities.
is also a powerful choice for

, , and are recommended
 Master Yi in order to stand against tanky targets, but as mentioned before, armor penetration is not as vital to Yi due to his  

Wuju Style

true damage active scaling on raw attack damage, though that combined with items like and can instead benefit his auto attacks while  

Wuju Style

is on cooldown, and most of all, the damage of his  

Alpha Strike

.
is a recommended item for
AP item for Yi that can boost the power of  

Meditate

while still benefiting his main role. The cooldown reduction is also a massive benefit to Yi's abilities. However, not only is this not recommended, but it should be the only AP item ever acquired on Yi.
is a potential
Tenacity in order to escape CC easier, with CC being one of  Master Yi's biggest weaknesses.

It can potentially replace
due to Yi's high base MS, but be aware that you will not have access to the unique enchantments.
However, for defensive builds in general,
are also a good substitute/source for both magic resist and tenacity if one is planning on buying more offensive attack speed items as opposed to the .

tends to be expensive, but also offers DPS potential packed with CDR. This also works very well for when you need
For the tanky side of things, it is possible to include a  

Meditate

's healing power as well as life steal. Though other defensive HP items should be considered as well.
, as the CDR and mainly the healing boost passive can boost
Jungling
Recommended builds
Countering
Hard CC can single-handedly bring down Master Yi. However, his teammates may be able to hold you off before you are able to burst him down, which makes it important to isolate Master Yi or bait him into chasing you with Highlander, before shutting him down.
As Master Yi's damage is completely physical, beyond a potentially minute amount from item effects, armor is the go-to counter to survive against him.

Attack speed slows do not affect Yi while  

Highlander

is active, so Cold Steel is not as effective against him.
 

Wuju Style's

true damage bypassing it entirely.
is also relatively less effective because of

When Yi uses  

Alpha Strike

, he will become untargetable and follow his initial target wherever they may go. Use this to lead him into more undesirable locations.
When Yi uses  

Meditate

, it is better to use a form of crowd control (especially silence or knockup, as these interrupt him) than attempting to deal damage.
Using Exhaust on  Master Yi will cripple his damage output, even during  

Highlander

.
Slow is ineffective when  Master Yi uses  

Highlander

, this also applies to attack speed reduction as well.
 Master Yi excels at split-pushing. Keep this in mind and be particularly aware of your mini-map.
You can apply Grievous Wounds, (ex. Ignite) on  Master Yi during  

Meditate

to reduce his healing by half but it will not stop him from channeling the spell (Hard CC is required).
Remember that  Master Yi's  

Wuju Style

only gives him the bonus when the spell is not on cooldown, making  Master Yi weaker when  

Wuju Style

is on cooldown.
Remember that  

Alpha Strike

places Yi at his initial target when it ends - you can "pull" him into a bad position if you are his target. Note that if the initial target dies when Yi is untargetable, he will return to the position he first cast  

Alpha Strike

, so a smart Yi can land some interesting harassing blows; beware.

 

Alpha Strike

can also follow you over walls when timed correctly, remember this if you are trying to escape with or without him.

Be very careful if you happen to be on low health with little in the way of fighting back, as Yi can quickly execute you with  

Alpha Strike

. This can be dangerous in teamfights, especially with out-of-position teams. By reducing cooldowns thanks to kills and assists, and spamming  

Alpha Strike

to damage while being untargetable can cause a fed  Master Yi to chain kill an entire team (even without  

Highlander

).

It is instinctual to split when Yi uses  

Alpha Strike

as the targets have been pre-determined at the time of casting and splitting will allow him to focus individual members of the team.
Group focus should be able to bring Master Yi down before he can deal his full damage potential.

As a carry,  Master Yi is very item-dependent and requires a lot of farm to scale up to late game, so during early game, it's crucial to deny him kills early to prevent him from doing major damage. If left alone however, scaling to late game can be a breeze for him as he can become one of the most dangerous champions in the game when fed.
 Master Yi's ultimate being immune to slows can backfire greatly on him; champions with fear as a source of CC can easily chase away Yi while  

Highlander

is active, forcing him to flee at full speed due to ignoring the slow. Keep this in mind if you need to flee a pursuing Yi.
 Master Yi is easily one of the notable melee carries to rely very heavily on his ult. With it on cooldown, his mobility and dueling potential carries a lot more risk. Bait Yi into activating  

Highlander

so that he is much easier to focus and catch once the active runs out and is on cooldown.
Champion Spotlight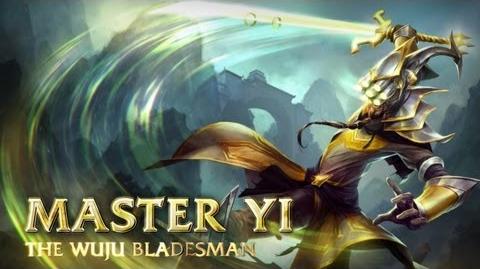 Master Yi's heavy-hitting nukes, sustained DPS and reflex-driven defensive abilities make him the ultimate high-risk, high-reward champion. He excels at fast, brutal ganks as well as diving into fights to assassinate targets before withdrawing with his impressive suite of escape tools. He's also got intimidating cleanup potential thanks to the extended duration on his ultimate when he scores a kill or assist.