The Melee Minion is a kind of minion that fights in League of Legends. These minions are controlled by a simple Artificial Intelligence, and use melee attacks against their enemies. Three melee minions spawn with each minion wave.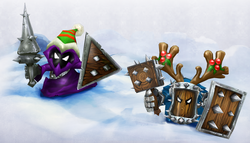 Patch History
V3.14:
Lane minions are no longer worth more experience based on game time
Base gold value reduced to 20 from 22.
Melee minion magic resist now increases by 1.25 every 3 minutes (up from 0.5).