The Melee Minion is a kind of minion that fights in League of Legends. These minions are controlled by a simple Artificial Intelligence, and use melee attacks against their enemies. Three melee minions spawn with each minion wave.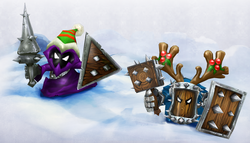 Patch History
V4.21:
MELEE MINION GOLD REWARD 19 ⇒ 20.
Minions no longer gain armor or magic resistance over time.
Cannon minions no longer have base armor.
All minion health gain over time has been increased to be roughly as durable as when they had resistances.
Model in Summoner's Rift changed.
Lane minions are no longer worth more experience based on game time.
Base gold value reduced to 20 from 22.
Melee minion magic resist now increases by 1.25 every 3 minutes (up from 0.5).