Champion Spotlight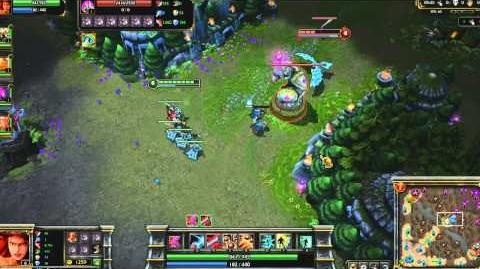 Recommended Items
Tips
Playing As  Miss Fortune
Miss Fortune ramps up  

speed

if she hasn't recently taken damage. Avoid getting hit to move very fast.
Use  

Double Up

on the furthest enemy minion if enemy champions are hiding in back; it will bounce to them for lots of damage.
Playing Against  Miss Fortune
Miss Fortune's  

speed boost

is removed if she is damaged by an enemy.
Miss Fortune is easy to kill if you can reach her; target her first in team fights.
Tricks
Ability Usage
Playing Miss Fortune consists of choosing what to shoot first and what comes next.
 

Love Tap

only marks enemy minions, structures or champions that weren't hit before.

Consider  

Love Tap

as a basic minion clearing tool by altering minions each time to inflict more damage and farm carefully.
Same strategy works for harassing enemy champions, especially when facing a duo.

 

Double Up

is suited to prioritise low health minions or champions.
 

Strut

enhances Miss Fortune's attack speed, useful enough for quick kills, large minion wave farming or swift structure demolition.

In addition it will refresh her speed passive if she gets hit by minions, turrets or champions so use it on emergency combat situations.
 

Make It Rain

is used mainly for crowd control, especially large groups of enemies, either escape from a dangerous situation or to attack.

With good positioning, you can use  

Bullet Time

to finish champions or clear minion waves.

 

Make It Rain

synergies with  

Bullet Time

as a double area of effect combo, whilst slowing enemies in the process.
Moreover, consider having teammates with crowd control skills to use  

Bullet Time

in full potential.
Mastery Usage
Miss Fortune as a carry requires more damage, yet her skills balance between damage and ability power. Using both aspects of damage and ability in the Ferocity and Cunning tree, will make her an excellent quick shot.
Being a carry deserves to having
in her kit.
is good for in-lane sustain, especially if used in conjunction with Strut - using it against a big wave of minions can get your health up quickly.
 

Make It Rain

and  

Bullet Time

- it triggers upon the third instance of damage (for both abilities), and it is a good form of harassment when used with  

Make It Rain

.
synergies well with
is good for stacking damage against champions through continuous auto-attacks.
Item Usage
As mentioned earlier, Miss Fortune bears a balance between damage and ability powers in her scales. Depending the gameplay, she requires Damage, attack speed and critical strike enhancers.
Starters early game are reserved to
or .
Wearing
enhances her speed and attack speed.
Her first suitable build should be
as it helps earn quick kills.
The core building is focused mostly around
and especially when fighting against resilient enemies.
For more damage consider building
or
For extra attack speed and critical build
and .
When things go tough, try defence with
, or .
Countering
Miss Fortune's tactic is to punish foes for coming near her vicinity or hunt them down with her swiftness in speed and killing skills.
Watch her position in comparison with your minions as chances are a  

Double Up

bullet will hit you once it hits the minion in front of you.
Don't be afraid to get  

Love Tap

as her next basic attacks on you inflict half damage.
Miss Fortune relies in mobility with her  

Strut

passive, once attacked or crowd controlled, she will be an easy prey.
Avoid being crowd controlled with your teammates as her  

Bullet Time

will give you more holes than Swiss Cheese.

Consider having champions with disable skills in order to stop her  

Bullet Time

channelling.

If Miss Fortune isn't careful with skill use, she will drain her mana quickly, therefore making her vulnerable in battle.
References