Champion Spotlight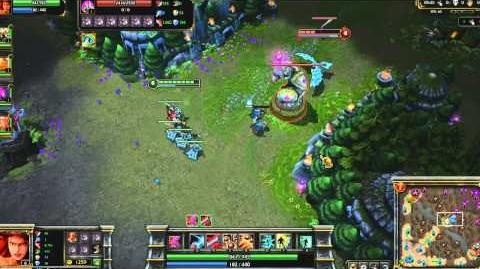 Recommended Items
Tips
Playing As
Miss Fortune ramps up
if she hasn't recently taken damage. Avoid getting hit to move .
Use
on the furthest enemy minion if enemy champions are hiding in the back. It will bounce to them for lots of damage.
Make sure to utilize
while is on cooldown to maximize the active's availability.
Playing Against
Miss Fortune's
is removed if she is damaged by an enemy.
Miss Fortune is easy to kill if you can reach her. Target her first in teamfights.
Tricks
Ability Usage
Kill minions easily whilst their health is bellow fifty per cent to score early farm. This percentage increases with her level, damage and critical, making minion farms more swift to clear.
For enemy champions
is used as a form of punishment and initiation of battle.
Alter hitting between targets to refresh the mark on the respective enemy champion or minion to deal more damage.
Harasses and executes target minions or champions, applying
to the first target or the second if there was one behind the first.
Before choosing targets, watch the cone reticle between the target and anything behind it to ensure a second hit.
Anything that dies from the first shot will double the damage towards the second target behind.
It's passive enhances Miss Fortune's speed which is useful both out of combat or in fight, as long as no damage is received.
Activating it will reset her passive to full power which is useful to get in and out of combat.
While active, her attack speed increases, making swift harassment to enemies and towers as well as minion farms.
It's best to maximise it the earliest in order to benefit from speed.
Aimed at the right position can slow down enemies for easy kills and escape during battle or gank.
The area radius grant vision, which is useful to cast over walls or in brushes.
Best use would be against team-fights or when two or more enemies are low in health, particularly in tight areas and near the epic monster arenas, as chances are they could kill the monster itself.
Using
prior, can prevent enemies from escaping it's cone radius.
The more levels she has on
The quicker the wave rhythm and more damage.
During channelling, Miss Fortune can be vulnerable against opponents, especially those who can apply hard crowd control, so it's best to use it on great distance and behind allied minion and champions.
Mastery Usage
Miss Fortune's marksman skills benefit through damage and her skills apply magic damage as well. A mix of Ferocity and Cunning is advised.

is basic choice for ADC or if relying on skills.
Miss Fortune can be health thirsty in battle which can be compensated with
and
Against fortified targets, like tanks, use
or .
and is useful for minion clearing, which synergies with .
The
or is recommend due to the reliance of Miss Fortune's skills, particularly and
Item Usage
As Miss Fortune relies onto her skill's and basic attack with

or is useful in early game for gold earning and harassment
Upgrade
to either for increased speed or for armor penetration.

Both can be used to built to
as Fortune's critical attack replenishes mana for her substantial skill cost.
can be finalised to for doubling her critical against enemies and for lifesteal.
can be turned to for retaliating stored damage to opponents, to sustain in teamfights against odds, for increased speed and lethality and to dissipate opponent's armour.

and are the core building items for Miss Fortune, increasing damage and decreasing cooldowns from the latter.
In situations with tanks, it is essential to build
and finalise to against those dependant in health regeneration, or to all champions above your health.
If things get tough, go defence with
or

being the main initiative into battle, a variation of damage with penetration, and cooldowns.
Countering
Miss Fortune like's to punish easy, squishy and close targets with her
, so use tank allies.
Stay anywhere but behind allied champions or minions with low health that are aligned with Miss Fortune or
can bring a nasty shot.
By attacking Miss Fortune, she will lose
passive speed, so persisting can also negate her active refresh.
Be on hot foot to escape both
and/or .
Miss Fortune likes to stand behind her team when shredding with her
, so applying crowd control will negate her channel and render her vulnerable.
References
Ad blocker interference detected!
Wikia is a free-to-use site that makes money from advertising. We have a modified experience for viewers using ad blockers

Wikia is not accessible if you've made further modifications. Remove the custom ad blocker rule(s) and the page will load as expected.