Ad blocker interference detected!
Wikia is a free-to-use site that makes money from advertising. We have a modified experience for viewers using ad blockers

Wikia is not accessible if you've made further modifications. Remove the custom ad blocker rule(s) and the page will load as expected.
Previous Lore
"While some call
 Morgana 'fallen', she enjoys more clearly defining this status to her enemies."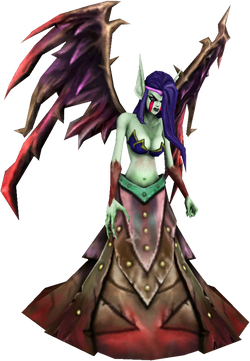 There is a world far away where an ancient conflict still rages. Like so many wars, this war split families.
One side called themselves angels, claiming to be beings of perfect order and justice. Those that fought against them believed the angels to be tyrants, creatures incapable of seeing the larger view.
Morgana was one who fought against what she perceived as the tyranny of the angels, and for that she was branded
 'fallen' [S|L].
Morgana was not innocent, having taken to the practice of the black arts in an effort to fight against the general of her enemy's army - her sister,
 Kayle, who had long ago disavowed any filial connection.
Then, as the two were locked in what might be their final conflict, they were suddenly summoned to Valoran. Morgana now fights in the League of Legends, but only with the goal of destroying her sister before returning home.
Previous Splash Art
Patch History
General

Bug Fix:

Morgana's knees popping through her dress during her running animation

 

Black Shield

Range increased to 800 from 750
Stats

Mana regen increased to 8.5 from 6
 

Dark Binding

Cost reduced to 50 / 55 / 60 / 65 / 70 from 50 / 60 / 70 / 80 / 90
 

Tormented Soil

Per-tick damage changed to 8 / 16 / 24 / 32 / 40 from 12 / 19 / 26 / 33 / 40
 

Black Shield

Shield reduced to 70 / 140 / 210 / 280 / 350 from 95 / 160 / 225 / 290 / 355

 

Soul Shackles

Initial damage reduced to 150 / 225 / 300 from 175 / 250 / 325
Secondary damage reduced to 150 / 225 / 300 from 175 / 250 / 325
Stats

Armor increased to 19 from 15
 

Soul Shackles

New Effect:

Tether radius is visible to both Morgana and targets affected for the duration
General

Basic attack updated to be more responsive

Stats

Attack range increased to 450 from 425
Attack speed increased to 0.625 from 0.579

 

Tormented Soil

Tick rate increased to every 0.5 seconds from every 1
Per-second damage reduced to 24 / 38 / 52 / 66 / 80 from 25 / 40 / 55 / 70 / 85
Per-second AP ratio increased to

(+ 22% AP)

from

(+ 20% AP)

Removed:

Magic resistance reduction

New Effect:

Damage is modified for every

1% of target's missing health

for a maximum 50% modifier and 36 / 57 / 78 / 99 / 120

(+ 33% AP)

maximum damage per second
 

Dark Binding

Cost reduced to 50 / 60 / 70 / 80 / 90 from 60 / 75 / 90 / 105 / 120

 

Soul Shackles

Cost reduced to 100 at all ranks from 100 / 150 / 200
 

Soul Shackles

Bug Fix:

Effects playing even when targets aren't stunned
Stats

Movement speed increased to 335 from 310
 

Black Shield

Cooldown increased at to 23 / 21 / 19 / 17 / 15 seconds from 15 at all ranks
Cast range increased to 750 from 600

 

Soul Shackles

Tether range updated for accuracy
Tether range update rate increased to every 0.25 seconds from 0.5
 

Tormented Soil

New Effect:

Continues damaging targets insides the area of effect even if Morgana dies
 

Soul Siphon

Spell vamp reduced to 10 / 15 / 20% from 10 / 20 / 30
 

Soul Shackles

AP ratio reduced to

(+ 70% AP)

from

(+ 80% AP)

Bug Fix:

Sometimes fizzling
 

Soul Siphon

Spell Vamp reduced to 10 / 20 / 30% from 15 / 25 / 35

 

Black Shield

AP ratio reduced to

(+ 70% AP)

from

(+ 80% AP)
General

Basic attack updated to be more responsive
Basic attack projectile speed increased

Stats

Movement speed increased to 310 from 300

 

Dark Binding

Cooldown reduced to 11 seconds from 12

 

Tormented Soil

Cost reduced to 70 / 85 / 100 / 115 / 130 from 70 / 90 / 110 / 130 / 150

 

Soul Shackles

Stun delay reduced to 3 seconds from 4
Stun duration changed to 1.5 seconds at all ranks from 1 / 1.5 / 2
Cooldown reduced to 120 / 110 / 100 seconds from 120 at all ranks
 

Black Shield

Shield changed to 95 / 160 / 225 / 290 / 355 from 100 / 150 / 200 / 250 / 300
Stats

Attack range increased to 425 from 400
Basic attack projectile speed increased to 1200 from 1100

 

Dark Binding

Bug Fix:

Offset linear targeting display
 

Black Shield

Duration changed to 5 seconds at all ranks from 4 / 5 / 6 / 7 / 8

 

Soul Shackles

Stun duration reduced to 1 / 1.5 / 2 seconds from 1.5 / 2 / 2.5
AP ratio reduced to

(+ 80% AP)

from

(+ 90% AP)

Cooldown increased to 120 seconds from 100
 

Black Shield

Removed:

Blocking non-disabling debuffs (magic damage absorption unchanged)
 

Dark Binding

 

Black Shield

AP ratio reduced to

(+ 80% AP)

from

(+ 100% AP)

 

Soul Shackles

Damage reduced to 175 / 250 / 325 from 175 / 250 / 350
Initial damage AP ratio reduced to

(+ 90% AP)

from

(+ 100% AP)

Secondary damage AP ratio reduced to

(+ 90% AP)

from

(+ 100% AP)
 

Dark Binding

Damage changed to instant from over-time
Damage reduced to 80 / 135 / 190 / 245 / 300 from 125 / 200 / 275 / 350 / 425
AP ratio reduced to

(+ 90% AP)

from

(+ 100% AP)

 

Soul Shackles

Initial damage AP ratio increased to

(+ 100% AP)

from

(+ 50% AP)

Secondary damage AP ratio reduced to

(+ 100% AP)

from

(+ 150% AP)

Total AP ratio unchanged
 Exiled Morgana [ |

Saturation reduced
Golden details updated
Particle effects updated
 

Soul Siphon

Removed:

Healing Morgana for 5 / 7.5 / 10% of magic damage dealt

New Effect:

Morgana permanently has 15 / 25 / 35% Spell Vamp

Removed:

Morgana healing from non-spell damage ( , )
Stats

Attack range increased to 400 from 350
Attack damage growth increased to 3.5 from 2.8
Attack speed growth increased to 1.4% from 1.25

 

Dark Binding

Damage reduced to 80 / 130 / 180 / 240 / 300 from 90 / 150 / 245 / 315 / 440
Root duration reduced to 2 / 2.25 / 2.5 / 2.75 / 3 seconds from 2.5 / 2.75 / 3 / 3.25 / 3.5
Cost reduced to 60 / 75 / 90 / 105 / 120 from 80 / 100 / 120 / 140 / 160
Cooldown reduced to 12 seconds from 15

Bug Fix:

AP ratio applying incorrectly across all ranks

 

Tormented Soil

New Effect:

Enemies standing in the area of effect have lose 4 / 5 / 6 / 7 / 8 magic resistance reduced for 2 seconds, stacking up to 5 times
Total damage reduced to 125 / 200 / 275 / 350 / 425 from 150 / 225 / 300 / 375 / 425
Cost reduced to 70 / 90 / 110 / 130 / 150 from 80 / 100 / 120 / 140 / 160

 

Soul Shackles

Initial damage AP ratio reduced to

(+ 50% AP)

from

(+ 100% AP)

Secondary damage AP ratio increased to

(+ 150% AP)

from

(+ 100% AP)
Stats

Health increased to 403 from 387
Health growth increased to 86 from 83
Attack damage increased to 50 from 39.5
Attack damage growth increased to 2.8 from 2.625
Armor increased to 15 from 11.35

 

Soul Shackles

Bug Fix:

Not working on targets who purchased
 

Dark Binding

New Effect:

Will fire directionally even if targeting outside cast range

 

Soul Shackles

Removed:

Stunning if slow is cleansed
Stun duration reduced to 1.5 / 2 / 2.5 seconds from 2 / 2.5 / 3
Cooldown increased to 100 seconds from 90
 

Black Shield

Removed:

Cleansing already-applied debuffs on-cast
Cooldown increased to 17 seconds from 15
 

Dark Binding

Root duration to reduced to 2.5 / 2.75 / 3 / 3.25 / 3.5 seconds from 3 / 3.25 / 3.5 / 3.75 / 4
Range reduced to 1300 from 1400

 

Tormented Soil

Cooldown reduced to 12 seconds from 14

 

Black Shield

Shield reduced to 100 / 150 / 200 / 250 / 300 from 100 / 200 / 300 / 400 / 500
Cooldown increased to 15 seconds from 14
 

Dark Binding

Damage changed to 90 / 150 / 245 / 315 / 440 from 66 / 132 / 231 / 308 / 440

 

Tormented Soil

Damage increased to 30 / 45 / 60 / 75 / 90 from 25 / 40 / 55 / 70 / 85

 

Black Shield

Duration reduced to 4 / 5 / 6 / 7 / 8 seconds from 4 / 6 / 8 / 10 / 12
Cooldown reduced to 14 seconds from 16
General

Named changed to

Morgana Hex

from

Morgana Le

 

Soul Siphon
 

Dark Binding

Damage increased to 66 / 132 / 231 / 308 / 440 from 60 / 120 / 210 / 280 / 400
General

Recommended items updated

 

Dark Binding

Damage reduced to 60 / 120 / 210 / 280 / 400 from 80 / 160 / 240 / 320 / 400
Root duration reduced to 3 / 3.25 / 3.5 / 3.75 / 4 seconds from 4 at all ranks

Bug Fix:

Dealing double base damage

Removed:

Rooting targets in melee range for half the duration
Tooltip updated

 

Tormented Soil

Per-second AP ratio reduced to

(+ 20% AP)

from

(+ 30% AP)

 

Black Shield

Duration reduced to 4 / 6 / 8 / 10 / 12 seconds from 6 / 8 / 10 / 12 / 14
Cooldown increased to 16 seconds from 14
Gameplay Update

 

Empathize

Removed:

Bonus health regen

New Effect:

Morgana heals for 5 / 7.5 / 10% of magic damage dealt

 

Dark Binding

Targeting changed to linear, collision skillshot

New Effect:

Target hit is rooted for 4 seconds and takes damage over the duration

 

Tormented Soil

Duration reduced to 5 seconds from 7
Per-second damage increased to 25 / 40 / 55 / 70 / 85 from 20 / 30 / 40 / 50 / 60

Per-second AP ratio increased to

(+ 30% AP)

from

(+ 20% AP)

Cooldown reduced to 14 seconds from 18

 

Black Shield

Shield changed to absorb 100 / 200 / 300 / 400 / 500

(+ 100% AP)

magic damage as well as make target ally immune to crowd control for the duration or until shield is destroyed

 

Soul Shackles

Removed:

Initial stun (final one unchanged)

New Effect:

Morgana slows targets in range on-cast and over the duration
Initial damage changed to 175 / 250 / 350 from 150 / 250 / 350
Total damage changed to 350 / 500 / 700 from 300 / 500 / 700
General

Recommended items updated

 

Black Shield

Removed:

Cast time
Duration reduced to 2 / 4 / 6 / 8 / 10 seconds from 4 / 6 / 8 / 10 / 12
 

Dark Binding

Damage per second increased to 30 / 50 / 70 / 90 / 110 from 30 / 45 / 60 / 75 / 90
AP ratio increased to

(+ 60% AP)

from

(+ 40% AP)
References