Skins
Trivia
Development
Morgana likely takes her name from one of the several alternate names for Morgan le Fay used throughout the Arthurian legend.

During development, her original name was "Morgana Le", which was changed to "Morgana Hex", and then simply to "Morgana".
Lore
Her story, along with  Kayle's story, closely resembles the story of Lucifer and Michael in the epic John Milton work Paradise Lost.
Morgana and Kayle were the first champions shown to be relatives.
Morgana was featured on the cover in the swimsuit edition of Sports Exposed, Valoran's leading magazine covering the competitive sports of the world. The Journal of Justice did an article detailing this story.
General
Morgana has the highest Attack Damage amongst ranged champions, reaching 114.5 at level 18.
Morgana previously shared an auto-attack range of 425 with  Urgot, the shortest of all champions classified as ranged.
Morgana was one of the champions chosen for the Noxian pool available during the Ionia vs. Noxus match.
Morgana's dance is similar to the Indila's French music video Tourner dans le vide. A comparison video can be seen here.
Skins
It is referring to her appearance shortly after being branded as "fallen." Also, the splash art shows her bangs covering the right side of her face, but the in-game model has them on her left.
It is a reference to the self-styled "Queen of Blades" Starcraft character Sarah Kerrigan, the corrupted, mentalic Terran who leads the Zerg armies.
It is a reference to La Llorona, an urban myth originating from Latin America.[1]
It is a commemorative skin created to celebrate the launch of League of Legend's Latin American servers, and it was given to any player who moved to the Latin American servers for free, when those first came out.[2]
She actually got new quotes, but only in the Latin American Spanish version of League of Legends. She also got a three-episode radio drama dedicated to her in the RiotGames Latin American Soundcloud account.[3]
This skin was rewarded to players who achieved Gold+ in Season 4 (Season 2014).
Victorious Janna and Victorious Elise can be seen on glass windows in the background of this skin's splash art.
This skin was released for the 2016 Lunar Revel.
Her armour design may probably been inspired by  The Wolf.
She shares this theme with Caitlyn.
It is the only skin where she has no wings at all (as they are replaced with two floating serpent-like statues)
Relations
Morgana despises her sister  Kayle and wishes to destroy her before returning to her world.
Media
Related Themes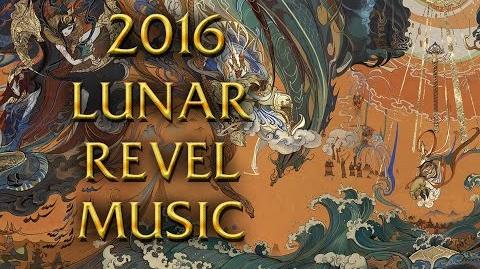 References