The Community Choice Awards

As another wonderful year comes to a close we are happy to present the 2014 Community Choice Awards.
Make sure to stock up on some Poro-snax as we vote, discuss and recap all the things that happened this year in League.
Skill Usage
Build Usage
Recommended builds
Countering
Like all squishy champions,  Nami can be countered and easily targeted by assassin champions with stealth like:  Evelynn,  Shaco and  Teemo and champions with gap closers like  Fiora,  Jax and  Xin Zhao.

Keep in mind, if she realizes you are about to close the gap, she may use  

Aqua Prison

on herself. Even if you apply a stun or silence, there is a short delay on cast so a skilled  Nami will make a tower dive a regretful decision.

 

Aqua Prison

and  

Tidal Wave

are both fairly easy to sidestep, but be careful when you are fighting in the jungle or being chased, as this limits where you can go in order to dodge both abilities.
Use any item that grants Tenacity. It will render most of her crowd control useless.
Champion Spotlight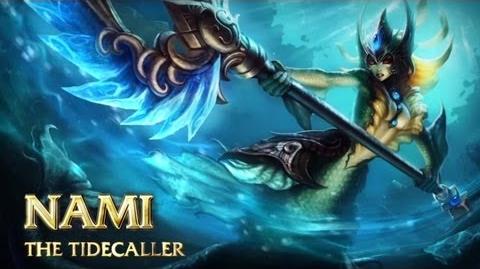 Upcoming Champions
Canceled Champions
Concept Art