"Submit to my designs."

Use the info here with consideration. It might be outdated or biased info.
Gameplay
By NeeksNaman [1]
Greetings summoners!
If you've ever wondered what preternatural bests lurk near the ocean floor, look no further than
 Nautilus, the Titan of the Depths! This imposing new champion is a fun, satisfying tank with a new
 initiation mechanic and a ton of soft crowd control mechanics to wreak havoc on the enemy team. And to top it all off, he's utterly massive and punishes his opponents with heavy swings from a gigantic anchor.
Nautilus' core ability is
 Dredge Line. Although he's relatively slow and lumbering, Nautilus has the ability to drag himself and an enemy closer together. This makes him an ideal champion to have up front when you're at a standoff with the enemy team. By dragging himself in to lead the attack and pulling an enemy out of position, you can create just the opening your allies need to start the team fight off on the right foot. You can also use
 Dredge Line on terrain to either get around more quickly or escape in a pinch.
Nautilus can also deploy his ultimate,
 Depth Charge, to great effect against a clustered enemy team. Although it is targeted against a single champion,
deploying it against an adversary located at the rear of the enemy formation will cause it to potentially knock multiple enemies into the air as it travels. This can either cause the enemy team to scatter and leave fragile targets undefended, or set up an initiation with
 Dredge Line.
In addition to this unique movement ability, Nautilus' kit is rife with abilities that
 lay down area of effect damage,
 disrupt multiple enemies and
 keep him alive. Although his
 ultimate is the only hard disable at his disposal, the amount of
 area of effect damage and
 disruption that he's able to inflict will make your opponents think twice before they let him run amok in their midst. For this reason, this juggernaut of the high seas will make a very attractive target despite his high durability!
Champion Spotlight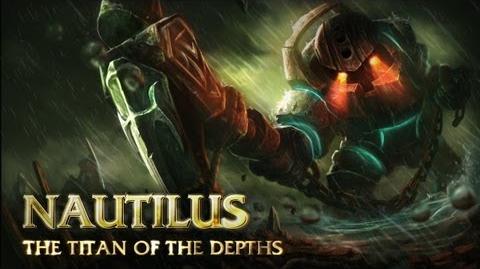 Recommended Items
Tips
Playing As  Nautilus
Playing Against  Nautilus
Tricks
Ability Usage
If  

Dredge Line

deals the killing blow, it will drag  Nautilus to where the target was upon death, as if the skill had hit terrain.
 

Titan's Wrath

and  

Riptide

are excellent farming tools when used together, as they each deal a good amount of area of effect damage.
 

Titan's Wrath

resets your autoattack timer, so timing it right after a basic attack can allow for a quick second hit.

Despite  

Titan's Wrath

bonus on-hit damage will be lost upon depletion or expiry of the shield, if  Nautilus' attack animation is in first half of modified animation, his next hit will trigger the on-hit magic DoT as well.

If you are farming minions,  

Staggering Blow

can be a great tool to increase your last-hitting capabilities due to its free bonus-damage.
Be careful when chasing an enemy under the turret with  

Dredge Line

. If you miss and hit the turret, you'll end up horribly off position.
Be sure about your position while using  

Riptide

. You must be close enough to catch the opponent because this spell has a slow animation.
The range on  

Dredge Line

is a bit longer than the indicator shows. Experiment on terrain to see how far you can be to proc the skill shot.
 

Dredge Line

is a fantastic method of travel, especially at higher levels. When running around between lanes, use it on terrain to pull yourself along faster. The same goes for fleeing; if a fight goes bad, run for the nearest turret or open terrain, and pull yourself to it for a quick escape. For a quick start after recalling or respawning, latch on to your nexus.
To perform the highest crowd control/burst combo on a target  send  

Depth Charge

after them. Right when the opponent is in landing back to the ground follow up with an easy  

Dredge Line

and a mid-air   

Riptide

to ensure a second explosions hit. Finally hit them for  

Staggering Blow

and use  

Titan's Wrath

for the autoattack reset, bonus damage and shield.
Mark squishy/high priority targets with  

Depth Charge

in order to give your team a good chance to kill them. It's also useful for stopping channels, such as  Katarina's  

Death Lotus

. Also, the squishy targets tend to be at the back their team so you'll be able to hit their entire team with the pass through damage instead of only one target with the explosion damage
Remember that  

Staggering Blow

is an immobilization, which means it does nothing to stop channeled ultimates.
 

Dredge Line

can stop channeled abilities like  

Idol of Durand

,  

Requiem

,  

Death Lotus

,  

Nether Grasp

,  

Lifeform Disintegration Ray

, and  

Infinite Duress

.
If you use  

Dredge Line

on terrain right before any crowd control like  Blitzcrank's  

Rocket Grab

hits you, then you will still pull yourself to the terrain if your hook hit the terrain after the enemy's crowd control hits, practically mitigating the cc. (e.g.  Blitzcrank pulls you, but midway the hook you cast beforehand hits terrain, so instead of flying to  Blitzcrank you pull yourself to the terrain your hook hit) Use this tactic to escape any enemy champion with a form of crowd control, as after you pull yourself they have nothing to stop you. Keep in mind, though, that crowd control like stuns will still take effect, you will just pull yourself away to increase distance.
Attack speed can speed up jungling by increasing the amount of damage your  

Titan's Wrath

does over time, since each attack immediately applies the first tick of the damage over time.
Nautilus can jungle because  

Titan's Wrath

and  

Riptide

are extremely effective for clearing out jungle camps.
Mastery Usage
Item Usage
Building resistances will generally give your shield more effective health than building health, despite the health ratio.

Nautilus has really high ability power ratios for a tank, making one or two tanky mage items desirable on him. Crest of Insight.
offers a good deal of health and ability power. Its build path item solves Nautilus' mana problems when he does not have the
On games when you are far ahead you can consider odd item picks like
or just to further stomp over your weakened enemy team. It's worth noting that Nautilus gets outrageously bursty with some ability power.

helps both in tanking and increasing your damage, especially since Nautilus is a good initiator and often in the middle of the enemy team in fights.
While  

Titan's Wrath

it doesn't increase your overall damage output, making the enemy less likely to focus you during fights.

 

Staggering Blow

hits.
or can be effective alternatives as the slows can help you get more
offers a lot of different stats, all of which Nautilus really likes. The slow field that it creates adds even more disruption and crowd control to Nautilus' already overloaded kit, making it very desirable.

does increase the damage amount absorbed by
gives a lot of health, a world of armor and gives Nautilus an extra CC ability to use while he is suffering from his long cooldowns.
Nautilus depends greatly on his abilities to deal damage so building cooldown reduction to counter his long cooldowns will allow you to do great amounts of damage to the enemy team.

and are simply perfect, allowing him to get really tanky while solving his cooldown problems, not to mention that their build paths are really easy and already give useful stats
and its upgrades greatly benefit a more damage-oriented style of gameplay.

 

Titan's Wrath

and also helps him clear the jungle faster.
is a good item on Nautilus if he gets an early advantage as it allows him to deal a good amount of magic damage with
can be effective for boosting sustainability especially when assisting as a tank. Nautilus' abilities have rather high mana costs and long cooldowns, both of which are covered.

AP Nautilus

can be a highly effective AP bruiser when built correctly. To make use of his HP and on-hit magic damage, core items for this build include , , and .

grants a massive boost to all of Nautilus' damage sources.
Upgrading  

Dredge Line

,  

Riptide

and  

Depth Charge

.
to will add a boost to damage and health while adding the burn passive to
is an offensive choice to acquire some more magic penetration and is recommended as the final item in an offensive build. If the enemy team has little to no magic damage, consider as a final offensive choice. If the enemy team is stacking magic resist, also consider .
 

Titan's Wrath

, and also help with their resistances.
and are good defensive choices as their health bonuses synergize well with Nautilus'
Countering
References
Upcoming Champions
Canceled Champions