Skill usage
Edit
Build usage
Edit
Guinsoo's Rageblade

works quite well with  Nidalee, since switching to and from  Aspect of the Cougar not only costs no mana, its cooldown is also shorter than the duration of the

Guinsoo's Rageblade's

stacks, so she can continually switch to and from  Aspect of the Cougar to maintain its maximum 8 stacks. Alternatively, you can repeatedly use  Pounce when moving outside of combat as it also cools down faster than

Guinsoo's Rageblade

.

Sheen

and its derivative items

Lich Bane

and

Trinity Force

are exceptionally powerful combined with the fast cooling abilities of  Nidalee's  Aspect of the Cougar, especially  Takedown.
Consider buying a

Mejai's Soulstealer

because  Nidalee has great escape abilities and can maintain her stacks easily, compared to other champions.
 Nidalee can boost her heals on herself by buying a

Spirit Visage

 ,also giving her some needed cooldown reduction.
If against a champion that focuses on attack speed such as  Fiora,  Jax or  Xin Zhao, consider purchasing an early

Frozen Heart

.  Nidalee can benefit greatly from the 20% cooldown reduction and has high base damage abilities while in  Cougar form to make up for missing damage.
NOTE* as of 3.9, switching form will no longer count as a spell (in terms of items, ie tear), although the other cougar abilities will.
Recommended builds
Edit
Summoner's Rift




recommended items

Starting

2

Essential
Offensive
Defensive
Consumables
The Howling Abyss




recommended items

Starting

3

3

Essential
Offensive
Defensive
Consumables
The Crystal Scar




recommended items

Starting

2

Essential
Offensive
Defensive
Consumables
The Twisted Treeline




recommended items

Starting
Essential
Offensive
Defensive
Consumables
Countering
Edit
Champion Spotlight
Edit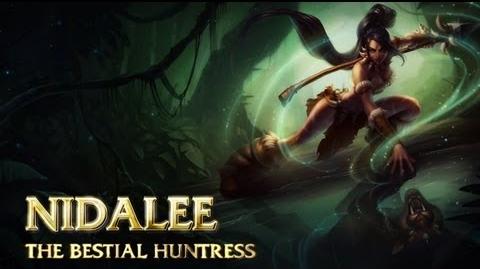 Upcoming Champions
Canceled Champions
Concept Art