Champion Spotlight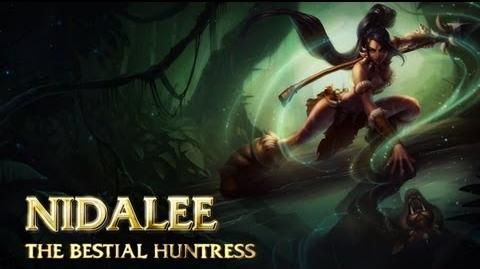 Recommended Items
Tips
Playing As
Use
to your advantage! Moving in and out of can heavily alter your effectiveness in battle.
Start team fights by harassing with your
, and then switch to to chase down targets.
traps deal damage based on their victim's current health. Set them up in your team's backline before fights break out during sieges to help your team deal damage to the enemy frontline.
Playing Against
Nidalee's
debuff is only applied with and . Avoiding being hit by these abilities will impair her ability to deal follow-up damage.
Nidalee's
deals more damage the farther she is. If she is far away, it's imperative to dodge it.
Nidalee's
deals extreme damage to targets, but she has to get close to use it. Save your crowd control or defensive abilities for when she goes for the kill.
Tricks
Ability Usage
Mastery Usage
Item Usage
Countering
References
Ad blocker interference detected!
Wikia is a free-to-use site that makes money from advertising. We have a modified experience for viewers using ad blockers

Wikia is not accessible if you've made further modifications. Remove the custom ad blocker rule(s) and the page will load as expected.