Ad blocker interference detected!
Wikia is a free-to-use site that makes money from advertising. We have a modified experience for viewers using ad blockers

Wikia is not accessible if you've made further modifications. Remove the custom ad blocker rule(s) and the page will load as expected.
Champion Spotlight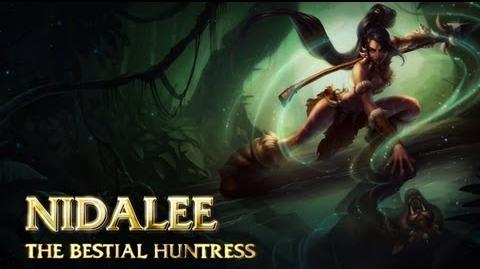 Recommended Items
Tips
Playing As  Nidalee
Playing Against  Nidalee
Tricks
Ability Usage
Mastery Usage
Item Usage
abilities of  Nidalee's  

Aspect of the Cougar

, especially  

Takedown

.
and its derivative items , , and are exceptionally powerful combined with the fast cooling
 Nidalee can boost her heals on herself by buying a , which also gives her some needed cooldown reduction.
If against a champion that focuses on attack speed, such as  Jax or  Xin Zhao, consider purchasing an early .  Nidalee can benefit greatly from the 20% cooldown reduction and has high base damage abilities while in  

Cougar

form to make up for missing damage.
 Nidalee, because it gives a good amount of mana and ability power, along with some health that can be very useful as her  

Aspect of the Cougar

abilities requires her to be in melee range. However, it can put you significantly behind if you are already having trouble and can't complete it early enough because of the time it takes to fully stacks. If you are not sure to be able to complete it in time, consider buying first instead of . You will be able to turn it into something else if you can't finish the soon after.

 

Javelin Toss

and  

Takedown

, while also being slightly more expensive.
can be an alternative, and you don't need to wait for it to stack; however, it gives less total health, no mana, and will only apply its passive to its full effectiveness on

is a good item for
 

Primal Surge

. However, it requires you to be in auto attack range, and is therefore not recommended in a glass cannon build.
's passive works very well with the attack speed steroid from
If you are looking for cooldown reduction, the  

Javelin Toss

because of its high damage, preventing enemies from simply healing the damage, further increasing the effectiveness of  Nidalee's poke; therefore, it is a very good item on her. You can also build , which is more expensive and has less ability power, but that comes with two passives that will allow you to almost never run out of mana.
is a rather cheap item, that comes with a good amount of mana regeneration and ability power, and it's passive will often trigger on
When it comes to boots,  Nidalee greatly benefits from magic penetration. However, you can also consider taking ; as she is very susceptible to controls, the tenacity could save your life. Also, if you are facing another mage, the extra magic resistance will prove useful.
are often the most appealing choice, since
 

Pounce

's low cooldown and lack of mana cost makes it one of the best abilities in the game to gain stacks for and it's byproducts.
 

Javelin Toss

will proc 's bonus damage. It is, however, physical damage, so it's mainly interesting for AD  Nidalee. When playing AP, will often prove to be a better choice because of the great amount of ability power (without any other mana items,  Nidalee will have 2030 mana at level 18, which will give her 60 ability power with its passive, and 60 more with its base stats of the item, for a total of 120 ability power) and the life-saving active shield.
can save your life with its active if an enemy dives into your team to get you, while also giving a great amount of ability power and armor. It also builds from , which will prove very useful when facing a champion who excels in dealing physical damage in lane.
Items that work exceptionally well with a hybrid  Nidalee build are: , , , and .
Countering
References