Ad blocker interference detected!
Wikia is a free-to-use site that makes money from advertising. We have a modified experience for viewers using ad blockers

Wikia is not accessible if you've made further modifications. Remove the custom ad blocker rule(s) and the page will load as expected.
Champion Spotlight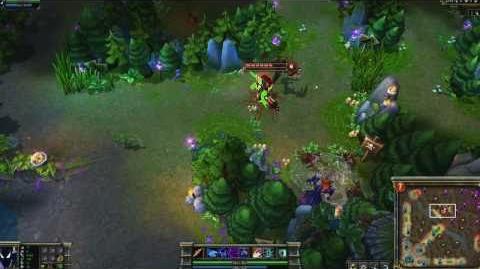 Recommended Items
Tips
Playing As  Nocturne
Using  

Paranoia

at a critical moment is well worth it even if you cannot use the dash.
 

Duskbringer

isn't only an offensive ability. It can be used to close distance out of combat or escape form certain death.
Use  

Shroud of Darkness

in tandem with  

Paranoia's

dash. Your opponents may panic and waste a critical disable on your spell shield.
Playing Against  Nocturne
Stay close to your allies when  

Paranoia

is cast - there is strength in numbers!
 Nocturne's  

Unspeakable Horror

is broken with range, so try to save your movement abilities for when he casts it.
Tricks
Ability Usage
 

Umbra Blades

allows  Nocturne to jungle well. Attack speed runes and his  

Shroud of Darkness

synergize well with 

Umbra Blades

since its cooldown is decreased with every autoattack landed.
Using  

Duskbringer

is an effective way to chase or escape an enemy.
Be sure to hit your target with  

Duskbringer

when you are ganking, as it will allow you to close distance and stay on your target more easily.
Stealthed champions hit by  

Duskbringer

will leave a trail, allowing you to momentarily observe their movements despite their invisibility.
 

Duskbringer

can be a good tool when attacking turrets. A well-aimed  

Duskbringer

may not only damage oncoming minions, but also gives you the benefits of a  

Dusk Trail

, allowing you to do more damage to the turret. However, this tactic should be used with caution if an enemy champion is nearby, as hitting an enemy champion with  

Duskbringer

will cause the turret's priority to change to you.  Also, aiming this skill away from the tower while trying to split push could give you a fast escape route while still giving you the bonus attack damage.
 

Unspeakable Horror

has great synergy with  

Duskbringer

. You can either use the fear to ensure landing  

Duskbringer

or vice versa.
Enemy champions closing on you might not see  

Unspeakable Horror

in time. Use this to your advantage.
 

Unspeakable Horror

allows you to win fights that you otherwise wouldn't because of its hard CC.
Save your  

Shroud of Darkness

if you don't require it. It can be essential for surviving ganks or ganking others.

A well timed  

Shroud of Darkness

can turn fights in your favor. Time it to avoid high damage abilities such as  

Requiem

or hard CC.

Early and mid-game,  

Paranoia

is a great way to pounce on an overextended opponent for an easy kill. Late game it becomes a useful dash during teamfights ensuring that nobody escapes with low health.

Even if you aren't near the fight, don't be afraid to use  

Paranoia

to confuse and separate the other team.
Using it during a teamfight in the jungle is extra powerful because the enemies outside of brush completely lose sight inside of it due to a lack of shared sight. It can cause them to unknowingly split up in the confusion.

 Nocturne becomes more powerful with more map vision. His  

Paranoia

does not reveal the enemy champions, so you must have vision of them in order to dash to them. Because of this getting Wards and placing them around the map is highly recommended.
 Nocturne's  

Paranoia

can only target enemies in the radius of  

Paranoia

and with sight. For this reason,  

Destiny

synergizes well as it gives sight to all enemies, even invisible champions and ones in brush, allowing  Nocturne to be able to hit a target in the fog of war.

For this reason,  Warwick's  

Blood Scent

also synergizes with  Nocturne. As it detects a nearby low health champion, Allowing  Nocturne to use his  

Paranoia

and dash to the target.

 Nocturne can use other skills such as  

Unspeakable Horror

while mid-dash with  

Paranoia

. Using  

Unspeakable Horror

while mid-dash will result in Nocturne starting the channel the instant he hits his opponent, resulting in a lesser risk of error and a smaller timing where the opponent can dash away.
Mastery Usage
Item Usage
Countering
References