Skins
Trivia
Development
Orianna is voiced by Heather Pennington.
Orianna bears some similarities to GLaDOS from the Portal series, both in voice acting and in personality.
The word "Orianna" is a European name and has a few possible origins. They all seem to refer to the "golden color of the sun":

"Orianna" is the Irish meaning of "Blonde" or "Golden".
The name may also be from the medieval Spanish and Portuguese word "Oroana/Ouroana" (which also means "Golden").
Another possible origin is from the Latin meaning of "Rising" (as in, "Sunrise").

Orianna was inspired by Youmu Konpaku from the Touhou Project series.[2]

Xypherous' original concept for Orianna was based on Hong Meiling , also from Touhou Project.[3]
General
The term "Clockwork" refers to the inner workings of either a mechanical clock or a device that operates in a similar fashion. Specifically, a mechanical device utilizing a complex series of gears, such as an automaton.
Orianna's Classic skin resembles a RAcaseal from Phantasy Star Online.
Orianna's title was originally "The Clockwork Girl", but was then changed to "The Lady of Clockwork" the night before her release. This was due to titular similarities with "The Clockwork Girl".
Orianna was the second champion to have a difficulty rating of 100, the first being  Cassiopeia, the third being  Syndra, and the fourth being  Draven. However, Orianna's difficulty rating has since fallen to 70.
Orianna was the last champion to be released at less than 6300 IP.
Orianna has two different emote animations depending on if The Ball is attached to her or not.
Orianna's automaton concept and background is strikingly similar to Olimpia, a character in E.T.A. Hoffmann's The Sandman who is the "daughter" of an inventor.
Orianna bears resemblance to the ball-jointed doll monster Karakuriko from Sailor Moon, the Super S series.
In her Champion Spotlight, her in-game icon seems to be walfas-styled artwork instead of Orianna's.[4]
A group of miniature balls that belong to Orianna can be seen on Corporate Mundo's desk in the preview for the launch of the Mac Version of League of Legends.
Quotes
Orianna's joke "When you fall, you get right back up." coincides with Aigis' line. Aigis is a female robot character from the game Persona 3 who says these words when she is hit by an attack she is weak against. A similar line, "when you fall down, you get back up", is said to Oriana by Toma in episode 37 of A Certain Magical Index.
The quote "I know what makes them tick. I know how to make the ticking stop." is a paraphrased reference to the character Sylar from the now-cancelled NBC show Heroes, more specifically him describing his super-power. This is also a reference to the Magic the Gathering card Organ Grinders flavor text.
Skins
It bears resemblance to Pris, a replicant from the movie Blade Runner.
This skin also bears resemblance to the character R. Dorothy Wayneright from the anime The Big O in that they share a hairstyle and color scheme.

Both Orianna and Dorothy are also artificial humans created by their late human counterparts' fathers after their human selves' deaths.

It also resemble to Malice (a sex doll) the principal character from the Anime Malice@Doll.
 TPA Orianna [ |
A fur rug of a dead Poro can be seen on her splash art. Also her robot orb is shaped as a Poro.
She shares this theme with  Lulu.
This skin is a tribute to Valentine's Day 2016.
This skin's splash art only shows Orianna's hand, since the one portrayed dancing is actually just a cake topping.
Media
Related Themes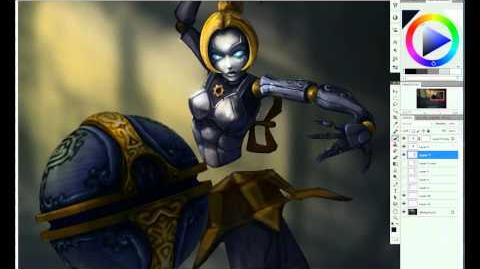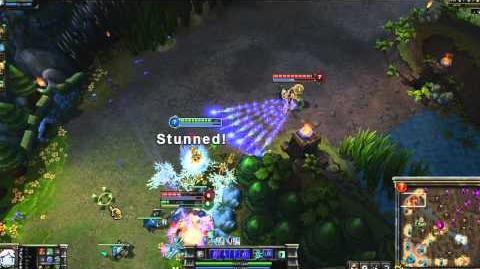 References
Upcoming Champions
Canceled Champions