Ad blocker interference detected!
Wikia is a free-to-use site that makes money from advertising. We have a modified experience for viewers using ad blockers

Wikia is not accessible if you've made further modifications. Remove the custom ad blocker rule(s) and the page will load as expected.
Champion Spotlight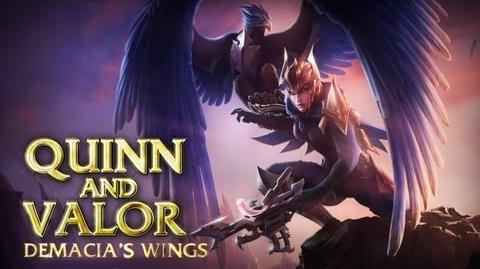 Recommended Items
Tips
Playing As  Quinn
Attacking a Vulnerable target marked by  Valor will put  

Harrier

on cooldown. Quickly consuming  

Harrier

marks will allow you to generate them faster.
 

Vault

is powerful but must be used with caution, as enemies can attack  Quinn when she strikes them.  

Vault

can sometimes be used to cross terrain if your back is to a wall.
Use  

Behind Enemy Lines

for traveling very long distances quickly, for farming minions around the map, or for chasing wounded targets.
Playing Against  Quinn
Keep tabs on  Quinn's position.  

Behind Enemy Lines

can enable  Valor to cross the map very quickly and attack you by surprise.
When  Quinn is using  

Behind Enemy Lines

, damaging her will end the effect.
Tricks
Ability Usage
Mastery Usage
Item Usage
 Quinn goes well with

attack damage

and Critical Strike, since her passive  

Harrier

gains more damage from AD and reduction in cooldown from

critical strike chance

.

Items such as  

Harrier

, allow it to proc more often.
 or effectively synergize with
 Quinn. Not only will it increase her damage output and critical chance, but also provide CDR for each critical chance from the items, allowing her to utilize her abilities and  

Harrier

more often.
 works especially well on
Building a  Quinn can be very effective. The Spellblade passive can help apply more burst to targets with the  

Harrier

 debuff, the movement speed bonus from Rage stacks with her movement speed bonus from  

Heightened Senses

, and the bonus Health gives her extra survivability. Take right after , or for maximum damage.
on

Because of the attack speed bonus from  

Heightened Senses

, you can choose to focus on building attack damage rather than attack speed earlier in the game, with items such as  or  .
As with all carries, rushing  Quinn dueling strength against slightly tougher foes such as bruisers.
/ can be a strong choice, even more so now due to the shield from over-lifestealing giving
 Quinn because it provides more mobility, since the Shiv Lightning passive also gains stacks from  

Vault

. It can also be stacked quite quickly with her increased attack and movement speed from  

Heightened Senses

.
 and are standard on AD carries, however  is preferred on
For defensive items,  

Vault

, the slow from its Icy passive and the flat movement speed bonus of  

Heightened Senses

.
 can be considered as an option, as it not only increases her health, but her attack damage as well, and gives her unmatched kiting potential with 
Quinn can also be played as a fairly strong solo laner especially in top lane. When playing her in such a lane, buying some items with Health, Armor or Magic Resistance such as 
, or  early in the game can help her survivability, and later in the game they can be built into , and respectively.
Building  Quinn can be a good idea. It gives her a huge amount of attack speed to use its passive and the active can also be used for a burst heal, or to stick to/flee from enemy champions if  

Behind Enemy Lines

is on cooldown.
on
Countering
References