Skill usage
Edit
Build usage
Edit
Recommended Builds
Edit
Summoner's Rift




recommended items

Starting
Essential
Offensive
Defensive
Consumables
The Howling Abyss




recommended items

Starting

2

2

Essential
Offensive
Defensive
Consumables
The Crystal Scar




recommended items

Starting

2

Essential
Offensive
Defensive
Consumables
The Twisted Treeline




recommended items

Starting
Essential
Offensive
Defensive
Consumables
Countering
Edit
The slow from  Vault does fade over time, making tenacity more useful in countering one of her two crowd control abilities.
Quinn lacks hard crowd control abilities, and as such has little in the way of stopping a more durable champion that does good damage through spells.
Aside from  Tag Team, Quinn has few strong escape or disengage abilities. Additionally, as Valor her  Vault no longer has the effect of repositioning her. Forcing Quinn into a bad position can keep her presence low.
Keep in mind that Quinn has a higher burst potential than most other carries.
 Vault can be stopped mid-air, interrupting her combo, and leaving her out of position.
Champion spotlight
Edit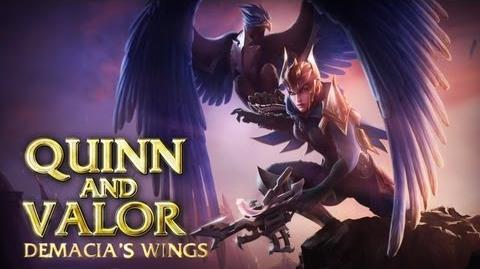 Upcoming Champions
Canceled Champions
Concept Art