Rammus/Strategy
Comments

78
1,907pages on
this wiki
The Community Choice Awards

As another wonderful year comes to a close we are happy to present the 2014 Community Choice Awards.
Make sure to stock up on some Poro-snax as we vote, discuss and recap all the things that happened this year in League.
Skill usage
Build usage
Building armor is necessary to put
 Spiked Shell to good use. Having a lot of armor will still result in a large amount of damage. However, do not disregard building magic resistance, as your high armor stat means nothing to the enemy team's AP mages. It can however be argued that building health will synergize better with the free armor and magic resistance provided by
 Defensive Ball Curl.
Jungling
 Rammus is a strong jungler, with exceptional ganks.
 Powerball allows him to initiate ganks suddenly, and
 Puncturing Taunt is a strong CC ability with a fairly long duration.
Note that  Rammus's  

Powerball

, whilst it still does damage, it has no crowd control effect on  Baron Nashor or the  Dragon. Also note that  

Puncturing Taunt

now has absolutely no effect on Baron or Dragon (it will not reduce armor or force either to attack you). Both skills will still affect all other neutral creeps as normal.
Starting items:

Hunter's Machete

,

Health Potion

x5
Skill progression:  

Defensive Ball Curl

→  

Powerball

→ Puncturing Taunt → optional from here on.
Jungling order:  Blue golem ( Smite) →  Wolves →  Wraiths →  Red Lizard ( Smite) →  Small Golems → Gank
Alternative order:  Blue golem ( Smite) →  Wolves →  Red Lizard ( Smite) → Gank

This order allows an early gank while unlocking all of your abilities and giving you both buffs, allowing you to secure first blood in most cases.
Take  

Puncturing Taunt

at level 3 when doing this.
Recommended builds
Countering
Champion Spotlight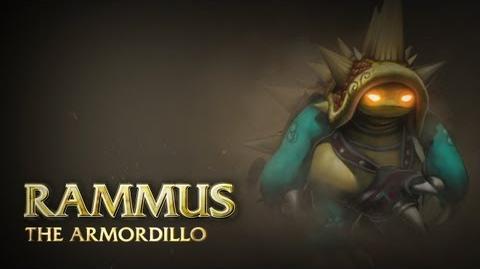 Upcoming Champions
Canceled Champions
Concept Art