"Submit to my designs."

Use the info here with consideration. It might be outdated or biased info.
Gameplay
Champion Spotlight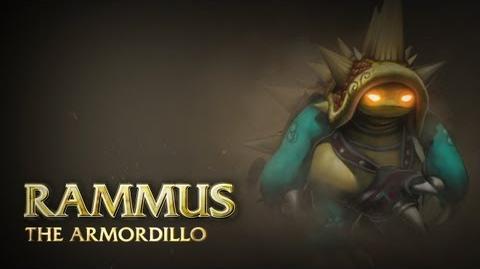 Recommended Items
Tips
Playing As  Rammus
Playing Against  Rammus
Tricks
Ability Usage
Mastery Usage
As with most tank junglers,  Rammus can utilise very well. It gives free health to synergise with his high resistances and when fully stacked, provides sustain which Rammus lacks.
 Rammus as he naturally autoattacks a lot. It also gives another source of damage and helps Rammus' lack of sustain.
works well for a Top lane
should be picked up if seeking higher burst damage or when playing AP Rammus.
Item Usage
Building armor is necessary to put
 Spiked Shell to good use. Having a lot of armor will still result in a large amount of damage. However, do not disregard building magic resistance, as your high armor stat means nothing to the enemy team's mages. It can however be argued that building health will synergize better with the free armor and magic resistance provided by
 Defensive Ball Curl.
Countering
Upcoming Champions
Canceled Champions