"Submit to my designs."

Use the info here with consideration. It might be outdated or biased info.
Gameplay
Champion Spotlight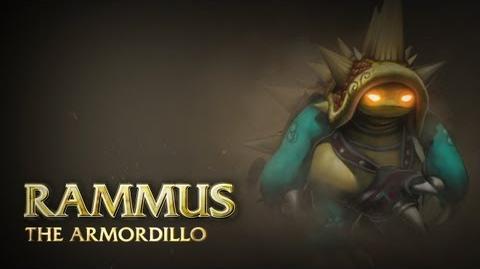 Recommended Items
Tips
Playing As  Rammus
 

Powerball

can be used as an effective escape mechanism.
Using  

taunt

on a champion by your tower can cause the tower to attack your enemy.
 

Tremors

and  

Defensive Ball Curl

can be used late in the game to obliterate towers. If you're bogged down in a team fight, it is often valuable to break off and attack the buildings.
Playing Against  Rammus
Pay particular attention to when his  

Defensive Ball Curl

is off.  Rammus has slightly lower stats than a normal tank when he's out of the stance.
 Rammus often stacks high Armor, leaving him especially vulnerable to caster damage while not in  

Defensive Ball Curl

.
Tricks
Ability Usage
Mastery Usage
As with most tank junglers,  Rammus can utilise very well. It gives free health to synergise with his high resistances and when fully stacked, provides sustain which Rammus lacks.
 Rammus as he naturally autoattacks a lot. It also gives another source of damage and helps Rammus' lack of sustain.
works well for a Top lane
should be picked up if seeking higher burst damage or when playing AP Rammus.
Item Usage
Building armor is necessary to put  

Spiked Shell

to good use. Having a lot of armor will still result in a large amount of damage. However, do not disregard building magic resistance, as your high armor stat means nothing to the enemy team's mages. It can however be argued that building health will synergize better with the free armor and magic resistance provided by  

Defensive Ball Curl

.
 Rammus, it is very effective as it reflects damage from basic attacks (which the enemy is forced to use during  

Puncturing Taunt

) and stacks with the reflecting damage given during  

Defensive Ball Curl

, along with 25 bonus attack damage due to his passive.
is a key item for
 Rammus) also synergizes well with  

Tremors

and  

Defensive Ball Curl

.
or (jungle
 

Puncturing Taunt

and  

Defensive Ball Curl

allows you to slow the enemy team heavily and make chasing easier. However, it reduces the enemies attack speed by 15% for 1 second when basic attacking you, so they won't get as many reflected hits off you when you taunt them.
in conjunction with
armor, health, additional mobility and some bonus physical damage on basic attacks, it synergizes well with  

Powerball

.
grants you
Countering
Upcoming Champions
Canceled Champions