"You belong in a museum!"

This article or section may contain obsolete information, but exists here for historical purposes.
Ranger's Trailblazer
was an
advanced item
in
League of Legends
.
[1]
Recipe
Built Into
Icons
Similar Items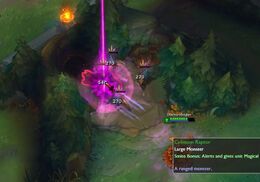 Patch history
No longer reduces the cooldown of
by 15 seconds.
Passive - Blasting Smite:

Upgrades Smite to . Blasting Smite has a reduced cooldown of 45 seconds and deals 50% splash damage to all surrounding minions and monsters, as well as stunning all enemies damaged for 1.5 seconds. If cast on a monster, you will also restore 15% of your missing health and mana.

Passive - Jungler:

Basic attacks against monsters deal 45 bonus magic damage over 2 seconds. While in combat with monsters, you will restore 10 health and 5 mana every second.

Limitations:

Limited to 1 Jungle item.
Can be enchanted with
, , , or .
References
Starter items
Consumables
Trinkets
Distributed
Basic items
Advanced items
Finished items
Removed items