Ad blocker interference detected!
Wikia is a free-to-use site that makes money from advertising. We have a modified experience for viewers using ad blockers

Wikia is not accessible if you've made further modifications. Remove the custom ad blocker rule(s) and the page will load as expected.
"Submit to my designs."

Use the info here with consideration. It might be outdated or biased info.
Gameplay
Greetings Summoners!
With Riven on the horizon, I wanted to take a few minutes and give you all a sneak peek into some of her gameplay and mechanics.
 Riven is a flow-based fighter who performs aggressive combo attacks to decimate her opponents. This often involves her stepping forward into her sword swings to chase down cowardly enemies who might try to escape or utilize their ranged attacks to avoid direct combat. This highly mobile fighting style makes her a really aggressive,
 momentum-based character.
Her signature ability is
 Broken Wings, a 3-part combo slash that causes her to step forward and slash nearby enemies. On her 3rd hit,
 Broken Wings unleashes a nova, knocking nearby enemies back. While performing the three-hit
 Broken Wings combo is powerful in its own right, more veteran Riven players will find great opportunities to mix in her
 Ki Burst to deliver a short stun (for her to follow up with more devastation) or move into an even better position with
 Valor.
Her ultimate,
 Blade of the Exile, allows her to reform her broken sword, restoring her former power and allowing her to activate
 Wind Slash, a powerful shockwave that slices the air itself to cut down enemies that are out of reach.
We're excited about Riven because she draws some heavy inspiration from fighting games, utilizing combos that can be interspersed with other abilities to change timing and effect as needed. This flow and feel is something we feel will appeal highly to aggressive players who want to make split-second decisions on when to deal damage and when to sacrifice damage in favor of additional utility effects.
Champion Spotlight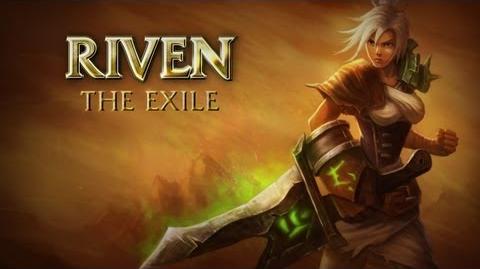 Recommended Items
Tips
Playing As  Riven
Riven's  

Broken Wings

locks onto the champion your cursor is over at the time of cast. If you want to move past your opponent, make sure that your cursor is past your opponent as well.
Riven lacks a source of healing or strong defense and must compensate with burst combos. Lead into fights with  

Broken Wings

and  

Ki Burst

, while using  

Valor

to escape and absorb counter-harass.
Playing Against  Riven
Riven has a great deal of mobility but she cannot move very far with any one skill. Rooting or silencing her during her combo will greatly reduce her effectiveness.
All of Riven's damage is physical, prioritize high armor if an opposing Riven gets out of control.
Riven excels at dueling multiple melee attackers at once, as she will be on an almost equal footing damage-wise. If pairing up against Riven, don't go in as double melee until she has expended her full combo.
Tricks
Ability Usage
Mastery Usage
Item Usage
Countering
References
Upcoming Champions
Canceled Champions