Rob Blackblade, the Dashing Rogue is a canceled League of Legends Champion.
Development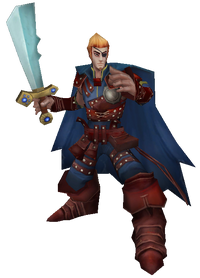 According to Colt 'Ezreal' Hallam, Rob Blackblade was pulled because he didn't fit with the game's artistic theme and the design team didn't get any inspiration from him. No aspect of Rob was deemed worthy of keeping, so he was scrapped and his place in the development cycle was filled by the Champion that eventually became
 Udyr.[1]
Media
References
Ad blocker interference detected!
Wikia is a free-to-use site that makes money from advertising. We have a modified experience for viewers using ad blockers

Wikia is not accessible if you've made further modifications. Remove the custom ad blocker rule(s) and the page will load as expected.