Champion Sneak Peek: Rumble, the Mechanized Menace
By Average Gatsby [2]
 Harpoon? Check.
 Flamethrower? Check. Triple
 rockets? Check, check, and check. Just to be safe, we'll throw in one mischievous yordle whose mechanical prowess has been used to make the most diabolical machination ever to hit the Fields of Justice. Meet
 Rumble, the Mechanized Menace. His desire to see you
 burned,
 speared, crushed, stomped, blown up, or otherwise grievously injured, has him pushing his war machine way beyond what would be considered safe operating procedure, even if he might blow a gasket. But don't call him short. That'll really grind his gears.
Media
Super Galaxy Rumble Theme
Related Music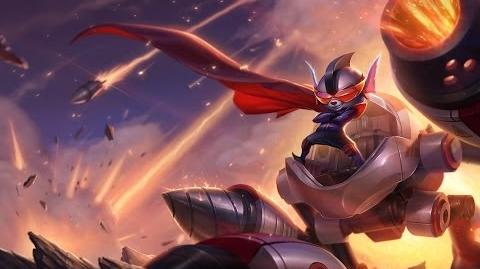 Related Videos
References
Ad blocker interference detected!
Wikia is a free-to-use site that makes money from advertising. We have a modified experience for viewers using ad blockers

Wikia is not accessible if you've made further modifications. Remove the custom ad blocker rule(s) and the page will load as expected.