Skins
Trivia
Rumble and Corki are the only yordles that ride something.
Rumble's mech is named "Tristy".
Rumble is voiced by Richard Steven Horvitz, who also voices  Ziggs.
Rumble is, along with Caitlyn, Lissandra, Varus, Vi, Xerath,and Ziggs, one of the few champions that can CC themselves.
Rumble's name and attitude resemble that of Rumble, a trash-talking villain from the Transformers.
Rumble was the first manaless champion to have a difficulty rating of 100.
Rumble's quote "This is gonna be bumpy" may be a reference to a similar quote by Jordan C. Wilde in the anime "Ōban Star-Racers".
Rumble's special ability The Equalizer may be a referance to the TF2 "Soldier" character. There is also a weapon for the Solider named The Equalizer. Rumble's special ability fires rockets, and the TF2 soldier's primary weapon is a rocket launcher.
Skins
Relations
While Rumble dislikes Piltover, he is loyal to Bandle City.
It is hinted from The Journal of Justice that Rumble has a crush on  Tristana and therefore named his mech Tristy.
He believed that Heimerdinger and his associates were "sellouts", trading superior yordle technology to humans for nothing more than a pat on the head while yordles remained the butt of their jokes.
References
Login Animation
Art spotlight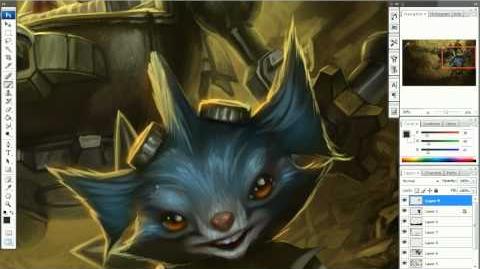 Upcoming Champions
Canceled Champions
Concept Art