"Stay alert."

This article or section contains upcoming content, and may contain inaccuracies or speculation.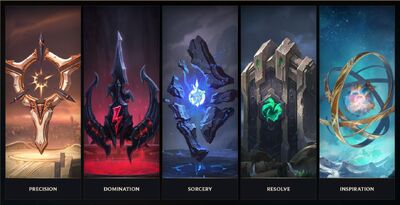 Starting from Pre-
Season 2018
,
Runes
and
Masteries
are being combined into a single system, which combines elements of both.
[1]
[2]
[3]
[4]
Summoners may choose two from a selection of 5 Paths, which are thematically similar to the three Mastery Trees from previous seasons. Each Path is structured like a Mastery Tree, with a number of slots that each have a selection of unique and mutually exclusive Rune options, with the player's Primary Path choice having additional slots, including a Keystone slot.
The new system is available to summoners of all levels at no cost and can be customized in champion select, similar to Masteries. However, players may only have a limited number of saved pages but may purchase additional pages for convenience.
Lore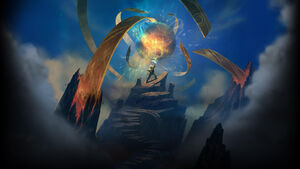 In his youth, thousands of years ago, witnessed the discovery of the first
World Rune
, as well as many more in the decades that followed. Believed to be a font of
The Makers's
might, conflict soon erupted over their control. This conflict escalated into the great
Rune Wars
, which erased
Ryze's
boyhood village of
Khom
,
Shurima
, from reality.
Sobered by the threat of annihilation, Ryze and his mentor manage to convince many of the World Rune's holders into sealing their World Runes beyond the reach of man. But many refused. After the death of his mentor, it fell to Ryze to continue the quest with only an ancient scroll for guidance.
Forward to the present day, the World Runes have begun to emerge once more, and the world has forgotten the price of wielding them.
Overview
Summoners may choose two Paths: one Primary and one Secondary. You may not pick the same path twice. There are five paths to choose from:
Precision (Improved attacks and sustained damage)
Domination (Burst damage and target access)
Sorcery (Empowered abilities and resource manipulation)
Resolve (Durability and crowd control)
Inspiration (Creative tools and rule bending)
The Primary Path has one Keystone slot and 3 Lesser slots, while the the Secondary Path has a choice of 2 of the 3 Lesser slots. Each individual slot provides a unique selection of runes, similar to the branches of the former Mastery trees. Your Primary Path also provides a Trait that grants bonus stats, whose Title is based the combination of your paths.
Paths
Paths
Keystone
Slot 1
Slot 2
Slot 3

Precision


Become a Legend


Press the Attack e

Overheal e

Legend: Alacrity e

Coup de Grace e

Lethal Tempo e

Triumph e

Legend: Tenacity e

Cut Down e

Fleet Footwork e

Presence of Mind e

Legend: Bloodline e

Last Stand e

Trait:

 Precision e

Domination


Hunt and Eliminate Prey


Electrocute e

Zombie Ward e

Cheap Shot e

Ravenous Hunter e

Predator e

Ghost Poro e

Taste of Blood e

Ingenious Hunter e

Dark Harvest e

Eyeball Collection e

Sudden Impact e

Relentless Hunter e

Trait:

 Domination e

Sorcery


Unleash Destruction


Summon Aerie e

Nullifying Orb e

Transcendence e

Scorch e

Arcane Comet e

Manaflow Band e

Celerity e

Waterwalking e

Phase Rush e

The Ultimate Hat e

Absolute Focus e

Gathering Storm e

Trait:

 Sorcery e

Resolve


Live Forever


Grasp of the Undying e

Perseverance e

Iron Skin e

Overgrowth e

Guardian e

Demolish e

Mirror Shell e

Revitalize e

Aftershock e

Font of Life e

Conditioning e

Second Wind e

Trait:

 Resolve e

Inspiration


Outwit Mere Mortals


Glacial Augment e

Hextech Flashtraption e

Magical Footwear e

Cosmic Insight e

Unsealed Spellbook e

Biscuit Delivery e

Future's Market e

Approach Velocity e

Kleptomancy e

Perfect Timing e

Minion Dematerializer e

Celestial Body e

Trait:

 Inspiration e
Set Title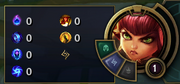 The set
Title
is currently only used within the game client as the name for the player's Trait, although the lack of visibility within the out-of-game Rune Inventory may be a bug. As Traits are currently not distinct beyond the player's Primary Path selection: these titles are purely cosmetic.
Secondary ►
Precision
Domination
Sorcery
Resolve
Inspiration
Primary ▼
Precision
—

The Merciless Elite

The Brazen Prefect

The Eternal Champion

The Savant

Domination

The Glorious Executioner

—

The Aether Blade

The Immortal Butcher

The Ingenious Hunter

Sorcery

The Incontestable Spellslinger

The Calamity

—

The Ancient One

The Cryptic

Resolve

The Leviathan

The Imperious Behemoth

The Arcane Colossus

—

The Enlightened Titan

Inspiration

The Virtuoso

The Ruthless Visionary

The Stargazer

The Timeless

—
Rune Pages
As with the previous system, accounts begin with 2 editable rune pages and may purchase the
convenience
of additional pages in the store, up to a total of 20. Unlike the previous system, Rune Pages will only be available to purchase with

 Riot Points
. Any
Rune Pages
the player currently owns will be transferred across to the new system, in addition to the compensation received.
In addition to those 20, there are also 5 Preset Pages that cannot be edited. Note that on the PBE, there is currently a bug where the Presets are being included in the limit.
Presets and Example
Compensation For Past Purchases
Note that  IP and  Blue Essence are being merged into a single currency in Season 2018.
| | |
| --- | --- |
| Rune Pages | You still keep your Rune Pages in the new system. |
| Tier-3 Marks, Seals and Glyphs | |
| Tier-3 Quints | |
| Limited Edition Runes | Exclusive Summoner Icon(s) to players who purchased the following: |
There is a substanial
 Blue Essence Sale to spend all that compensation on as part of the End of Season Event.
Trivia
During development, Precision and Sorcery were originally going to be Primary-only.
Runes and their surrounding areas have distinct visual appearances similar to Runeterran factions, which may be intentional and reflect the real-world location of the World Runes:
The following statements generalize the changes made to compensate the loss of AD from Marks and Health/Armor from Seals, which were almost unanimously used due to the lack of options (and thus the game has been balanced, for example, around most champions having +9 Armor from Seals). The exact values may vary for specific cases, as Riot also took this opportunity to better distinguish classes (e.g. tanks from non-tanks; ranged from melee), as well as buff/nerf specific champions.

AD champions had the base damage on their abilities increased by 5.
Most champions had their  base armor increased by 9.

Riot has stated that they already have a number of additional runes in the works that will not be finished before the initial release.

Players may also see additional paths in the future, although none are currently in development and they would not be added outside of the mid- or pre-season patch.
Media
Patch History
Please note that bug fixes will not be reported here. Exceptions will be made for bug-fixes where the bugged functionality was believed to be intentional behavior or where the bug received a lot of video coverage.
PBE Patch - October 18th
PBE Patch - October 16th
PBE Patch - October 13th
PBE Patch - October 12th
PBE Patch - October 11th
PBE Patch - October 10th
PBE Patch - October 4th
PBE Patch - October 3rd
PBE Patch - October 2nd
PBE Patch - September 29th
PBE Patch - September 28th
References