Champion Spotlight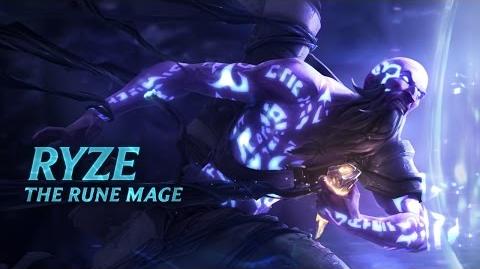 Recommended Items
Tips
Playing As
Use
passive to optimize for maximum damage or maximum survivability.
short cooldown allows it to be used to spread to many enemies.
can move and cast other spells while is charging without cancelling the portal.
Playing Against
is especially dangerous to opponents that are marked with .
Use
windup time to figure out how to deal with what may be coming out of the portal.
Crowd controlling
during windup will cancel the portal.
Tricks
Ability Usage
Mastery Usage
increases already high burst damage and can be procced easily thanks to his combo mage playstyle.
works well with speed boost, and potentially , to help chase his targets down or reposition in a teamfight.
Item Usage
abilities scale with both Mana and Ability Power, which makes items that have both stats much more effective for increasing his damage output.

active shield can make deceptively tanky especially when used in conjunction with shield.

gives bonus Mana based on his Ability Power. This makes an essential item early game, since spamming abilities gives you bonus mana, due to its passive effect. It should eventually be built into , preferably when the item is fully charged, to get as soon as possible.
The bonus health and mana from Rod of Ages makes it a good second item on Ryze. It adds to his passive, and gives him more tank stats to help you win early 1v1s.
Morellonomicon is a good 3rd item, due to the cool down reduction it gives. This lets Ryze pump out damage much faster, since Spell Flux will be on a lower cool down.
A Zhonyas Hourglass is a good situational item on Ryze, because if you need to retreat using Realm Warp, you can ult, and then use the active effect of Zhonyas to negate any damage or crowd control that could otherwise stop your channel. It can also effectively counter assassins, and help out in a tough lane if needed.
Countering
However, these champions still need to be wary of
when used on a minion wave.

has a relatively short range for a mage so long range champions like or can harass him with less risk.
References