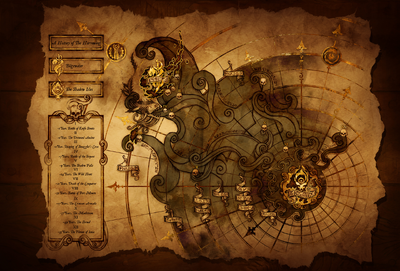 The Serpentine River is a river not too far from Bilgewater. It runs through part of the Serpent Isles archipelago that includes the island that Bilgewater occupies.
Lore
A group of nomadic river-folks live on the river, drifting from town to town on the archipelago.
Twisted Fate was banished from this group after his retaliation against looters and vandals went against the code of the river.[1]
Champions of Serpentine River
Other Related Champions
is partner in crime.
frequently prays on human victims on the river.
Wildlife
Wharf Rat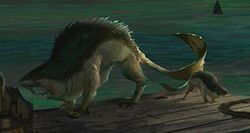 For more detail, see Razorfin.

Wharf Rats a terrifying blend of shark and rat commonly found on the docks of Bilgewater. These creatures are larger than dogs and are known to prey upon drunks and lone fishermen on moonless nights. They often travel in packs, and are easily capable of biting a man's leg off.
Scuttle Crabs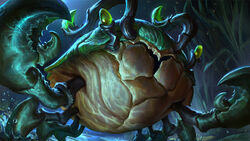 For more detail, see Rift Scuttler.

Scuttler Crabs or Rift Scuttlers live in the fresh waters of Valoran and can be found near the docks of Bilgewater and in Summoner's Rift. They are small green-shelled crustaceans with 3 pairs of legs and one pair of front claws. They sometimes bury themselves into the muck of the river to avoid predators and are known to either avoid or flee from dangers. To confer peaceful resolution (hence the elusive pacifist nickname) to the force that subdues it, it will grant them a boon: a persistent field around it that grants vision and magical speed to the aggressor and its allies. If corrupted by The Void, a Rift Scuttler turns into a

Rift Herald.
References