Ad blocker interference detected!
Wikia is a free-to-use site that makes money from advertising. We have a modified experience for viewers using ad blockers

Wikia is not accessible if you've made further modifications. Remove the custom ad blocker rule(s) and the page will load as expected.
Champion Spotlight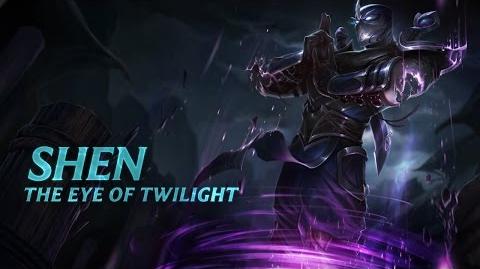 Recommended Items
Tips
Playing As  Shen
Keep an eye on allies and be ready to save them with  

Stand United

.
Leverage your Energy to get a long-term advantage over Mana users.
Playing Against  Shen
Be ready to dodge Shen's  

taunt

and punish him if he misses.
Once Shen reaches level 6, watch out for his  

global-range ultimate

, which can turn fights quickly.
Tricks
Ability Usage
Mastery Usage
 Shen due to its health scaling, which synergises with his buildpath. The sustain it provides is also useful as Shen doesn't have innate sustain. To top if off, Shen's trading patterns naturally include autoattacks which will proc the mastery.
is a great keystone for
Item Usage
 Shen is mostly played as a tank or an attack speed / attack damage bruiser. His kit has

bonus health

scaling for  

Ki Barrier's

shield and  

Shadow Dash's

damage, a dodging zone with  

Spirit's Refuge

, and a global range  

ultimate

that allow him to blink to an allied champion while giving them a powerful shield. Due to his  

ultimate

,  Shen is also a good splitpusher as he can easily join his team if a teamfight breaks out.

 Shen. The former grants Shen much needed waveclear while significantly boosting his damage due to the item's health scaling. The latter provides yet another shield for Shen which combined with  

Ki Barrier

, make him even tankier.
and are great for a bruiser
grants him health, armor and some magic damage while at melee range. The passive is also excellent to solve Shen's innate lack of waveclear.
 Shen.
, , and are great items for
For boots,
or are great choices, with being a great alternative.
An item classified as an offensive item is  Shen's kit.
. It offers ability power, attack damage, and attack speed, all going well with
Another great item for  Shen is . It provides Attack Speed, Magic Resist, bonus on hit magic damage and MR shred and steal. This help Shen deal more damage without sacrificing too much tankiness.

 Shen can also be played as an ability power bruiser.

is a great choice, granting health, AP and magic penetration.
slow, but although the slow applies on  

Twilight Assault's

buffed autoattacks and his  

Shadow Dash

, it would be useless on the latter as the target would be taunted and therefore unable to move anyway.
seems like a good choice, it grants health, AP and a
An item that doesn't grant health but is still alright is the
, it grants armor, ability power and statis for 2.5 seconds.
 

Twilight Assault's

bonus magic damage.
grants ability power, magic resistance and aura reducing enemies' magic resistance. However, the aura is only be useful on
A straightforward choice would be
or .
An unsual choice would be the
, it grants health, health regen, ability power, magic resistance, cooldown reduction and a magic resistance aura.
Another unsual choice would be
, granting attack speed, ability power, cooldown reduction and on-hit magic damage.
Countering
Landing  

Shadow Dash

is crucial for  Shen as he has no ranged abilities. Dodging the ability will leave him extremely vulnerable to kiting, render his  

Twilight Assault

useless and cripple his energy pool.
Likewise, a taunt should you be unable to dodge it.
, , or can cleanse or block the
References