Ad blocker interference detected!
Wikia is a free-to-use site that makes money from advertising. We have a modified experience for viewers using ad blockers

Wikia is not accessible if you've made further modifications. Remove the custom ad blocker rule(s) and the page will load as expected.
"Submit to my designs."

Use the info here with consideration. It might be outdated or biased info.
Gameplay
By Average Gatsby [1]
For this mechanics preview, we wanted to focus less on the individual abilities of our upcoming champion and talk about the skillset and character flow of Shyvana, the Half Dragon, as a whole.
 Shyvana is a melee champion that heavily rewards aggression. She does so by utilizing a modified
 Fury(*) resource that accrues anytime Shyvana lands an auto-attack. Once her
 Fury is full, she can unleash it to transform into a dragon, giving her substantial buffs, ability enhancements and some upfront damage. While in dragon form, Shyvana's
 Fury(*) is slowly consumed, though she can continue auto-attacking to extend the duration of the Dragon Form and maximize her damage output with each use.
It's also worth mentioning that Shyvana's
 ultimate has no cooldown, but can only be used when her reserve of
 Fury(*) is full. The right set of circumstances can allow a skilled player to transform much more often than would otherwise be possible.
In addition, Shyvana's
 passive triggers benefits to each of her abilities when she auto-attacks. This is to differentiate her from the 'melee caster' paradigm embodied by some other characters, making her play somewhere between an Attack Damage carry and a fighter.
Simply put, Shyvana is for players who like any of the following:
Offensive, aggressive playstyles
Melee carries or fighters
The idea of being a super-rad dragon
We think this wantonly aggressive playstyle is something we haven't seen previously on the Fields of Justice. It's an exciting opportunity for players to experience a new way to play League of Legends.
(*) Note: This was originally mislabeled as
 'Dragon's Blood'
Champion Spotlight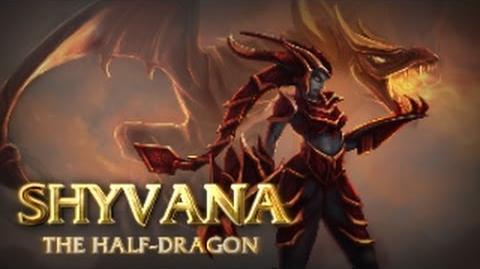 Recommended Items
Tips
Playing As  Shyvana
 Shyvana's abilities all benefit from attacking units. As a result, Attack Speed items are more valuable on her than most champions.
 

Flame Breath

is great to level-up against difficult lane opponents.
 

Burnout

is an ideal choice for jungling. Monsters will be hit by the full duration, and the speed boost improves her ganking potential.
It can be valuable to purchase one of the items that can slow enemies:
, , or .
Playing Against  Shyvana
A significant portion of  Shyvana's power is generated through aggression, making her weak against opponents who are able to keep their distance.
All of  Shyvana's abilities hit multiple enemies in  

dragon form

. It's important for opposing champions to not cluster while fighting her.
Tricks
Ability Usage
 Shyvana's strength comes from her innate durability from  

Dragonborn

and her high mixed damage output, AoE, and utility from  

Burnout

and  

Dragon's Descent

, along with her ability to duel effectively with  

Flame Breath

and  

Twin Bite

. However, she lacks hard CC and is prone to being kited.
With good positioning and timing,  

Twin Bite

can massively extend the duration of  

Dragon's Descent

. By hitting three targets, it generates enough fury to stay in dragon form for another two seconds.
 

Twin Bite

is a great turret pushing tool, as it allows you roughly three auto-attacks worth of damage in the time space of ~ 0.8 seconds (taking into account attack animation time and casting time)
Use  

Burnout

to chase down or flee from enemies, as it grants bonus movement speed.

 

Burnout

provides the largest bonus movement speed at the start of the ability. Activating it gives a quick burst of speed that can be used to juke skillshots and enemies.

 

Dragon's Descent

is an excellent peeling ability, if you see a key member of your team (an ADC or APC) starting to get focused, use the dash and knock the enemies off while giving your ally enough distance to continue attacking.

With good positioning, you can use  

Dragon's Descent

to push enemies away from your allies while diving onto their backline to disrupt them.

Casting  

Burnout

followed by  

Dragon's Descent

will lead to a flaming trail from where you started  

Dragon's Descent

.
 

Dragon's Descent

can be used to chase in or escape from any situation.

Take note that stuns, silences, snares, knock-ups and knockback effects can hit and stop  Shyvana mid-flight. Beware of your enemies' capacity to do this.
 

Dragon's Descent

is one of the longest dashes in-game, as such it allows going over large walls and otherwise impassable terrain.

 

Flame Breath

goes through units. If you find yourself as a laner (most likely top) putting points in this ability gives you a good harassment tool and can be used to farm easily. It may be worth maxing if you are against a ranged opponent as  Shyvana has no other ranged abilities.
To perform a quick harass, hit your opponent with  

Flame Breath

and run into them with  

Burnout

, following with a  

Twin Bite

to proc the mark from  

Flame Breath

and the on-hit bonus damage of  

Burnout

twice, putting out good damage and extending  

Burnout

. You can then use the prolonged speed boost granted by  

Burnout

to escape just as you entered.
When using  

Dragon's Descent

, try to position yourself to be able to hit as many targets as you can with your AoE abilities.
Attacking turrets, inhibitors or the nexus does not trigger the cooldown reduction for  

Twin Bite

. It does, however, reset her auto-attack timer, build Fury and extend the duration of  

Burnout

.
While both hits triggered from  

Twin Bite

deal on-hit effects, only the first hit is able to deal a critical strike. The second hit only deals a percentage of  Shyvana's attack damage as damage.
 Shyvana's kit allow her to do large amount of damage over time at close-range, but it doesn't provide her with burst capabilities. Failure to combine or land  Shyvana's abilities together to effectively damage a target will create an opening for a period of time that your opponents can take advantage of, so be aware of your enemies' potential methods to disengage from you.
 Shyvana is one of the fastest junglers, having great clear speed and mobility, allowing her to counter-jungle exceptionally well. However, her lack of CC diminishes her early game presence and is more focused on denying the enemy jungler.

Starting with  

Twin Bite

can be a fair way to clear monster camps while basic attack diminishes cooldown. Same thing goes to  

Flame Breath

as marked monsters get bonus magic damage.

 

Twin Bite

can be used to clear the lesser monsters quickly before vanquishing the bigger ones.  

Flame Breath

can be used with good positioning to mark all monster camps in order to attack effectively.

 Shyvana must have at least 2 ranks on both  

Flame Breath

and  

Twin Bite

in order to save time in clearing monster camps.
When farming, it's best to have the Gift of Heavy Hands from the  Ancient Krug, as  

Twin Bite

can increase the stacks by two, therefore stunning monsters quickly.
Mastery Usage
Item Usage
Countering
References
Upcoming Champions
Canceled Champions