Skill Usage
Edit
Build Usages
Edit
Jungling
Edit
 Shyvana is one of the fastest junglers, having great clear speed and mobility, allowing her to counter jungling exceptionally well.
Consider picking up a

Wriggle's Lantern

for extended survivability and a

Frozen Mallet

to make your ganks more effective.
Starting items:

Cloth Armor

,

Health Potion

 × 5 OR

Hunter's Machete

Health Potion

 × 5
Skill progression:  Burnout→ Twin Bite → Flame Breath → personal preference.
Possible Jungling orders:
Gank at any time after killing the Red Lizard if an opportunity presents itself.
Recommended builds
Edit
Summoner's Rift




recommended items

Starting

5

Essential
Offensive
Defensive
Consumables
The Howling Abyss




recommended items

Starting

2

Essential
Offensive
Defensive
Consumables
The Crystal Scar




recommended items

Starting

3

Essential
Offensive
Defensive
Consumables
The Twisted Treeline




recommended items

Starting

5

Essential
Offensive
Defensive
Consumables
Countering
Edit
Champion spotlight
Edit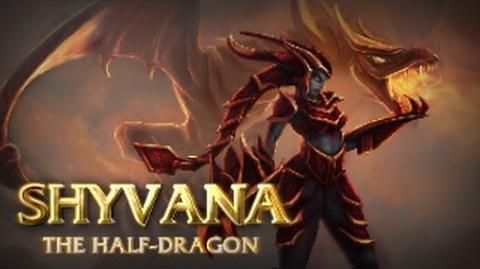 Upcoming Champions
Canceled Champions
Concept Art