Ad blocker interference detected!
Wikia is a free-to-use site that makes money from advertising. We have a modified experience for viewers using ad blockers

Wikia is not accessible if you've made further modifications. Remove the custom ad blocker rule(s) and the page will load as expected.
Champion Spotlight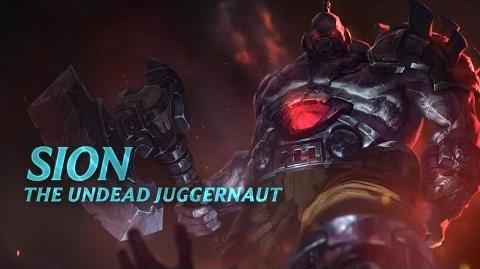 Recommended Items
Tips
Playing As  Sion
Playing Against  Sion
Even if  Sion still hits a  

Decimating Smash

, making him release the charge earlier reduces its impact.
Use the time after  Sion has died to reposition and prepare for  

his return

.
Tricks
Ability Usage
 Sion relies heavily on good skill timing and placement in order to be useful - the majority of his kit is unreliable in terms of hitting abilities, but they synergize well with each other to result in incredible sustained damage.
His passive,  

Glory in Death

, is useful for revenge kills but is most prominent in teamfights where enemies will be under threat by the extra DPS he'll have while reanimated.

Do not underestimate the damage he deals with  

Glory in Death

. With each hit dealing an additional 10% of the target's max HP,  Sion can decimate squishy/slow targets.
If you have purchased a
the attack reset of the active combined with the bonus damage can provide a large amount of unexpected burst.

 

Decimating Smash

deals AoE damage and, when charged enough, can knock up multiple enemies. Fully charged and well placed, this ability can singlehandedly turn teamfights. While the potential threat of  

Decimating Smash

is huge, getting it to apply the brief slow can be enough to pick off a target.
 

Soul Furnace

makes  Sion very durable with both components, as he can gain quite a bit of health from the passive and a large shield that scales off his max health to compliment it.

Though the shield may not persist for very long in early teamfights, it is still a powerful damage tool due to its AoE % max health damage.

 

Roar of the Slayer

grants  Sion a ranged AoE damage slow with armor shred, and an effective tool for initiation.

Maxing  

Roar of the Slayer

first while pushing minions in lane grants  Sion serious long ranged damage poke and wave clear.

Since the damage is also magic, it is effective against early armor stacking.

Slowing opponents with  

Roar of the Slayer

will make it easier to engage on them or follow up with  

Decimating Smash

.
Though the armor reduction only applies to the main target, it is still a shred and will make any enemy that much more vulnerable to physical damage bursts from you and your teammates.

His ultimate  

Unstoppable Onslaught

allows him to move a long distance while also dealing high AoE damage and providing a significant knockup.

Canceling  

Unstoppable Onslaught

briefly before hitting the intended target will let you stop and deal damage at that position - even if the opponent gets away. This way  Sion will hopefully be placed right where he belongs - in the middle of the fight.
A well used melee range  

Unstoppable Onslaught

is your most reliable tool to save teammates from any instant engage such as a  Warwick's  

Infinite Duress

, dealing a fair amount of damage and the knockup.
Due to the CC immunity it gives and the long distance  

Unstoppable Onslaught

covers, it can be used to escape or to join a fight.
Mastery Usage
Item Usage
Countering
As  Sion's strength lies in his amazing late game with infinite HP scaling, playing an early game champion like  Renekton,  Riven, or  Garen can hinder him from reaching his full potential.

In short, anyone who can interrupt his  

Decimating Smash

and burn through his  

Soul Furnace

shield quickly and early will be able to push him out of lane as well as deny his usefulness during teamfights.

 

Soul Furnace's

shield can deal a large amount of damage to your team if you don't break through it fast enough. If you cannot destroy it within the three second period before it can be detonated, consider disengaging and letting it expire, as it has a fairly significant cooldown.
Pay attention to the game's audio as you can hear the noise  Sion's  

Unstoppable Onslaught

makes globally, and position yourself to dodge out of the way.

While the engage potential of  

Unstoppable Onslaught

is significant, the cooldown is very high at early levels. Keep this in mind if he uses it defensively.
Without  

Unstoppable Onslaught

,  Sion is very vulnerable to kiting. Try to engage or force an objective while it is down.

 Sion does a large amount of mixed damage, especially in the laning plase. Avoiding his abilities early is important in securing the early game against him.
 

Roar of the Slayer

is relatively fast compared to the rest of his skills, but its high base damage and slow makes it important to dodge to avoid follow up.

The empowered damage only applies if you are hit by a minion or monster. Try not to give  Sion the opportunity to hit you with one.

 Sion excels at zoning low mobility opponents with his abilities.  Ryze and  Teemo can be effective against him, provided they do not get too close.
A well timed  Sion from landing  

Unstoppable Onslaught

on you.
can prevent
Much of  Sion's initiation damage is physical, so building armor will be effective for teamfights or if he manages to land his ultimate.
can be effective in reducing his magic damage against you and prevent any kind of initiation from him.
References