"Submit to my designs."

Use the info here with consideration. It might be outdated or biased info.
Gameplay
Greetings Summoners!
Today, I wanted to give a little sneak peek into the gameplay behind Skarner, the Crystal Vanguard.
The idea behind
 Skarner is to get on people, stay on them, and really capture that inevitability of being run down by a predatory creature. Additionally, we wanted to avoid an instant gap closing mechanic so there's appropriate counter-play.
The primary way Skarner accomplishes this mission is through his ability
 Crystal Slash and his passive,
 Energize.
 Crystal Slash does a quick, point-blank AOE and empowers the ability if it hits. Empowered casts will do bonus damage and slow (making successive uses really useful for sticking to his target). His
 passive causes his spells to cool down faster each time he auto-attacks - a natural combination with the empowered
 Crystal Slash.
Properly utilizing Skarner's
 passive is central to his gameplay as a whole. For example, Skarner's ability
 Crystalline Exoskeleton puts up a shield that grants additional movement and attack speed while it's up. The bonus attack speed will help greatly decrease the cooldown time of his abilities, leading to additional
 Crystal Slashes or more uptime on this steroid.
Skarner's marquee ability is
 Impale. This
 ultimate causes him to skewer an opponent with his tail and drag them around for a few seconds. The positional manipulation of the ability can turn a teamfight by peeling an enemy off of a wounded ally, or dragging a greedy enemy into a tower.
Players have been asking for another monster champion for a while, so we're happy to deliver Skarner, our own weaponized arachnid.
Champion Spotlight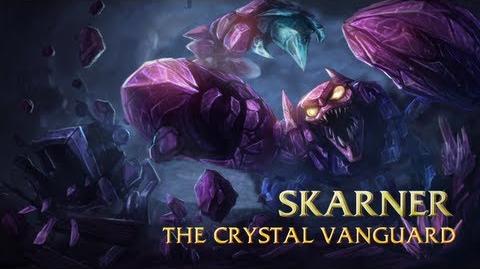 Recommended Items
Tips
Playing As  Skarner
Playing Against  Skarner
Tricks
Ability Usage
Mastery Usage
Item Usage
Building attack speed indirectly reduces  

Crystal Slash's

cooldown.
A  Skarner. Due to the low cooldown of his  

Crystal Slash

,  Skarner can continuously proc Spellblade, coupled with the fact that  Skarner has some of the highest base attack damage in the game.

A  Skarner. adds some damage to his abilities and he makes exceptional use of the Spellblade passive. gives  Skarner some attack speed and movement speed, which is valuable to him for reducing his  

Crystal Slash

cooldown and allowing him to keep up with an enemy champion. grants even more sticking power through it's passive and  Skarner greatly enjoys the attack damage and health it grants.
is an exceptionally strong item for
 Skarner with a tankier option. Compared to the , it provides less overall damage and movement speed but instead offers armor, Spellblade with an AoE slow, cooldown reduction, and more mana. It is also a cheaper option, which could be helpful if you are not ahead.
, alternatively, provides

-based item synergizes perfectly with
As a hybrid champion,  Skarner has strong attack damage and ability power scalings on his abilities. Depending on what you build, you could deal heavy physical damage or a nearly 50/50 mix of physical and magic damage.
Items such as

 Skarner build, due to the multitude of valuable stats it provides. Additionally, he is able to make great use of both passives on this item through repetitive usage of  

Crystal Slash

.
is present in nearly any
Spellblade passive. The passive grants a surprising amount of attack damage and survivability should you be bursted down.
is especially strong when combined with an item such as or , as it directly increases the damage of the

, , and are all great choices for attack damage on Skarner.
Strong ability power items on Skarner generally include some type of defensive stats as well as AP, as you would otherwise be lacking tankiness to fight. A few powerful AP items on him would be

 

Crystal Slash

, this effect alone makes it potent as it essentially grants  Skarner a permanent slow as long as he continues to cast  

Crystal Slash

.
is powerful thanks to granting a large chunk of health and ability power. However, the real strength in this item lies in it's passive. Although 's slow usually only effects his

, , and .
As a low mobility melee champion, most  Skarner builds include multiple defensive items so he can survive and close the gap between himself and the enemy team.
 Skarner, as they both provide defensive stats and additional crowd control to add to his plethora of slows and immobilizes:

provides Health, Armor, and damage reduction from critical strikes. It also gives an attack speed reduction to an enemy that auto-attacks you and a powerful AoE slow. If an AD Carry is the biggest threat on the enemy team, will aid greatly in keeping you alive as it can greatly reduce the amount of damage received from their auto-attacks.

and are two great items for
 Skarner. It grants heavy defensive stats at a fairly reasonable price, but the movement speed passive on this item is invaluable to  Skarner no matter the situation though. This item allows  Skarner to chase better, flee better, and arrive to fights right on time. If you are to purchase at the minimum one defensive item, should often be a go-to choice.
is an excellent item on
 Skarner. He greatly values the cooldown reduction and armor on this item. Additionally, the mana is useful to allow Skarner to cast spells carefree of his mana.
is another strong armor item on
 Skarner. When facing heavy AoE magic damage or a Double-AP comp, can greatly mitigate the magic damage you and your team receive. When worried about single-target burst though, should be purchased.
and are both very potent magic resist items on
Due to  Skarner's lack of dashes or blinks, he greatly benefits from an early pair of .
are an excellent option when being kited by a champion who is simply faster than you. When facing several slows on the enemy team but low amount of hard crowd control, also allow you to crawl through and reach your target.
are a great purchase when faced with several instances of hard CC on the enemy team. When faced with an early magic damage threat, these are also suggested.
should be purchased early against teams who are purely physical damage, as often you will need as much armor as possible to survive. The damage reduction against auto-attacks also improves your jungle sustain and brings an AD Carry's damage down noticeable.
In the modern jungle,  Skarner is very versatile, able to perform many different roles based upon his item selection and playstyle.
Countering
 

Crystalline Exoskeleton's

movement speed boost will persist only if the shield is unbroken, destroying his shield will make the movement speed boost disappear.
Be careful when turret diving a low health  Skarner. He can use his  

Impale

and drag you around the turret.
Some champions with a knockback ability (e.g.  

Fling

or  

Headbutt

) can help an ally that is dragged by  

Impale

. Use this to make sure  Skarner doesn't drag them too far.
Skarner gets large buffs inside the perimeter of  

Crystal Spires

under his control. Try to refrain from fighting in these zones, or prevent him from gaining control of them.
References