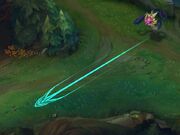 A skillshot is a type of champion ability that casts a projectile that originates from a point of cast, typically the casting champion, as opposed to directly targeting an unit. Circular area of effect abilities are not considered skillshots.
Types of skillshots
Edit
By targeting reticle
Edit
Among the skillshots in the game, the majority of them can be classified as either Linear or Conic. Linear skillshots fire in a straight line from the casting champion while Conic skillshots are attached to the champion itself, and hit enemies in front of the champion. Lesser distributed among champions are Vector and Curved skillshots. Vector skillshots are fired by clicking a point on the map and dragging the mouse cursor over a targeted area. Curved skillshots fire in a curved arc from the casting champion. Currently,
Diana possesses the only curved skillshot in League of Legends.
Examples:
Other classifications
Edit
A skillshot may be considered a Colliding skillshot if it stops and affects only the first target in its path or a Pass-through skillshot if it continues on its trajectory regardless of the targets it passes through. Some colliding skillshots have secondary area of effects that occur once they hit a target.
Skillshots may also be classified as Projectile or Instantaneous skillshots based on whether they have a projectile or if its damage is dealt instantaneously. Typically, instantaneous linear skillshots have a channel associated with the spell to force the player to lead their targets.
Examples