Skill usage
Edit
 Power Chord has three distinct effects based on  Sona's currently active aura.
​  Sona's  Hymn of Valor is very strong if leveled up quickly. However, because of her lack of escape mechanisms or survivability skills, she should still be played as a support champion.

Leveling first is great for aggressive bot lanes due to  Hymn of Valor's passive aura granting additional AD and AP as well as providing decent harass during the laning phase.

In a passive support lane, encourage your carry to trade blows with the opponent, and do the same with  Hymn of Valor and  Power Chord. Afterwards, heal yourself and your partner with  Aria of Perseverance.  This will wear down the enemy and force them out of lane in less time and mana than just poking with  Hymn of Valor.
Use  Aria of Perseverance when an ally is being focused in order to take advantage of the bonus armor and magic resistance.
Stay with the team.  Sona makes an excellent healer,  Crescendo is best used when the whole team can take advantage of it, and  Song of Celerity lets the entire team kite. Without a teammate around,  Sona is little more than an easy gank.
Early game, be wary of constant spell rotation, as it will quickly drain her mana. However, this can also be a large problem mid to late game without proper itemization.
 Crescendo coupled with allies' channeled abilities can devastate the opposing team, as while stunned, they can't interrupt the channel.
Build usage
Edit
Recommended builds
Edit
Summoner's Rift




recommended items

Starting
Essential
Offensive
Defensive
Consumables
The Howling Abyss




recommended items

Starting
Essential
Offensive
Defensive
Consumables
The Crystal Scar




recommended items

Starting

2

Essential
Offensive
Defensive
Consumables
The Twisted Treeline




recommended items

Starting
Essential
Offensive
Defensive
Consumables
Countering
Edit
 Sona is fairly squishy throughout the game, especially at level 1. Work with your allies to kill her fast.
When laning against  Sona, be sure to play safe as she can boost her partner with her supporting spells.
All of  Sona's active stances are AoE, meaning that you can avoid her spells by moving away from her.
Do not overextend when chasing an enemy that is accompanied with  Sona. Her  Song of Celerity allows her to outrun you very quickly.
During teamfights try to kill Sona first, since she provides consistent damage/defense boosting auras through the teamfight, as well as an AoE stun.
Champion spotlight
Edit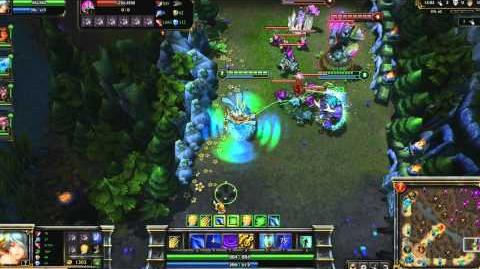 Upcoming Champions
Canceled Champions
Concept Art