Soraka/Strategy
Comments

77
1,842pages on
this wiki
Skill usage
Build usage
Recommended builds
Countering
 

Starcall

is spammable and reduces your magic resistance whenever it hits you, but it has moderately short range. Either try to stay away from her outright during laning phase so she won't be able to harass you, or wait for the magic resist debuff to fade before closing in again. Keep yourself outside of the range of the spell early on as she can use it to refresh   

Astral Blessing

.
Soraka is the only champion in game capable of reliably performing burst healing (restoring immense amounts of health in a split second). This is particularly troublesome in an early 2v2 fight in the bottom lane if you lack Grievous Wounds, not to mention that  

Astral Blessing

makes her target very resistant to physical damage if you don't have a significant amount of armor penetration (which is rare early on).

She can only provide the armor buff to a single target, so focus another until it expires. Having an ability power-based jungler can also help.

Always have an Ignite or

Executioner's Calling

ready whenever you are going to engage an enemy that have  Soraka in their team in order to reduce the effects of her two healing abilities.
Champion Spotlight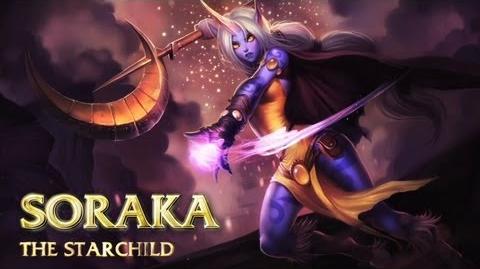 Upcoming Champions
Canceled Champions
Concept Art