"Submit to my designs."

Use the info here with consideration. It might be outdated or biased info.
Gameplay
Two years after brushing up her visuals, we're taking a second look at the goatiest of champions, Soraka! This time the Champion Update team's focusing on her gameplay, so while her bananas stay the same, we're updating and tweaking a few of her abilities. Here's the rundown! [1]
Abilities
Laning
 Soraka's a support who works best in the immediate proximity of her marksman. Here she can keep her lane partner healthy with
 Astral Infusion before turning to
 Starcall to damage the enemy bot lane champions and restore some of her own health.
 Equinox has serious potential to win trades, too – casting it beneath an enemy AD caster (
 Graves and
 Varus, for example) greatly reduces their damage output, while using it beneath the enemy support cuts off their ability to use their array of abilities and summoner spells.
 Equinox can be a lifesaver when the enemy jungler comes in to gank, too. Whenever Soraka casts the portal along the jungler's attack route, she effectively forces them to choose between a longer gank path and the ability's silence/snare field. Additionally, if her marksman is already close to death but closer to the relative safety of their tower, then the speed boost from
 Salvation helps Soraka motor away from her enemies. Of course, if all else fails, Soraka can break the emergency glass and hit the big red
 Wish button to buy her allies a few extra seconds of life.
Teamfights
Soraka's teamfight presence relies on sharp decision-making and making the most of
 Astral Infusion's extremely low cooldown. Though she's generally better off sticking close to – and healing up – her team's backline,
 Salvation gives her enough movement speed to fly to the frontline and heal her suffering tanks. This presents risks, though: without the extra movement speed, she returns to her team's backline – and safety – relatively slowly, giving the enemy team plenty of opportunities to wade in and cut her down. Soraka can diminish this threat by casting
 Equinox on the battle's frontline, hopefully dissuading all but the most determined assassins from bursting through to kill her.
Finally,
 Wish has enough raw power to turn around seemingly lost fights. Timing is critical: using it early on tops off health and keeps the momentum of a fight in your team's hands, but saving it until the last moment grants significantly more health and can fully dispirit a confident enemy team.
Champion Spotlight (Pre-Gameplay Update)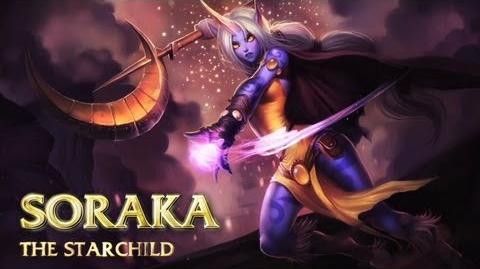 Recommended Items
Tips
Playing As  Soraka
Playing Against  Soraka
Tips
Ability Usage
Item Usage
Countering
 Soraka depletes her own health to heal others. Try dodging her  

Starcall

early on as it is the only way she can replenish health on her own (besides health regeneration and s).
 

Astral Infusion

has a short range (550). Try bursting her down so that she cannot heal her allies.
The key to keep her down in lane is to poke her down slowly and dodge  

Starcall

. This will keep her vulnerable when she tries to heal her lane partner with  

Astral Infusion

.
 Blitzcrank and  Thresh can assert lane dominance against her. A well timed hook from either champion can force her to use Flash and play more cautiously.

However you must play very aggressively. Otherwise Soraka will actually end up outsustaining and outharassing both of them.

Picking Ignite instead of Exhaust can also be an option not only to zone Soraka with the threat of being killed, but also because of the Grievous Wounds. However, keep in mind the rest of her team, because if it has dangerous mobile assassins such as  Kha'Zix and  Zed, then it is better to still take Exhaust instead of Ignite.
References