Champion Sneak Peek
By ByronicHero [1]
Here at Riot Games, we're making every attempt to ensure that we deliver exciting champions to even the most twisted and deviant of human minds. So if you're a budding veterinarian or ornithologist, it's now your turn to start getting excited. Meet Swain, the Master Tactician. In addition to being a distinguished Noxian gentleman of impeccable wealth and taste, Swain also just happens to be a fan of our feathered friends. And like some people who wind up at the League of Legends, well... let's just say that he's much more than meets the eye.
Full Relaunch
Posted by Reav3.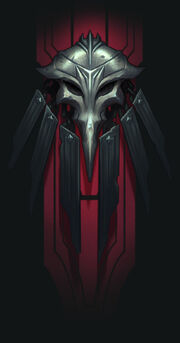 I'm happy to announce that our next big VGU after will be none other than the leader of
Noxus
himself, . To start off, his visuals haven't held up very well over time. Swain is supposed to be the the all-powerful ruler of Noxus, and he doesn't really look the part at the moment. His theme is also a bit confused with his actual gameplay—he's a Master Tactician, yet he plays more like a Drain Tank/Battle Mage.
His gameplay has also been a design problem for a while. If Swain gets behind, he doesn't really make an impact on the game. If he gets ahead, he becomes a unkillable tank that can also output massive amounts of damage. Swain also has a lot of his power pushed into abilities and effects that enemies can't really do anything about. Looking at him as a whole, we feel there's a great opportunity to revisit Swain and truly deliver a champion worthy of leading one of the most ruthless and iconic nations of Runeterra. We'll be updating his visuals to better match his theme as the leader of Noxus, as well as doing a major overhaul on his gameplay. We want to keep the "essence" of Swain intact, even though we will be completely rebuilding his entire kit from scratch.
We are still very early on Swain but I will be back with more details later in his development.
Posted by Reav3.
Now that we're further into Swain's development, we're ready to talk more about the high-level direction we've chosen for him. After a lot of discussions, we felt the fantasy of a "ruthless dictator" with powerful dark magic would lead to a more satisfying game experience for Swain compared to his current title as the Master Tactician. Becoming the leader of one of the most powerful nations implies great cunning and ambition, both of which we still think are critical to Swain's character. In the end though, it felt right for the raven general to be on the battlefield ripping the souls out of his enemies rather than sitting back in a tent commanding troops. The Noxians are coming, and their ambitious leader is already steps ahead of you. What will you sacrifice?
Media
References