Ad blocker interference detected!
Wikia is a free-to-use site that makes money from advertising. We have a modified experience for viewers using ad blockers

Wikia is not accessible if you've made further modifications. Remove the custom ad blocker rule(s) and the page will load as expected.
"Submit to my designs."

Use the info here with consideration. It might be outdated or biased info.
Gameplay
Champion Spotlight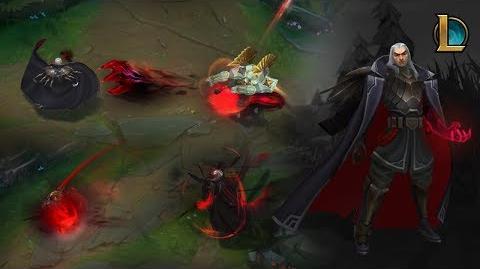 Recommended Items
Tips
Playing As  Swain
If you're having trouble rooting an enemy with  

Nevermove

, try using  

Decrepify

to slow them down first.
While laning, try to gauge the strength of your opponents to determine the right balance of aggression with  

Ravenous Flock

. If they're stronger, it might be more beneficial to stay back and cast  

Nevermove

or  

Torment

.
Playing Against  Swain
Swain can easily disable a single attacker. Coordinate with your allies when ganking him.
Tricks
Ability Usage
Mastery Usage
Item Usage
 Swain is very mana dependent due to the upkeep cost of  

Ravenous Flock

, making an early purchase of mana sustain such as or very useful for keeping up his mid game presence alongside  

Carrion Renewal

.

 

Ravenous Flock

. In addition, its Health stat works with any armor and magic resistance Swain might buy, improving his resistance to burst damage. Given the time it takes to reach full effectiveness after being purchased, you should aim to rush this item in most of your games.
is practically a must have on Swain, granting him a generous helping of his two most important stats: Ability Power and Mana. Its passive can enable him to stay in lane for as long as he requires, and when leveling-up during close fights the extra mana may be enough to squeeze out a few more seconds in
Combining
with will make sure that Swain can quickly recover the extremely high costs from his ultimate without having to return often to base, as even with , his mana costs are extremely high. This allows Swain to spam his ultimate more often. While usually combining both is redundant on almost every other champion, on Swain it is not, due to the above reason. Remember that the more mana your champion has, the more effective it will be Athene's mana regeneration passive. But keep in mind that going for an early + route sacrifices a lot of Swain's damage potential. So it's recommended to save purchasing it later in the game when Swain needs to stay with sufficient mana but can't afford to return to base due to teamfights and to protect towers.

Throwing  

Torment

and on a dying-yet-retreating enemy will almost always ensure their death, even if they are healed by a moderate amount.

It is also effective to throw this combo on a squishy carry like  Caitlyn at the start of a team fight. The damage from this and  Swain's other abilities is usually enough to put them into a retreat, cutting away their dps, and may even kill them.
With
's handful of useful stats, it will also negate any last-resort healing when near the brink of death.

A  Swain build that is centered more around team-fighting and staying alive is , , and . With a build initialized by these items, building AP directly translates into more healing, which in turn allows for more damage. After these items, it would be wise to build , and to provide massive AP and the invulnerability of . This build is perfect for protecting your carry and being an anti-carry yourself.
As almost all of  Swain's skills rely on positioning, can be invaluable to keep foes in range of  

Decrepify

and  

Ravenous Flock

, and ensure landing  

Nevermove

. Only  

Torment

and  

Ravenous Flock

will benefit from it however, for a 20% slow for 1 second for the former and the 40% slow for 1 second for the latter. Its low effectiveness is somewhat rescued by the fact that  

Torment

 is the front of the spell combo when bursting enemy carries.
 

Ravenous Flock

works through the active component of , allowing  Swain to use it for up to 6 ticks' worth of damage and healing.
With the recent buff to its aura,  Swain's once again, as all of his abilities save his W fall within the aura range. Take if you need some MR, or if the enemy's building some, though if they start building too much you may have to switch out for a instead.
 becomes an extremely viable item on
 

Ravenous Flock

will increase the max mana. When recalling, activating the ability will grant from 20 to 50 bonus mana. Upgrading it into will greatly increase the mana sustain and, due to  

Ravenous Flock

, also the life sustain.
is a viable item for mana sustain because
 

Ravenous Flock

, and most importantly of all, he has perhaps the best synergy with the active of any champion in the game, as his  

Ravenous Flock

's life-drain continues to work through the stasis (assuming you have the mana for the upkeep cost), allowing him to pop it and just steal health for 2 seconds while invulnerable.
is one of Swain's most core items: the AP is very much appreciated, the armor allows him to fulfill his role of wading into fights and draining health with
 

Torment

and  

Ravenous Flock

) have decent synergy with its passive.
can be effective on Swain as it gives magic penetration, moderate AP, minor health increases and his moderate CC/AoE from his kit (especially when paired with for

Of course,
is not an substitute, but an addition alongside if Swain is in need of more armor.

is an effective option. Besides offering a lot of armor, this item has mana (allowing Swain to maintain his ultimate active for a longer time) and cooldown reduction. Because Swain usually stays on the middle of a teamfight, this item is used to its full potential, and the passive benefits your entire team too. This item will allow Swain to be effective against ADCs; the only drawback of this item is not offering any damage at all, unless when combined with .
Countering
 Swain mostly deals magic damage, investing in magic resistance will mitigate his damage.
Avoid going on a 1x1 battle against Swain as a melee or short-ranged champion, since  

Ravenous Flock

lets him heal for most of the damage done. This allows Swain to win trades against almost any champion, unless they have a lot of sustain themselves.

Using a champion with higher range than Swain is a good idea. For example, an ADC with very high range such as  Tristana or  Caitlyn can kite Swain and avoid being hit by his spells, thus allowing them to kill him easliy.
There are other 2 alternative methods of dealing with Swain. One is quickly bursting him down with an assassin such as  Fizz and  LeBlanc. Another is calling your teammates to focus and kill Swain. This is viable because while Swain is tankier than other mages, he is still not very tanky, and being bursted will prevent him from dealing enough damage and healing himself. Keep in mind that Swain can buy items such as and , which will prevent him from being quickly assassinated. If you somehow fail to kill him, don't bother trying and just run away.

Do not underestimate  Swain's damage; although he only has one burst skill in  

Nevermove

, he can dish out massive damage over time if you allow him to. If you believe that you will be able to survive Swain's initial 4 seconds of damage, such as due to your own high lifesteal stat, (as well as out-damage his ultimate's healing) you may be able to tank his damage and turn the fight when he is waiting for cooldowns.
Swain is very weak early game against champions that can push the lane, due to his poor farming capabilities without  

Ravenous Flock

. Being pushed to his tower will likely make Swain miss some lasthits, so pushing is a viable strategy, but be very cautious of enemy ganks, as Swain is one of the best gank followers.
On Summoner's Rift, stealing the second and/or third blue buff will cripple Swain. Without the Crest of Insight, it is likely that Swain will run out of mana due to  

Ravenous Flock's

massive mana costs.
High movement speed and good mobility counters most of  Swain's spells.
Move away from  Swain if he uses his  

Ravenous Flock

. This will waste his mana and force him to put it on cooldown.
Get out of his spell range when you are in effect of his  

Torment

as you will take more damage while affected by  

Torment

. When his birds target you, his ultimate will also heal him more.
Use healing reduction effects such as  

Ravenous Flock

. This strips  Swain of his primary survivability mechanism and makes him much easier to focus and kill.

If you notice  Swain purchasing a , it may be a better idea to use on another target to avoid wasting it.

or the passive from to prevent him from healing a lot of damage from his
Upcoming Champions
Canceled Champions