Previous Lore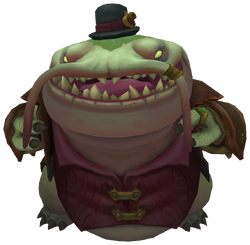 "The whole world's a river, and I'm its king." -
Known by many names throughout history, the demon Tahm Kench travels the waterways of Runeterra, feeding his insatiable appetite with the misery of others. Though he may appear singularly charming and proud, he swaggers through the physical realm like a vagabond in search of unsuspecting prey. His lashing tongue can stun even a heavily armored warrior from a dozen paces, and to fall into his rumbling belly is to tumble into an abyss from which there is little hope of return.
Tahm Kench travels Runeterra's waterways, feeding his insatiable appetite with the misery of the unsuspecting. The singularly charming gourmand savors every moment of his victims' suffering. A deal with Two-Coats may carry you to wherever you wish, but your journey will most assuredly end in the depths of despair.
Previous Quotes
Upon Buying
 e "It is my will that matters. It is hunger that drives us all."
 e "A shared will is a powerful thing."
Patch History
Removed:

15 / 17.5 / 20 / 22.5 / 25% bonus movement speed with an ally in his belly when moving towards enemy champions.

Health restored from grey health reduced to 15 / 20 / 25 / 30 / 35% from 25 / 30 / 35 / 40 / 45%.
Bug Fix:

Fixed a bug where it failed to make devoured targets invulnerable to minion attacks.
Stats

Base armor increased to 47 from 27.
Damage per stack increased to

1.25 / 1.5 / 1.75

% of his maximum health from

1 / 1.25 / 1.5

%.

Regurgitation lockout reduced to 1 second from 2.

Bug Fix:

Fixed a bug with the and Devour combo where, if dealt enough damage to kill the target minion, regurgitating the minion wouldn't do anything.

Removed:

being locked out for 1 second after teleporting.
Bug Fix:

Can no longer Devour a summoned .
Bug Fix:

Is no longer able to Devour or without first stacking his passive when enemy champions are nearby.
Bug Fix:

Champion Select description display
New Effect:

Basic attacks and abilities deal

1 / 1.25 / 1.5

% maximum health bonus magic damage, stacking up to 3 times against enemy champions

Base damage increased to 80 / 130 / 180 / 230 / 280 from 80 / 125 / 170 / 215 / 260

Grey Health generation reduced to 70 / 75 / 80 / 85 / 90% damage taken from 100 at all ranks
Heal increased to 25 / 30 / 35 / 40 / 45% Grey Health from 20 / 26 / 32 / 38 / 44
Active shield duration reduced to 3 seconds from 6
Cooldown reduced to 6 seconds at all ranks from 16 / 15 / 14 / 13 / 12

Removed:

Shield decaying over time

Removed:

Passive

2 / 4 / 6% bonus health

bonus magic damage
Channel duration reduced to 6 seconds from 15
Second cast delay reduced to 0.25 seconds from 1
Warning indicator duration reduced to 1 second from 1.5
Range increased to 4500 / 5500 / 6500 from 4000 / 5000 / 6000
Bug Fix:

Casting while rooted
Width reduced to 70 from 90

New Effect:

Has a 1 second delay before second cast

New Effect:

Allies can still join Tahm Kench if they click him during second cast's animation
Stack duration reduced to 5 seconds from 7

Hitbox indicator duration increased to match full animation length

Bug Fix:

Cooldown and cost being refunded when targeting an enemy affected by spell immunity ( , )

Passive bonus damage reduced to

2 / 4 / 6% bonus health

from 4 / 6 / 8
Removed:

Granting bonus movement speed when moving away from enemy champions while Tahm Kench holds an ally in his belly
Stats

Attack range reduced to 175 from 200
Stats

Mana regen increased to 8 from 5.5
Removed:

Having to select target for during cast time

New Effect:

Casting during causes Tahm Kench to automatically eat the target minion or monster (if hit)

New Effect:

Grey Health bar has a colorblind variant
Stack duration increased to 7 seconds from 5

Enemy champion regurgitate range increased to 200 from 100
Stats

Armor growth increased to 3.5 from 3

New Effect:

Prioritizes champions over minions

New Effect:

Spat enemies are stunned for 0.25 seconds

Warning particle for enemies updated to only appear during the 0.5 seconds delay
Base damage increased to 80 / 125 / 170 / 215 / 260 from 80 / 115 / 150 / 185 / 220

Passive bonus damage increased to

4 / 6 / 8% bonus health

from 4 / 5 / 6
Cooldown reduced to 120 / 110 / 100 seconds from 160 / 130 / 100
References