Skins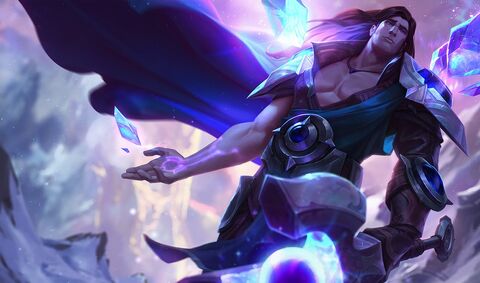 Trivia
Taric was designed by Brackhar.
Taric is voiced by Dennis Collins Johnson, who also voices

 Gangplank and

 Heimerdinger.
Taric's name most likely originates from the Arabian name "طارق/Tariq", which means "The striker." A commonly used Quranic idiom of tariq also relates it to brilliant stars, furthering its connection to him as a character.
Taric is likely left handed, as that is the hand that wields his hammer (though some of his splash art portrays him holding it in his right).
The

 Taric  shield design is quite similar to which has a turret in the introduction image of Summoner's Rift.
Taric's left gauntlet in his original artwork is an Iceborn Gauntlet.
Quotes
Taric's joke is a reference to the 80's cartoon "Jem" intro.
In Polish version, his /joke is a double entendre, as the polish word for "gems" is also a word used for "testicles". In literal translation, the joke is "Gems? You want to see my... gems?".
Skins
References
Upcoming Champions
Canceled Champions
Concept Art