"Submit to my designs."

Use the info here with consideration. It might be outdated or biased info.
Gameplay
By NeeksNaman [1]
The newest support champion to join the League is
 Thresh, the Chain Warden. This gruesome specter wields wicked, articulated chains, and specializes in harassing and disrupting opposing teams. His collection of crowd control effects thwarts enemy plans, while harvesting
 souls allows Thresh to grow in power.
Abilities
In game, Thresh is a support that thrives on communication and cooperation. He controls fights by displacing enemies and
 repositioning allies.
During the laning phase, Thresh uses the range of his basic attack to terrorize opposing champions with his
 Death Sentence passive. He shields his lane partner with
 Dark Passage and - with well-executed positioning - offers them the unique benefit of the
 lantern's escape potential.
 Flay's versatility lets Thresh push enemies into range for further harassment or swat them away to protect an ally.
In the mid game, the synergy between Thresh's abilities shines. An opportune
 lantern can bring a teammate along for the ride when Thresh hooks an enemy with
 Death Sentence.
 Flay can chain into a mid-range
 Death Sentence to knock an opponent up and grab them out of the air. Thresh can put enemies in an even scarier situation by isolating them in
 The Box or can cast
 The Box and then drag or knock enemies into it to trigger the damage and massive slow from breaking its spectral walls.
Because Thresh scales through collecting souls for
 Damnation, an effective soul harvester will become a potent damage-soaking tank during the transition to late game. In team fights, Thresh frustrates enemy positioning with
 Flay and
 Death Sentence, while shielding allies with
 Dark Passage.
 The Box can inflict heavy burst damage and split enemy teams as they try to disengage.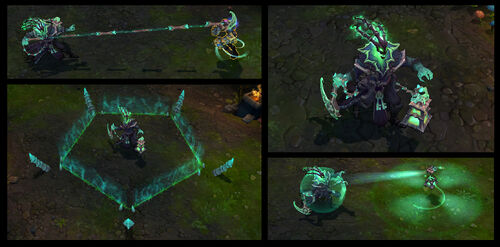 Optimize Thresh by collecting
 souls and protecting your allies before wreaking havoc in team fights. Your opponents better listen carefully for the scraping sound of his encroaching chain, or it may be the last sound they hear!
Champion Spotlight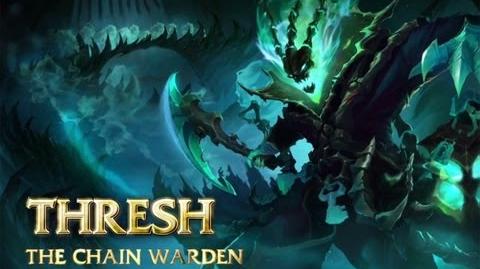 Recommended Items
Tips
Playing As  Thresh
Playing Against  Thresh
Tricks
Ability Usage
 Thresh's strength as a support comes from his incredible amount of utility, CC, and AoE, stemming from his ability to displace and disable enemies with his  

Death Sentence

,  

Flay

, and  

The Box

. His  

Dark Passage

can be used as a reliable escape or a way for allies to easily follow up with him. His passive,  

Damnation

allows him to continually gain power as the game progresses to make him deceptively strong and durable. However, champions with strong disengages can hinder him from utilizing his power to his full potential.
While  

Damnation

allows  Thresh to continually gain power, he starts off weak. Be cautious early game.

Throwing  

Dark Passage

 on to nearby souls can let you collect them without getting close.
This tactic can be useful if you are in a lane against champions who can be more aggressive than you earlier, have a fair amount of poking abilities, or ways to counter your CC (e.g.  Lulu,  Ezreal,  Morgana, and  Braum.
Avoid using this method too much as  

Dark Passage

has a long cooldown and can leave you without mana to use your other abilities.

 

Flay's

passive is strong enough to make building attack damage worthwhile.

While the passive's damage scales off attack damage, it is still magic damage, and will benefit from magic penetration.
At rank 5, with no attack speed bonus, it adds ~24% of your attack damage per attack.  Which is ~20.5 at level 18, without any damage bonuses.

(Pending Testing)

It's worth saying that the passive effect does not encourage continual attacking, as you will not get any bonus damage if you do not let the ability 'charge'.

 

Death Sentence

is a great initiation tool. Consider the merits of pulling them vs pulling yourself. Keep in mind that it can also be cast on neutral monsters. This can be used to escape, set up jungle ganks, or to simply increase mobility.

While landing a  

Death Sentence

is often a decent way to engage, it may not always be the most reliable option; simply walking up towards the enemy and using  

Flay

towards yourself can make it substantially easier to land a hook or at least blow an enemy Flash.

 

Dark Passage

is a great way to save an ally.  Not only do you shield them, but you can allow them to escape if they click the lantern.

Consider teaming up with melee champions who have dashes, such as  Xin Zhao or  Jax. They can jump on the enemy, be shielded from counterattacks, and jump back to safety.
If an ally is coming in to gank your lane, you can place the lantern in his path and initiate, the jungler/ally can use the lantern to jump to you and help secure the kill quickly.

 

Dark Passage

can be a good scouting tool, particularly when checking the  Baron and  Dragon pits. However, be wary of the ability's long cooldown.
 

Flay

is a good escape and chase tool, depending on the cast direction.

If you catch a fleeing enemy with  

Death Sentence

immediately use your  

Flay

to push them further towards your allies or turret, securing their doom.
 

Flay

can also counter enemy dashes, such as  Leona's  

Zenith Blade

.

Just as  

Flay's

active is useful, so is its passive. Wait for it to charge, and then autoattack an enemy champion for decent harass damage. This method is especially useful in the early game.
If an enemy is camping inside  

The Box

and refuses to touch one of the walls, consider using  

Flay

to push them into one. The slow and damage will be worth it especially if you  

Flay

them towards a turret or allies.
 

Death Sentence

can actually be sped up by casting  

Flay

in the same direction immediately after, causing the ability to more closely mimic the speed of  Blitzcrank's  

Rocket Grab

. This can be especially useful against champions with high dodge potential, such as  Ahri.
Item Usage
Countering
References