Skill usage
Build usage
With abilities that scale off ability power and attack damage, as well as having heavy crowd control, Thresh can make use of pretty much any stat, except for perhaps critical chance. Let him adapt to changing situations and match ups.
Thresh's ability power ratios are fairly low, and gains extra on-hit magic damage, making magic penetration from items like 

Abyssal Scepter

 a valuable stat.
 

Flay's

passive component has great damage potential and can be combined with several other effects for devastating results.

​Since the passive multiplier grows between attacks, you will not get a fully multiplied effect building both attack damage and attack speed.
With a lot of souls (at least 100),

Nashor's Tooth

, 

Wit's End

, and 

Runaan's Hurricane

, Thresh's can deal very good DPS.
With lots of AD and time to wind up Thresh can deal a very high amount of damage in a single hit. (up to 450% AD if using the

Infinity Edge

, not counting the souls obtained)

Note that the bonus damage is magical, and as such it will not crit.

Sword of the Divine

 can help ensure you crit.

​Thresh's gap closer, crowd control, and the ability for allies to move to him with  

Dark Passage

allow him to be a great initiator. Consider building tank and aura items like 

Frozen Heart

,

Abyssal Scepter

, or

Locket of the Iron Solari

.

Locket of the Iron Solari

is probably the best item when playing support Thresh, thanks to the fact that he can shield the whole team with  

Dark Passage

, and increase magic resistance of all the teammates.

Thresh's effectiveness in several roles depends very much on the number of soul he has collected.

Under 100 souls, your armor is lower than that of the most champions. Thus, you should consider buying items with high armor values or play defensive.
Between 100 and 200 souls, you can consider building something more offensive or refocus on magic resist or health if you are building as a tank. You have matched the armor of many champions, and with 115 souls you surpass  Maokai, having the highest armor at level 18 (passive abilities, such as  

Shatter

not included).
Over 200 souls, you can build

Rabadon's Deathcap

and

Runaan's Hurricane

and start becoming a full offensive champion, because you have 162 base armor (surpassing even  Taric) and 150 AP, only by the collected souls. You can also add a 

Wit's End

 for powerful magic resistance reduction, or a 

Nashor's Tooth

 to this build for adding on-hit, AP-based magic damage. In this case, you should take some magic resist and health item, like

Banshee's Veil

or

Spirit Visage

.
Recommended builds
Summoner's Rift



Starting

2

Essential
Offensive
Defensive
Consumables
The Howling Abyss



Starting

4

Essential
Offensive
Defensive
Consumables
The Crystal Scar



Starting

3

Essential
Offensive
Defensive
Consumables
The Twisted Treeline



Starting
Essential
Offensive
Defensive
Consumables
Countering
Since Thresh receives a lot of his power through  

Damnation

, zoning him out from collecting souls is especially effective. Take into account your own creeps' positions as these are where souls may spawn.

Thresh will commonly use  

Dark Passage

to collect souls. It can be a good idea to wait until  

Dark Passage

goes on cooldown before going on the offensive.
Remember, every death leaves Thresh with downtime where he can't collect souls. His passive can be his downfall if successfully utilized against him.

Thresh has high offensive capability, but only in a relatively close range.
 Thresh's  

Death Sentence

is his main initiation ability, and much like playing against other aggressive supports, avoiding it will limit his ability to get on top of you and unload his combo.

Using allied minions to shield yourself can be effective, but note that Thresh may still choose to pull himself anyway to get in range for his other spells.

Thresh is not very durable early on, and harassing Thresh will make it risky for him to use his spells effectively. Use these opportunities to force fights.
Be aware that  

Dark Passage

can be used to quickly bring one of Thresh's allies into a fight. Try to gain vision of areas behind Thresh from where his reinforcements could approach.
 

Dark Passage

when used to help Thresh's allies escape can be halted by placing obstacles (such as wards or pets) and/or moving into the lantern to try and stop enemy champions from clicking on the lantern as they will attack the obstacle instead of activating the lantern.
As of Patch 3.11 you can now Cleanse the stun, break the chain, and prevent Death Leap into you team using

Mikael's Crucible

on a hooked ally.  It can be self-cast.
Champion spotlight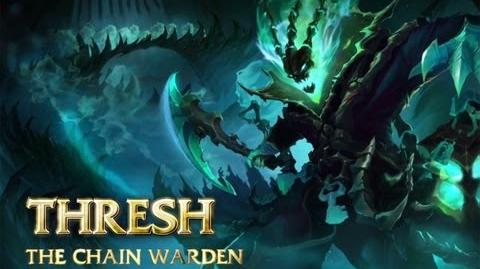 Upcoming Champions
Canceled Champions
Concept Art