Ad blocker interference detected!
Wikia is a free-to-use site that makes money from advertising. We have a modified experience for viewers using ad blockers

Wikia is not accessible if you've made further modifications. Remove the custom ad blocker rule(s) and the page will load as expected.
"Submit to my designs."

Use the info here with consideration. It might be outdated or biased info.
Gameplay
By NeeksNaman [1]
The newest support champion to join the League is
 Thresh, the Chain Warden. This gruesome specter wields wicked, articulated chains, and specializes in harassing and disrupting opposing teams. His collection of crowd control effects thwarts enemy plans, while harvesting
 souls allows Thresh to grow in power.
Abilities
In game, Thresh is a support that thrives on communication and cooperation. He controls fights by displacing enemies and
 repositioning allies.
During the laning phase, Thresh uses the range of his basic attack to terrorize opposing champions with his
 Death Sentence passive. He shields his lane partner with
 Dark Passage and - with well-executed positioning - offers them the unique benefit of the
 lantern's escape potential.
 Flay's versatility lets Thresh push enemies into range for further harassment or swat them away to protect an ally.
In the mid game, the synergy between Thresh's abilities shines. An opportune
 lantern can bring a teammate along for the ride when Thresh hooks an enemy with
 Death Sentence.
 Flay can chain into a mid-range
 Death Sentence to knock an opponent up and grab them out of the air. Thresh can put enemies in an even scarier situation by isolating them in
 The Box or can cast
 The Box and then drag or knock enemies into it to trigger the damage and massive slow from breaking its spectral walls.
Because Thresh scales through collecting souls for
 Damnation, an effective soul harvester will become a potent damage-soaking tank during the transition to late game. In team fights, Thresh frustrates enemy positioning with
 Flay and
 Death Sentence, while shielding allies with
 Dark Passage.
 The Box can inflict heavy burst damage and split enemy teams as they try to disengage.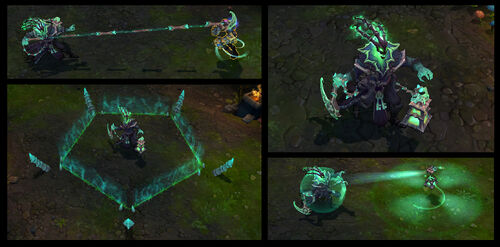 Optimize Thresh by collecting
 souls and protecting your allies before wreaking havoc in team fights. Your opponents better listen carefully for the scraping sound of his encroaching chain, or it may be the last sound they hear!
Champion Spotlight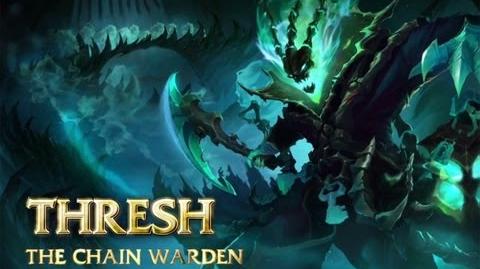 Recommended Items
Tips
Playing As  Thresh
Communication is key when making use of  Thresh's  

lantern

. Let your teammates know how you like to use it.
 

Death Sentence

and  

Flay

can be combined in either cast order for powerful combinations.
Playing Against  Thresh
 Thresh's  

Death Sentence

has a long cast time. Watch for the cast to begin to take evasive actions.
Intentionally breaking a wall of  

The Box

can allow a vulnerable ally to escape unscathed.
Tricks
Ability Usage
Mastery Usage
Item Usage
Countering
References