Ad blocker interference detected!
Wikia is a free-to-use site that makes money from advertising. We have a modified experience for viewers using ad blockers

Wikia is not accessible if you've made further modifications. Remove the custom ad blocker rule(s) and the page will load as expected.
"Submit to my designs."

Use the info here with consideration. It might be outdated or biased info.
Gameplay
Champion Spotlight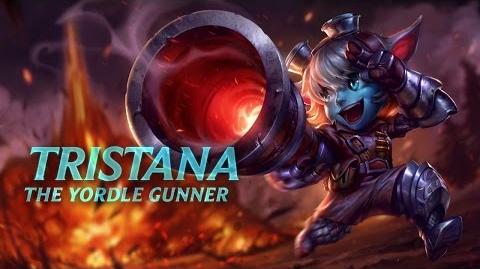 Recommended Items
Tips
Playing As  Tristana
Playing Against  Tristana
If you see  Tristana activate  

Rapid Fire

in a fight, stun her and try to back off until the spell dissipates.
Stand away from your creeps in a lane to take less collateral damage from  

Explosive Charge

.
Tricks
Ability Usage
 

Draw a Bead

becomes extremely powerful later in the game, allowing  Tristana to hit enemies from a greater distance than most.

Because of this,  Tristana is best placed in the back of a group or flanking enemies from the side.

 Tristana can outrange most other ranged carries at level 16, making her a very strong pick if your team lacks hard CC and already has a wide array of slows.

However,  Jinx's  

Fishbones

out-ranges  

Draw a Bead

by 31 range,  Kog'Maw's  

Bio-Arcane Barrage

by 41 range and  Twitch's  

Rat-Ta-Tat-Tat

by 181.

All of  Tristana's skills have high cooldowns early on. Be wary of trading while they're on cooldown.
Leveling  

Rapid Fire

early on is unadvised, since her low base Attack Damage early on the game can't make much use of the AS steroid. Wait until you buy some AD items such as a .
 

Rapid Fire

is applied to the next autoattack's wait period - cast it right before an autoattack to squeeze as much as you can from the duration.
Since  

Rocket Jump

 resets on kills or assists, you may use it to secure a kill and to either jump out of a deadly situation or jump again to set up another.

The cost of  

Rocket Jump

is a bit high compared to her mana pool. Make sure you have enough mana to use it at all times.
As many players tend to level up  

Explosive Charge

over  

Rocket Jump

, be mindful of its long cooldown at rank 1 as jumping into a bad situation without getting the reset may end up just getting you killed.

 Tristana can use abilities while in the air during  

Rocket Jump

. This allows a very strong and fast combo if you play her as an AP caster.
Using  

Rocket Jump

to leap over an enemy and then using  

Buster Shot

to send them flying back to your allies or an allied turret can be very effective, but be careful about using the strategy in large team fights.
The passive of  

Explosive Charge

is particularly useful in farming - if there are a lot of minions in a relatively confined area, killing one could burst the remaining minions and gain a lot of gold in a relatively short time, without the use of abilities.

Combine this with  

Rapid Fire

and she can easily farm up and clear minion waves with an ease. Be aware that this may push your lane more than necessary and leave you open during the laning phase.

In the early game,  

Explosive Charge

is your best method of harassing enemies, as your autoattacks are weak early on and  

Rocket Jump

leaves you vulnerable at melee range.
Using a  

Buster Shot

to move a disruptive caster such as  Ryze,  Veigar or  Fiddlesticks away can give you a strong advantage in teamfights or ganks.
 

Buster Shot

will also interrupt channeled abilities such as  Karthus'  

Requiem

,  Katarina's  

Death Lotus

, or  Nunu's  

Absolute Zero

.
 

Buster Shot

can be used to push various groups of close enemies tightly packed together. Use this to help distance enemies from yourself when fleeing and can even knock them through small walls.
Using  

Rocket Jump

to escape and using  

Buster Shot

while in mid-air can make sure that you escape.

If timed correctly,  

Buster Shot

can be used to interrupt some dashes such as  Wukong's  

Nimbus Strike

or  Shyvana's  

Dragon's Descent

.

 Tristana's strength comes from her ability to destroy turrets quickly within mere seconds thanks to her  

Explosive Charge

and  

Rapid Fire

. In addition, she's also good at securing objectives such as  Dragon and  Baron Nashor for similar reasons as well.
Mastery Usage
Item Usage
Countering
Upcoming Champions
Canceled Champions