Trundle/Strategy
Comments

62
1,906pages on
this wiki
Skill usage
Edit
Build usage
Edit
Although
 Trundle has an exceptional early game, he does not scale well. Beginning around mid and into late game,
 Trundle becomes very item dependent to increase his survivability and damage. Building good and cost effective items are important for him.
---
Damage
---
Cooldown Reduction
---
Health
Purchasing an early

Aegis of the Legion

provides some durability and resistances and helps the team. It can be later upgraded into a

Locket of the Iron Solari

.
A

Frozen Mallet

is a good option for health. A 

Frozen Mallet

is useful for  Trundle as it keeps the enemy on the AoE of  Frozen Domain.

Randuin's Omen

can serve as  Trundle's primary armor item. The movement speed slow keeps anyone that chooses to fight  Trundle on his  Frozen Domain area of effect and helps  Trundle avoid being kited, the attack speed slow and  Chomp helps them do less damage, and the active, especially when paired with  Subjugate for a longer duration, can be devastating for enemies in a team fight.
Jungling
Edit
It should be noted however that  Trundle is very much reliant on specific jungling masteries and runes in order to support that style of play. Jungle should only be taken if conditions are favorable.
Starting items:

Hunter's Machete

,

Health Potion

x5.
Skill progression:  Chomp →  Pillar of Ice →  Frozen Domain or   Pillar of Ice→  Chomp →  Frozen Domain (If support jungle build)
Recommended Runes: Armor Penetration Marks, Armor Seals, Personal Preference Glyphs, Attack Damage Quintessences
Jungling order:  Blue Golem (Smite) → Wolves →Wraiths → Red Lizard (Smite) → Golems → Gank*
 Trundle's strengths in the jungle are his sustain with  King's Tribute and his ability to invade the enemy jungle as he can duel most AD champions favorably with his  Chomp and he easily escape with  Frozen Domain and  Pillar of Ice.
 Trundle is pretty mana dependent and will need either Crest of the Ancient Golem or

Mana Potion

s for a second jungle clear.
 Trundle can gank at level 2 (really just showing his face to make them waste Flash) but he needs all of his abilities ( Frozen Domain and  Pillar of Ice are critical so level 3 at the earliest) in order to gank effectively so he is pretty much stuck in his jungle route, no shortcuts should be taken.
 Trundle is able to solo  Dragon as early as level 6 with a

Vampiric Scepter

and a few

Health Potion

s. Care must be taken, as  Frozen Domain is favorable to help kill  Dragon but may also alert enemies to your presence. Some mana regeneration like

Mana Potion

s or Crest of the Ancient Golem and damage over time from Blessing of the Lizard Elder is also advisable.
Recommended builds
Edit
Summoner's Rift




recommended items

Starting

5

Essential
Offensive
Defensive
Consumables
The Howling Abyss




recommended items

Starting

2

Essential
Offensive
Defensive
Consumables
The Crystal Scar




recommended items

Starting

3

Essential
Offensive
Defensive
Consumables
The Twisted Treeline




recommended items

Starting
Essential
Offensive
Defensive
Consumables
Runes and Masteries
Edit
Countering
Edit
Champion spotlight
Edit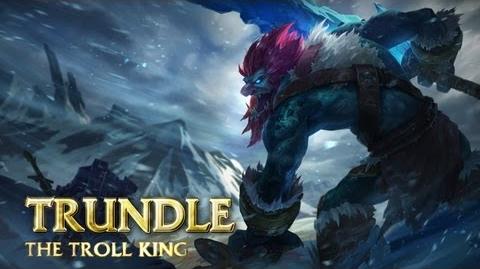 Upcoming Champions
Canceled Champions
Concept Art