Trundle/Strategy
Comments

57
1,836pages on
this wiki
Skill usage
Build usage
Although
 Trundle has an exceptional early game, he does not scale well. Beginning around mid and into late game,
 Trundle becomes very item dependent to increase his survivability and damage. Building good and cost effective items are important for him.
---
Damage
An early

Wriggle's Lantern

helps  Trundle in the jungle,  the armor strengthens his anti-AD role with  

Chomp

as well as alleviating his armor scaling problem.

Blade of the Ruined King

is preferred over

The Bloodthirster

; Trundle becomes an effective anti-tank in conjunction with  

Subjugate

and a BT is not very consistent as its item efficiency depends on maintaining stacks.

Its active is exceedingly good at scaring the daylights out of ADCs. The 5% bonus damage also helps with tanks, improves his already exceptional attack speed while on his W, and gives him lifesteal to burn.

Ironically, Blade of the Ruined King is sort of a 'Trundlizer' for other champions: there's a slow component (Trundle's E), a damage bonus for autoattacks (his Q), health regen, although via lifesteal (Trundle's passive) and an attack speed bonus (Trundle's W).

Youmuu's Ghostblade

is good for  Trundle as it gives a lot of stats that will help him perform well. Cooldown reduction is good because  Trundle is only as good as his buffs and debuffs last and helps him keep them up. Attack damage, critical strike, and armor penetration help him do more physical damage and furthermore, armor penetration helps even more combined with  

Subjugate

. The active will increase his attack speed and damage per second.

Trinity Force

is a very viable buy to  Trundle as it enhances every aspect of gameplay that makes  Trundle good.

Iceborn Gauntlet

should probably be considered the first item for laning Trundle, or second (after

Spirit of the Ancient Golem

). IBG gives an improved version of Sheen procs, cooldown reduction, armor, basically a permaslow while using Trundle's Q, more mana for abilities and AOE damage.
---
Cooldown Reduction
---
Health
Purchasing an early

Aegis of the Legion

provides some durability and resistances and helps the team. It can be later upgraded into a

Locket of the Iron Solari

.
A

Frozen Mallet

is a good option for health. A 

Frozen Mallet

is useful for  Trundle as it keeps the enemy on the AoE of  

Frozen Domain

.

Randuin's Omen

can serve as  Trundle's primary armor item. The movement speed slow keeps anyone that chooses to fight  Trundle on his  

Frozen Domain

area of effect and helps  Trundle avoid being kited, the attack speed slow and  

Chomp

helps them do less damage, and the active, especially when paired with  

Subjugate

for a longer duration, can be devastating for enemies in a team fight.
Jungling
It should be noted however that  Trundle is very much reliant on specific jungling masteries and runes in order to support that style of play. Jungle should only be taken if conditions are favorable.
Starting items:

Hunter's Machete

,

Health Potion

x5.
Skill progression:  

Chomp

→  

Pillar of Ice

 →  

Frozen Domain

 or   

Pillar of Ice

→  

Chomp

 →  

Frozen Domain

 (If support jungle build)
Recommended Runes: Armor Penetration Marks, Armor Seals, Personal Preference Glyphs, Attack Damage Quintessences
Jungling order:  Blue Golem (Smite) → Wolves →Wraiths → Red Lizard (Smite) → Golems → Gank*
 Trundle's strengths in the jungle are his sustain with  

King's Tribute

and his ability to invade the enemy jungle as he can duel most AD champions favorably with his  

Chomp

and he easily escape with  

Frozen Domain

and  

Pillar of Ice

.
 Trundle is pretty mana dependent and will need either Crest of the Ancient Golem or

Mana Potion

s for a second jungle clear.
 Trundle can gank at level 2 (really just showing his face to make them waste Flash) but he needs all of his abilities ( 

Frozen Domain

and  

Pillar of Ice

are critical so level 3 at the earliest) in order to gank effectively so he is pretty much stuck in his jungle route, no shortcuts should be taken.
 Trundle is able to solo  Dragon as early as level 6 with a

Vampiric Scepter

and a few

Health Potion

s. Care must be taken, as  

Frozen Domain

is favorable to help kill  Dragon but may also alert enemies to your presence. Some mana regeneration like

Mana Potion

s or Crest of the Ancient Golem and damage over time from Blessing of the Lizard Elder is also advisable.
Recommended builds
Runes and Masteries
Countering
Avoid battling  Trundle near minions. If a minion is killed,  Trundle will regain health due to his  

King's Tribute

. This can sometimes turn a battle to his favor. Be aware that he has exceptional health regeneration along with his  

King's Tribute

to easily sustain himself and recover from most harass in a laning situation.
 Trundle excels at fighting inside his  

Frozen Domain

AoE. Moving away from the spell's AoE can help you 1v1 him.
 

Pillar of Ice

can block your way of escape and slow your movement speed. Therefore, it is best to avoid the spell's AoE or use Flash to quickly go over it.
Top laners with ranged capacity (such as  Jayce or  Kayle) will have good effect against Trundle if he attempts to push or attack.
Avoid a head-on fight with  Trundle early-game in most cases. His early-game damage is high, and his  

Chomp

can reduce your own ability to retaliate. Try to focus on ranged harass and wearing him down as  Trundle has fewer options to retaliate than he would against melee attackers.
If  Trundle uses his  

Subjugate

on you, it is best to avoid him and wait until the debuff is over because  

Subjugate

can melt even the toughest tank, or allow  Trundle to dive into your team and survive strictly attacking your squishy damage-dealers with the rest of his team helping him even with your best attempts to focus him down. As it is a large part of  Trundle's durability which is necessary for him functioning in teamfights, using escapes to avoid letting him take advantage of  

Subjugate's

bonuses can leave him much more vulnerable while it is cooling down.
Trundle is always at least a decent duelist. Treat him the same way you would a  Jax,  Tryndamere, a fed  Sion, etc. It is heavily recommend to avoid 1v1s with him at any time past level 3. During mid and late game, it is usually recommended to bring overwhelming damage (think having 2 more people on your side for any fights, so 3v1, 4v2, 5v3) or ridiculous amounts of CC (think  Sejuani AND  Leona).
Champion spotlight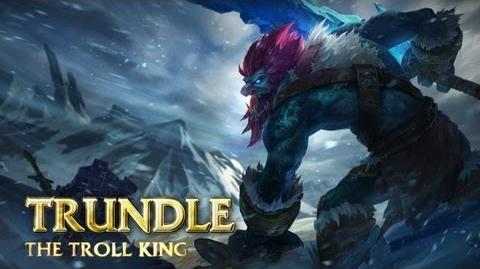 Upcoming Champions
Canceled Champions
Concept Art