Official Strategy
Trundle's abilities are receiving a few minor changes and tweaks to add some additional functionality to Subjugate and Frozen Kingdom (formerly Decompose and Contaminate, respectively). Trundle's ultimate now steals a percentage of your target's magic resist, armor and health in addition to dealing damage based their max health. Also, when you stand in Frozen Kingdom you gain increased healing from all sources.
Trundle was already pretty solid heading into the remake, so we didn't want to change his core gameplay too much. These changes are intended to round out his skillset.
In the jungle
Trundle excels as a safe and speedy jungler thanks to the healing effects from his passive and Frozen Kingdom. If your team needs lane pressure, you can block enemy escape routes and slow stragglers with Pillar of Ice while chasing down and damaging enemies with Frozen Kingdom and Chomp.
Mid game
As the match enters mid game, Trundle's all about counter-ganking and securing objectives. He can utilize the increased attack speed from Frozen Kingdom and the attack reset on Chomp to quickly clear lanes and pressure towers. A clutch Pillar of Ice can be used to block enemies from stealing a crucial objective like the dragon or Baron, or pressure enemies into a hasty retreat.
Late game and team fights
Once the team fights start, Trundle makes a great counter-initiator and disruptor. With a well-placed Pillar of Ice, Trundle can stop champions while they're charging through your front line or peel off carries from the main fight. Trundle can also troll beefy tanks and bruisers with Subjugate, tearing away their defenses and health to secure quick kills.
Skill usage
Build usage
 Trundle's high base damage and potent dueling due to his
 Chomp and
 Frozen Domain allow him to be a damage threat throughout the early and mid game. However, due to his short range with no gap closers and complete reliance on basic attacks to do damage,
 Trundle becomes very item dependent to be able to survive on the front lines and not get kited if he wants to do damage. When itemizing in general, value attack damage, attack speed, lifesteal, cooldown reduction, health, and resistances. Tenacity and/or some movement speed items are also very helpful.
Damage
Cooldown Reduction
cooldown reduction item that helps  Trundle's armor scaling problem when you are fighting an enemy team generally AD.
is a great
 

Frozen Domain

, because they increase your self-healing of  

King's Tribute

and  

Subjugate

additionally giving cooldown reduction, health and magic resist when you are fighting an enemy team that's mostly AP. This is still a good option regardless of the enemy team just because of the increased healing alone.
works very well in conjunction with
When playing Trundle as a support,  Trundle desires. However, it is still a good choice because an early can help with  Trundle's early mana issues while the health regeneration stacks with his  

King's Tribute

's healing for great sustain.
doesn't offer a lot of stats that
Defense
Purchasing an early 
 provides some durability and resistances and helps the team. It can be later upgraded into a  Locket of the Iron Solari.
A  Trundle as it keeps the enemy on the AoE of  Frozen Domain.
 is a good option if you want both health and some extra damage. It's useful for 
 Trundle's primary armor item. The movement speed slow keeps anyone that chooses to fight  Trundle on his   

Frozen Domain

 area of effect and helps him avoid being kited, the attack speed slow and  Chomp helps them do less damage, and the active, especially when paired with   

Subjugate

for a longer duration, can be devastating for enemies in a team fight.
 can serve as 
provides a lot of health, health regen, and magic resist. The shield is also very valuable for blocking CC spells that would otherwise stop you in your tracks.
A  Trundle. It gives him both good health and armor for the price and the magic damage passive allows him to push waves quickly and win trades with other champions. Not to mention he can make the burn more effective when using  

Subjugate

on someone to shred their magic resist.
is a great buy on
While somewhat situational, a  Trundle. It gives him tons of armor and the damage reflect helps him in his anti-AD role. Like the , he can even increase the damage the return does with  

Subjugate

to boost its effectiveness.

Both the  Trundle to vary his damage output. WIth the high AD output of his attacks combined with the magic damage of these two items, he can become a somewhat hybrid champion who can duel almost anyone he can get his hands on.
and the are desirable because it allows

is definitely worth looking at for
Jungling
While  Trundle is a good beginner's jungler due to his high sustain, early damage and lack of reliance of runes/masteries, several junglers generally outclass him and many would rate him as a better top laner. That's not to say  Trundle is a poor jungler; his counterganks, skirmishing, good tower pushing and counterjungling all make him a viable pick.
Starting items:
, x4, and a warding totem.
Skill progression:  

Chomp

→  

Pillar of Ice

 →  

Frozen Domain

 or   

Pillar of Ice

→  

Chomp

 →  

Frozen Domain

 (If support jungle build)
Recommended Runes: Armor Penetration Marks, Armor Seals, Personal Preference Glyphs, Attack Damage Quintessences
Jungling order: If building as the tank Gromp(Smite) → Blue Sentinel → Murkwolves → Red Brambleback → Krug (Smite) or Krug (Smite) → Red Brambleback → Murkwolves → Blue Sentinel → Gromp if you plan to be a damage dealer.
 Trundle's strengths in the jungle are his sustain with  

King's Tribute

and his ability to invade the enemy jungle as he can duel most AD champions favorably with his  

Chomp

and he easily escape with  

Frozen Domain

and  

Pillar of Ice

.
 Trundle is not mana dependent since most of his clear damage comes from basic attacks, so he can easily give up his blue buff for his mid laner after his first clear. Constantly spamming  

Chomp

will quickly deplete your mana however if you don't have blue, so only use it after its attack damage buff wears off.
 Trundle can gank at level 2 (really just showing his face to make them waste Flash) but he needs all of his abilities ( 

Frozen Domain

and  

Pillar of Ice

are critical so level 3 at the earliest) in order to gank effectively so he is pretty much stuck in his jungle route, no shortcuts should be taken.
When clearing the jungle, place your  

Frozen Domain

in a way that nobody in the lanes will see it. Place it behind you so you can also run to the next camp after clearing one. An example around this is the razorbeak camp; centering it on you may have the field bleed into mid lane, alerting the enemy that you're there.
 Trundle is able to solo  Dragon as early as level 6 with a and a few s. Care must be taken, as  

Frozen Domain

is favorable to help kill  Dragon but may also alert enemies to your presence. Some mana regeneration like s are optional.
Recommended builds
Runes and Masteries
 Trundle can use either defensive masteries (9/21/0) or offensive masteries (21/9/0), depending on player's personal preference.
General Runes: Attack Damage/Armor Penetration Marks and Quintessences, Armor Seals, Magic Resist Glyphs
Jungling Runes: 6 Armor Penetration Marks (9.96 Armor Penetration), 3 Attack Damage Marks (2.85 Attack Damage), 9 Armor Seals (12.69 Armor), 9 Choice Glyphs, 3 Attack Damage Quintessences (6.75 Attack Damage)
Countering
Champion spotlight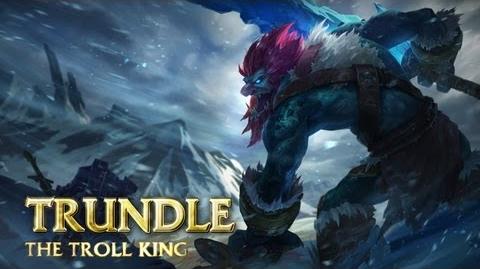 Upcoming Champions
Unreleased Champions
Canceled Champions

Concept Art