Ad blocker interference detected!
Wikia is a free-to-use site that makes money from advertising. We have a modified experience for viewers using ad blockers

Wikia is not accessible if you've made further modifications. Remove the custom ad blocker rule(s) and the page will load as expected.
"Submit to my designs."

Use the info here with consideration. It might be outdated or biased info.
Gameplay
Champion Spotlight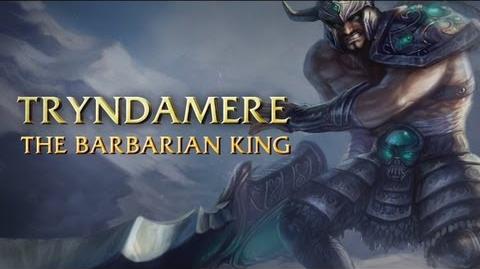 Recommended Items
Tips
Playing As  Tryndamere
Delaying the activation of  

Undying Rage

is a very effective way to make an enemy champion over-commit to trying to kill you.
 

Bloodlust

is an excellent way to heal  Tryndamere. Try not to let it fade off before you activate it.
If the enemy is tacking Armor, try building items like
or
s Ghostblade|Youmuu' s Ghostblade]].
Playing Against  Tryndamere
Try harassing  Tryndamere early so he can't kill minions and heal with  

Bloodlust

.
Remember,  Tryndamere can only  

slow

you if you are facing away from him.
Most of  Tryndamere's damage is physical. If he's getting too strong, consider buying a
Tricks
Ability Usage
Mastery Usage
Item Usage
Countering
During laning,  Tryndamere is vulnerable to ranged harassment. If you can manage to keep him from last hitting, you can deny him his heal along with gold. Just be careful; some  Tryndamere players have full Rune pages for crit chance and crit damage, which makes him deceptively strong at low health. Also, be wary, as he can quickly use  

Spinning Slash

to close the distance and deal damage of his own.
Although  Malzahar's  

Nether Grasp

and  Warwick's  

Infinite Duress

do not kill  Tryndamere or prevent him from activating  

Undying Rage

, suppressing him during it effectively wastes its duration, and with proper timing you may be able to kill him after his  

Undying Rage

runs out as the suppression does not allow him to escape or heal, while their ultimates will still be doing damage. Both playing and countering  Tryndamere is all about timing.
If you are a tank, are being focused by or have a lot more health than  Tryndamere, can be used quite effectively against him, as he will be quite literally killing himself if he cannot kill you quickly and will most likely be forced to use  

Undying Rage

earlier than he would like to. However, do keep in mind that deals magic damage. This means that if  Tryndamere is paying attention to you building a , he is more likely going to build items that will grant magic resistance, such as a and/or a . Getting a or will however be more useful for your team, as they can decrease  Tryndamere's DPS via the attack speed slow.
Using  Tryndamere activates his ultimate counters the healing from  

Bloodlust

and might kill him after  

Undying Rage

wears off.
after
 

Hemoplague

is an excellent skill to finish off  Tryndamere due to the 5 second delay. However, it is not recommended to waste  

Hemoplague

on  Tryndamere if he is alone. Using it during a teamfight after he uses  

Undying Rage

will almost ensure a kill.
All of  Tryndamere's damage, aside from  

Spinning Slash

, is from auto attacks; blinds such as  Teemo's  

Blinding Dart

or  Quinn's  

Blinding Assault

will negate all of it.
As a carry,
is extremely effective for countering him, since his damage comes almost exclusively from autoattacks.
 Tryndamere excels at 1v1 fights. Ensure you are in a good position to give yourself an edge before committing to the fight. Be careful even when at your turret as it may not kill  Tryndamere while his  

Undying Rage

is in effect.
If  Tryndamere attempts to turret dive you, run away and juke him until the duration of  

Undying Rage

wears off.
Using Crowd Control effects (such as stuns, roots, and blinds) when  Tryndamere uses  

Undying Rage

will help counteract this ability.
 Tryndamere is very reliant on  

Spinning Slash

to gap close. Remember to save displacement effects, such as  

Condemn

, until after he uses it.
 Tryndamere is centered around intimidating opposing players to over commit to highly disadvantageous situations and make bad choices. In particular,  Tryndamere excels at chasing fleeing enemies. Experienced  Tryndamere players know this and usually attempt to use his abilities to intimidate an opponent into fleeing; which almost guarantees an easy kill.
Upcoming Champions
Canceled Champions