Valcurie, The Duchess of Zaun
is a custom champion in
League of Legends
.
Introduction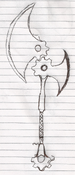 Hey everyone! This is an idea I've had for a new Champion coming from the depths of Zaun. The idea is for a female champion that has a sort of design like the creature in the cinematic for Ekko. So a mask with chems pumping through the body, sort of massive looking person. The design of the weapon is a sort of two handed battle axe. It would be a double blade but one would be much larger than the other and the head would be connected by gears. This comes into play with her Q as she literally throws the weapon head at her enemies. I really like this idea and would like to improve upon it, if you have any suggestions to the abilities and fine tuning of numbers please let me know!
Abilities
Strategy
Coming to a wiki near you!
Background
Lore
SoonTM
Patch History
Ad blocker interference detected!
Wikia is a free-to-use site that makes money from advertising. We have a modified experience for viewers using ad blockers

Wikia is not accessible if you've made further modifications. Remove the custom ad blocker rule(s) and the page will load as expected.