Clovie, the Diligent Darling
is a custom champion for
League of Legends
. Clovie is based of the original character "Tsundere Clovie" of the Majokko Elite. Majokko Elite is an upcoming comic/manga by HaloCapella, based on existing forum members regardless of looks in the International Saimoe League site.
Abilities
Edit
Character Description
Edit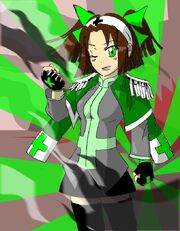 Username: HeartClover
Birthday: April 24th
Residence: Vancouver, Canada
Weapon: Lucky Fists: Clovie's gloves with green crosses shows great power and rewards.
This cutie is harsh enough to overcome her smallness. This magical girl is full of punch and aims to grow her own cult someday.
Don't mess with Clovie, or else she'll give you a harsh tomorrow. Her attack damage and high defense makes her difficult to break down, and no need for mana or ability power, just pure punch. And don'f forgot, she can let her friends do the punching as well.