Emjay, the Felicitous Sister is a custom champion for League of Legends. Emjay is based of the original character "Yandere Emjay" of the Majokko Elite. Majokko Elite is an upcoming comic/manga by HaloCapella, based on existing forum members regardless of looks in the International Saimoe League site.
Abilities
Character Description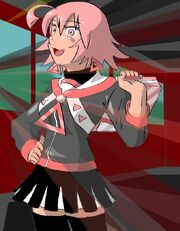 Username: Midnight-Jasper
Birthday: June 12th
Residence: London, England
Weapon: Mystery Bag, it has the power of hammerspace which can hold more than just a hammer, sword and boomstick.
Devoted to her older brother and her love, Clovie, she won't let anyone stand a chance to cross between her love. She becomes really dangerous if you really press her buttons.
Don`t mistake her crazy look, she`s actually more lovable than you think. She has a full armament to deal with enemies and can catch them off their guard. She`s is pretty good at group fights as well as hunting down the vulnerable.
June 20th, 2013
Nevermind, true damage indeed.
June 18th, 2013
Q, W, and E abilities

All now have the same cooldown reduction and mana cost. this is to make all three moves equal but different in terms of position. also, different damage types.

Sword of Yan

Changed. is now a dashing move and combined damage. intended to have unequaled damage unlike true damage. also, AoE is really small so it wont effect too much enemies.

Furious Feline

Changed. now attacks are all pounces and ability gets stronger by the amount of Yan she has.