Mordred, the Wicked King
is a custom champion in
League of Legends
.
Abilities
Edit
Ability Details
The Punisher
is a single-use
on-hit effect
.
Brimstone Divider is an auto-targeted blink.
Applies spell effects as a single target ability.
The Punisher will apply other on-hit effects and can critically strike as normal.

As with most on-hit physical damage, the bonus damage from The Punisher will apply life steal.
Critical strikes will not interact with The Punisher damage.
The Punisher damage will affect structures.
will block the damage and slows, as well as applying hatred.
PENDING FOR TEST The Punisher's relationship with , and  blind has yet to be tested (and probably never will).

Spell shields will block the on-hit effect from The Punisher, cannot apply a hatred on the target. As for Brimstone Divider, the damage will be blocked, even preventing knocking nearby enemies from your target.
Additional Information:
Brimstone Divider can be casted twice if Wicked Retaliation manages to block and Dreadful Bond gets broken when using the first cast.
Also
The Punisher
can be active during secondary spells, if casted before blocking and breaking the leash.
Background
Edit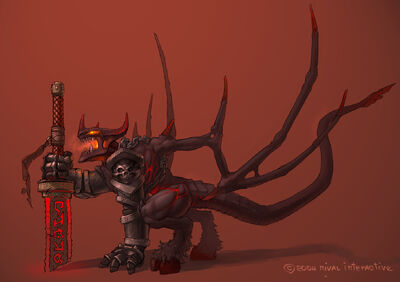 A Pit Lord champion similar from Heroes of Might and Magic (V and VI). (God I love these Inferno creatures, and their Vorpal Sword.)
If angelic race like Kayle and Morgana exist, why not a demonic champion?
The name Mordred is based from Arthurian Legend, where Mordred is the final foe for King Arthur "Pendragon", his uncle/father. Mordred dies, but he manages to deliver a fatal blow to King Arthur, who dies as well.
In LoL story (fan-fiction), before the rebellion, Morgana had a child, unknown to everyone. But their leader known as "Pendragon, the Redeemer", decided to gather up babies including Mordred, after hearing a prophecy from the Fates he reclaimed, a child born to the day so called "evil" were banished from their homeland, as Mordred was one of them, will destroy Pendragon. Pendragon, along with his angelic warriors took babies into a ship, to crash outside of their homeland. Morgana distraught for the loss of Mordred, went insane and saw her kin and their act of justice as tyranny. However, no one knew that Mordred survived the shipwreck, which landed in the land of opposite race, where demonic beings lives.
What he did from there, only Mordred knows...
Do you want this champion in the League?
Other Champions that I've done
Edit
Mordred, the Wicked King
Calypso, the Gatekeeper of the Void
Kabu'Naar, the Scourge of the Sands